New Delhi: Amit Jani, the chief of Uttar Pradesh Navnirman Sena, which has put hoardings in Meerut asking for boycott and eviction of Kashmiris from the state, has said "90 per cent of Kashmiris living in UP and other states of India have separatism in their hearts" and "if these kind of people live with Muslims of Uttar Pradesh, they might turn them into separatists too." 
In a telephonic interview with  ScoopWhoop News , Jani, who was jailed last year for threatening to kill All India Majlis-e-Ittehadul Muslimeen leader and member of parliament Asaduddin Owaisi and former JNU Students' Union President Kanhaiya Kumar and Phd Scholar Umar Khalid, said the hoardings installed by his outfit were not a "threat" but an "appeal to Kashmiris." He also claimed his outfit doesn't believe in "taking law into its own hands."
"When you don't want to have a relationship with anyone what do you say: jaaye yahan se (Please go away from here). We are not saying leave otherwise we will kill you…Our motive is that we are opposed to those who are silent on the incident of a soldier being beaten by Kashmiri stone-pelters. They are not saying a single word about it. We are addressing those who have Pakistan and separatism in their hearts. And those who don't think of India as their own country." 
According to Jani, the ongoing spree of stone-pelting incidents in Kashmir and a viral video showing a soldier thrashed by local Kashmiris, had left him "fuming." "Being a true nationalist, I am not afraid to go to jail or surrender for putting up hoardings," said Jani. 
"Many are pointing that those Kashmiris who pelt stones are different than those studying in UP. We believe all of these students are related to the families of those who kicked and assaulted a CRPF soldier. When our brother is in the army and he's being beaten by their brothers in the valley, then can't we stop interacting with them? We are not picking up stones and sticks against them. 
We will conduct rallies and mobilize people of UP to stop talking to Kashmiris and selling any items to them. We will also ask landlords to avoid Kashmiri tenants. Also, they shouldn't be given newspapers and no vehicle should give them lift."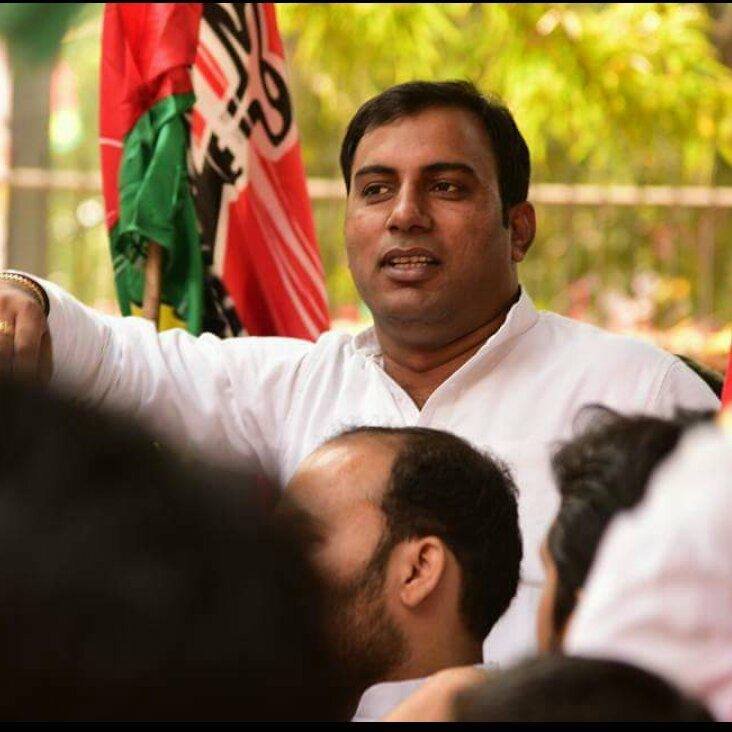 While the Uttar Pradesh police has filed an FIR against Jani and brought down hoardings at many places on Friday, Jani said the outfit's campaign against Kashmiris in UP will continue. 
"We have directed our members to carry out a complete non-violent movement for 90 days. We have prepared a list of 1000 customers who have accounts in Jammu and Kashmir Bank branches in UP. These customers have crores of rupees invested with the bank. We are trying to convince them to withdraw their money from J&K bank," Jani, a former member of Samajwadi Party, explained. 
 33-year-old Jani, claims to be a firm believer of Dr. Ram Manohar Lohia's socialist politics. His Facebook profile is full of photos showing him posing with senior BJP leaders including MPs and SP leaders. With the viral video triggering the debate about the attitude of locals towards soldiers in Kashmir valley, it was hard for Jani to keep lid on his "anger at the Kashmiris who have separatist tendencies."   
"Be it a Kashmiri businessman, leader, celebrity or a student leader, all of them are separatists. J&K Bank has a policy to hire only people from the state. They don't hire from other states. Not only won't you find any non-Kashmiri there, you won't even find a Kashmiri Pandit who works with the bank. All of the staff members are Kashmiri Muslims. If this is the level of separatism in your policy then why are you in UP for business? Do business at your own home…We know the government cannot say this and this can't be law. But this can be a vision," Jani said. 
When contacted, a J&K Bank spokesperson trashed Jani's claims. 
"J&K Bank is a regional bank and it's owned by government of Jammu and Kashmir. It's a semi-government bank with more than 53 per cent shares of state government. There's no such policy. In our bank, people of all different faiths work. Be it Muslims, Hindus, Sikhs or Christians," Sajjad Bazaz, Incharge Corporate Communications J&K Bank, told ScoopWhoop News.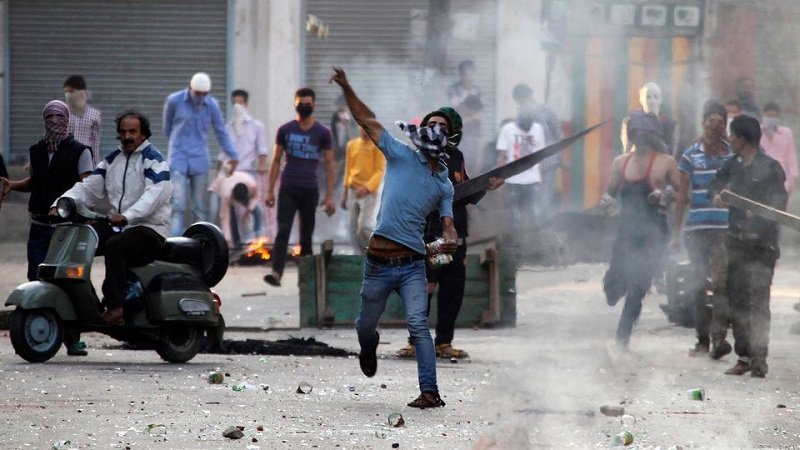 While confirming the bank hires only those who are residents of J&K, Bazaz said the recruitment rules in the state are governed by Article 370 of Indian Constitution which guarantees certain exclusive rights to the state's residents. 
"J&K is governed by Article 370 of Indian Constitution. Whenever we go for recruitment drive it's not on all-India basis. It's open for only J&K residents. It's Article 370 which governs recruitment rules in J&K. Even the state government can't hire non-J&K residents. It's their bank so how can that be the case," he added. 
Stressing that Kashmiris need to follow Bharti Sanskriti if they want to live in UP, Jani also alleged that "anti-national activities" by Kashmiris hurts their "nationalistic sentiments." 
"Our perspective is that Kashmiris are not worthy to live among the patriotic people of UP who chant Bharat maata ki jai and Vande Mataram. If they live in close contact with UP's Muslims, they will also ruin them. Ek machli poore taalab ko ganda kar deti hain. They will make a Kashmir in UP," he said.   
Asked on what basis was he making such a statement, Jani, who unsuccessfully fought Muzaffarnagar assembly by-elections last year as an independent candidate, said none of the Kashmiri Muslims has spoken against stone-pelting in the valley. 
"I am not talking of separatists but those who are made leaders in Delhi and garlanded in UP. Congress leader Ghulam Nabi Azad didn't say anything against stone-pelting. Farooq Abdullah, who was a minister under NDA government, recently defended stone-pelters. Is there a Kashmiri Muslim who speaks against separatists?"
Soldiers are being slapped and slogans of 'Go India Go Back' are being shouted. Where's your dignity. First, they slap soldiers and then return to study on scholarship in UP. Isn't UP part of India?" asked Jani, whose election affidavit reveals various criminal cases including sedition and promoting enmity between two groups against him. 
"Like a father tells his child not be friends with a drunkard, similarly we are telling people of UP that these people are separatists, who demand autonomy, shout pro-Pakistan slogans and raise ISIS flags. We don't want any relationship with them."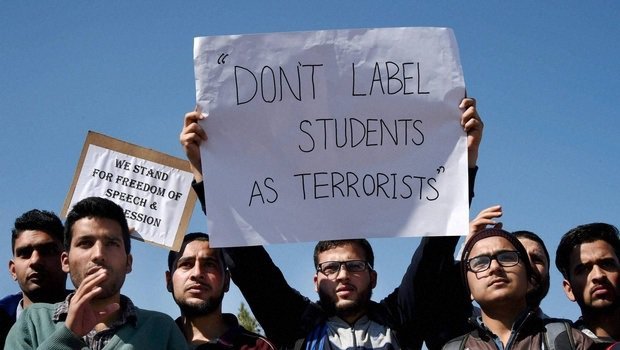 Established to counter Maharashtra Navnirman Sena's attacks on North Indians working in Maharashtra, UPNS which's headed by Jani was floated in 2010. However, the group made it to the headlines in 2012, when its members vandalized former UP CM Mayawati's statue. 
Claiming a membership of 1.5 lakh individuals working under the fold of UPNS, Jani said members of the outfit at various campuses of UP informed him that Kashmiri students "don't participate in nationalistic events and don't rise for national anthem." He also alleged that Kashmiri students in UP "shout pro-Pakistan slogans" and post "anti-India updates on social media."  
 Jani also played down fears expressed by the Kashmiri students after the hoardings were put up.  
"Why are they afraid? We should be afraid. If someone speaks against separatism in the country, then that person is the most vulnerable. A soldier is carrying an AK 47 and even then Kashmiris beat him up, where's the fear?" he said. 
When asked about his views on the video of army using a Kashmiri civilian as a human shield, Jani defended army's action and said "at least the civilian was treated better" than armies of other countries. 
"Only 2-3 people blew up World Trade Centre but America ruined whole Afghanistan in return. Similarly, we can see what's happening in Syria and how Pakistanis are killing Balochis. Do human rights activists expect our soldiers to act that way. In comparison, see how did our soldiers tied him to a jeep and the convoy passed off without any single stone being pelted. In the meantime, he also enjoyed a ride. If he was tied behind a jeep and dragged, then condemnation could have been possible. He was tied to jeep for security. He was like a protective shield."