Weeks after performing a 'havan' seeking US Republican party candidate Donald Trump's victory, Hindu Sena celebrated his birthday at Jantar Mantar in the national capital on Tuesday.
The right wing group went all out – with candles, balloons, cake, orchestra – to mark the big day.
Hindu Sena Celebrate USA President Candidate Donald Trump Birthday at Jantar Mantar,New Delhi today. pic.twitter.com/WZyoVuljA5

— Bhupinder Singh (@bsphoto23) June 14, 2016
The brightly coloured open-invite sporting Donald Trump's image was put out on social media a day prior to the event.
The Hindu nationalist group pulled out all the stops to make the day a special one for Trump. The fancy birthday cake, balloons and posters aside, the Sena even fed and smudged cake on a poster that showed Trump bearing a gun.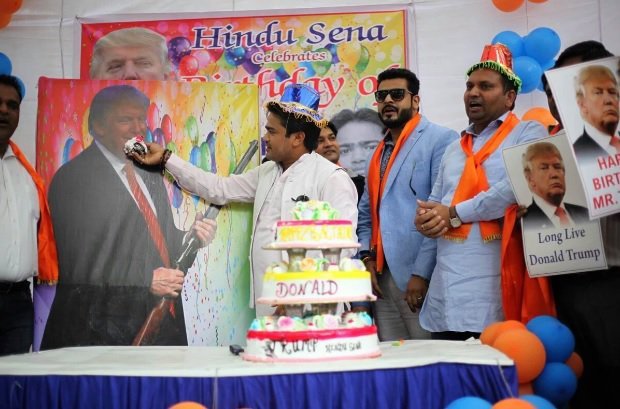 The Hindu Sena called Trump the 'saviour of humanity' and the 'messiah against Islamic terror', said Indian Express.
WATCH: Hindu Sena celebrates Donald Trump's birthday in New Delhihttps://t.co/2VPRif8f8r

— ANI (@ANI_news) June 14, 2016
Vishnu Gupta, the national president of Hindu Sena, told the paper that they organised the event because they consider Trump to be their 'hero' and that the political parties are afraid of him.
"Donald Trump is speaking the entire world's 'mann ki baat' against Islamic terror and we support it. The BJP used to speak against Islamic terror, but after coming to power it has also become a 'secular party". 
He also said that the group plans more such events including a rally outside the American embassy and the JNU campus.
Earlier in May 2016, the right wing group held a havan (public prayer) to pray for Trump's victory in the US Presidential elections in November. 
However, for all their fandom, we aren't quite sure if Trump cares though

(Feature Image Source: Twitter)