A country is not merely a piece of land with demarcated borders. It is a product of a society formed by the people residing within these boundaries. India is often touted as a great country with a rich culture by nationalists. At the same time, it is also criticised by those willing to acknowledge its faults. There have been people and events that have made India proud, but there have also been incidents that shocked the nation and made Indians hang their heads in shame.
While the lynching of Mohammad Akhlaq in Dadri on suspicion of eating beef and it's aftermath have put forth an appalling picture of Indian society, it is surely not the first one to show us the dark side of our diverse and beautiful country.
While there is much to love about India, a look at the harsh reality that shows how some elements in our country can easily make us feel ashamed of our society.
1. Partition violence:
The violence that took place in the days surrounding India's partition resulted in two to five million deaths and countless incidents of rape.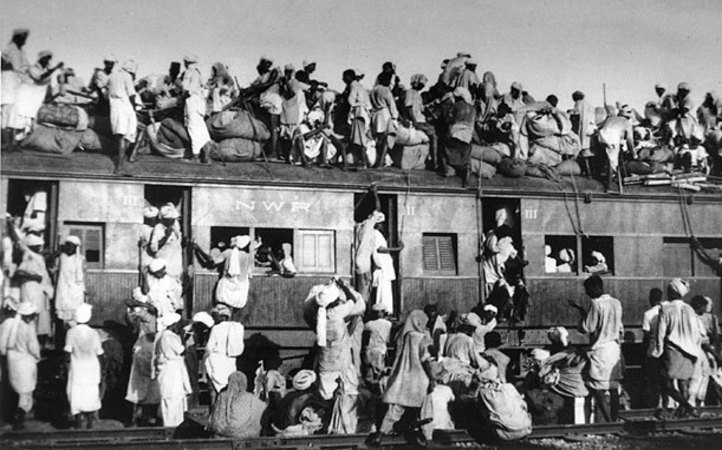 India's independence after centuries of British rule was supposed to be a cause for celebration for people all over the sub-continent, but partition was the price India had to pay for this happiness. As Pakistan was carved out of India, the frustration among people culminated into gruesome violence. Asking who started it and who was more brutal is pointless, since no side was a band of saints in the violence. Women were raped, millions died, plundering was commonplace and many more had to leave their homeland and property as a refugee crisis took shape.
Kushwant Singh described the violence as, "The fact is both sides killed. Both shot and stabbed and speared and clubbed. Both tortured. Both raped."
2. Atrocities during emergency:
Torture of political dissidents, forced sterlisation and the Turkman Gate massacre.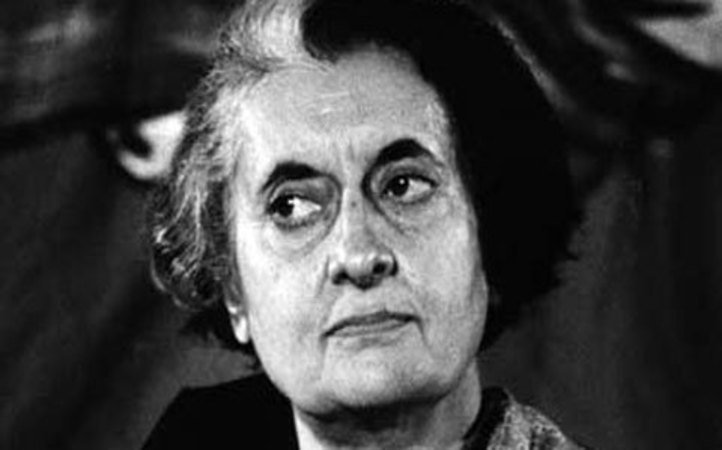 Apart from the numerous violations of civil rights, human rights violations were also reported in this era. Political dissidents were detained without any notice and were tortured in prison. The worst incident of violence was when Sanjay Gandhi ordered the demolition of slums near Delhi's Turkman Gate area. People took to streets to protest the demolition and the state responded with brutality. The police opened fire killing 150 people and 70,000 residents were displaced. The heavily censored media was barred from reporting the shameful bloodbath.
DDA vice chairman Jagmohan told residents demanding resettlement, "Do you think we are mad to destroy one Pakistan to create another Pakistan?"
3. Anti-Sikh riots, 1984:
The riots that followed Indira Gandhi's assassination resulted in 2,700 deaths and 20,000 Sikhs leaving Delhi.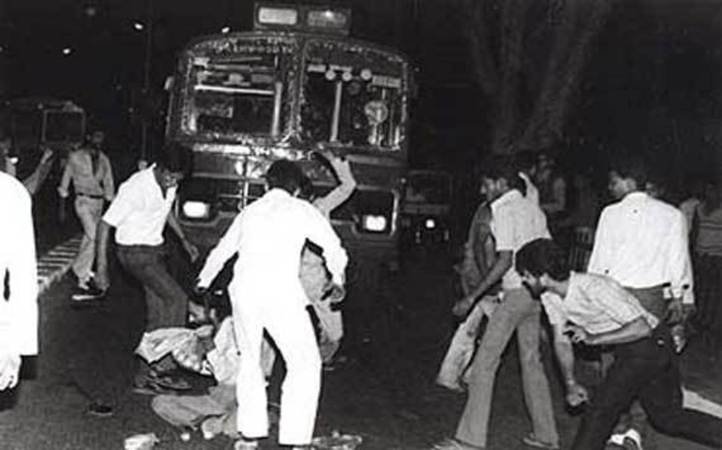 In June 1984, Prime Minister Indira Gandhi gave the orders for the Operation Blue Star at the Golden Temple in Amritsar, Punjab, to flush out Jarnail Singh Bhindranwale and his militants. In October 1984, Gandhi was assassinated by her own Sikh bodyguards, triggering off unforgiving violence against Sikhs by Congress workers in Delhi and other cities in India. Weapons and money were distributed and slogans like 'Blood for blood' filled Delhi's air. Sikhs were pulled out of buses, killed by mobs and their turbans were burnt. Kerosene was allegedly supplied by Congress leaders who owned filling stations and voter lists were used to target Sikh majority localities.
Many accounts also claimed that hardened criminals were released from prison to "teach Sikhs a lesson."
4. Bhagalpur blindings:
31 undertrials were brutally tortured and blinded by police in Bihar's Bhagalpur district.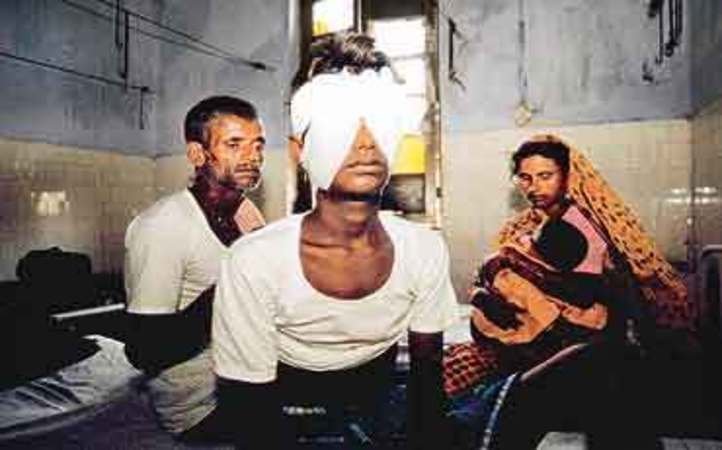 In 1980, the revelations from prison in Bihar's Bhagalpur disctrict shocked the nation when it was reported that 31 undertrials were blinded by police. To add to the inhuman treatment, acid was poured into their eyes. The incident was widely criticised and discussed as some versions said that the prisoners were convicted criminals. But in any case, the kind of gruesome treatment that was meted out to prisoners by the police stands as a blot on Indian history and another example of police brutality.
5. Babri Masjid demolition and riots:
2,000 people were killed in riots that followed the demolition of the Babri Masjid by karsevaks belonging to religious fundamentalist organisations.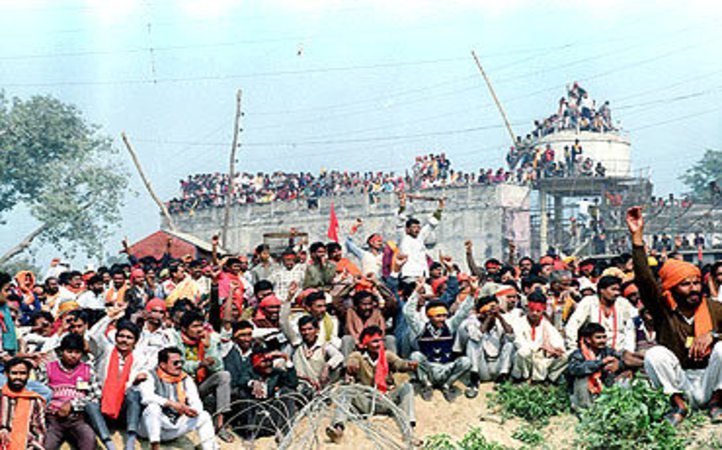 It all began when LK Advani kicked off a rathyatra to Ayodhya. The rathyatr a saw participation by over thousands of radicals and on reaching Ayodhya, this crowd of karsevaks stormed the historic mosque, razing it to the ground. The incident was followed by nationwide riots with Delhi and Mumbai being affected the most.
2,000 people were killed but different versions claim more. The Shiv Sena was at the forefront of the Bombay riots and unleashed a planned anti-Muslim pogrom in the city. Apart from the tremendous loss of life, the riots ruined Mumbai's cosmopolitan society. The 1993 Mumbai serial blasts which were carried out as a response to the riots, took the shameful circle of violence to a new level.
6. 2002 Gujarat riots:
Over 1,000 people died in the violence that followed the torching of the Sabarmati Express near Godhra, which killed 58 pilgrims.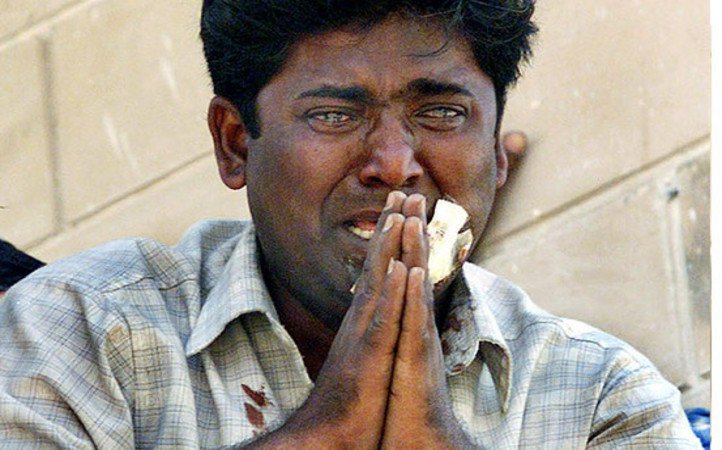 On February 27, 2002, a mob burnt down the Sabarmati Express near Godhra, in which 58 people lost their lives. Following the incident, the VHP called for a statewide bandh in Gujarat and so began three days of relentless bloodletting, plundering and mass rapes. Local newspapers and ministers of the state government used inflammatory speeches and incited violence against the Muslim community. Apart from the hundreds that died, 233 went missing, while 250 girls and women were gang raped and burnt to death. Children were burnt alive and acid attacks were also reported. The bloodbath has also remained a stain on PM Narendra Modi's political career with allegations of him not doing enough stop the spread of the violence.
7. Laxmanpur Bathe massacre:
58 Dalits were brutally massacred by members of radical outfit Ranvir Sena in Laxmanpur Bathe of Bihar.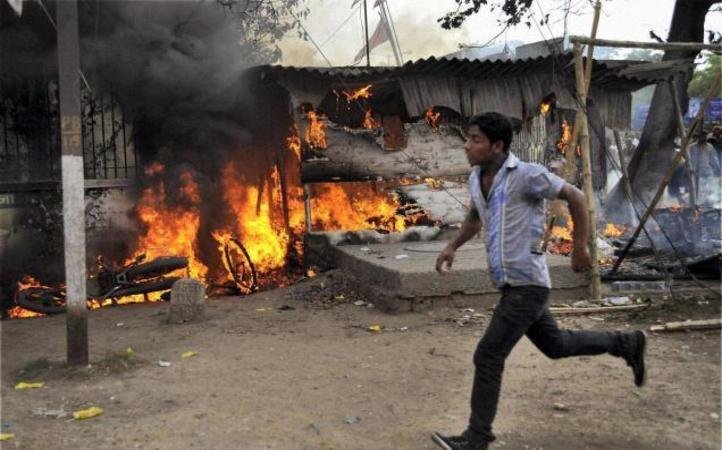 In December 1997, members of an upper caste landlord militia Ranvir Sena launched a planned ambush on the Laxmanpur Bathe village of Arwal district and gunned down 58 innocent Dalits. This figure also included 27 women and 16 children. The youngest victim of this massacre was a one-year-old child.
8. Nirbhaya gang rape case:
23-year-old brutally assaulted and gang raped by six men in a moving bus in Delhi.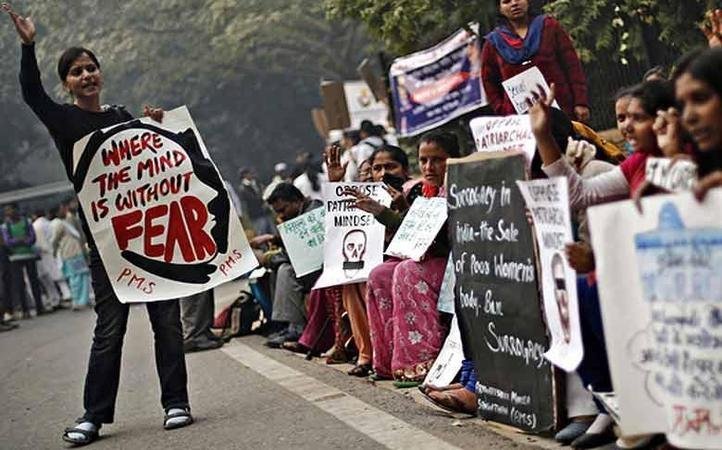 On the fateful night of December 16, 2012, a 23-year-old physiotherapy intern in Delhi was brutally gang raped and beaten by six men, resulting in fatal injuries. One of the rapists was a minor who beat her up and even inserted an iron rod inside her causing fatal injuries to her intestines. The shameful attitude of the society was revealed when no one stopped to help the duo lying helplessly on the road. She died on December 29, 2012, after days of treatment.
9. Kawasi Hidme's untold story:
15-year-old tribal girl arrested on charges of being a Maoist and brutally tortured after being raped.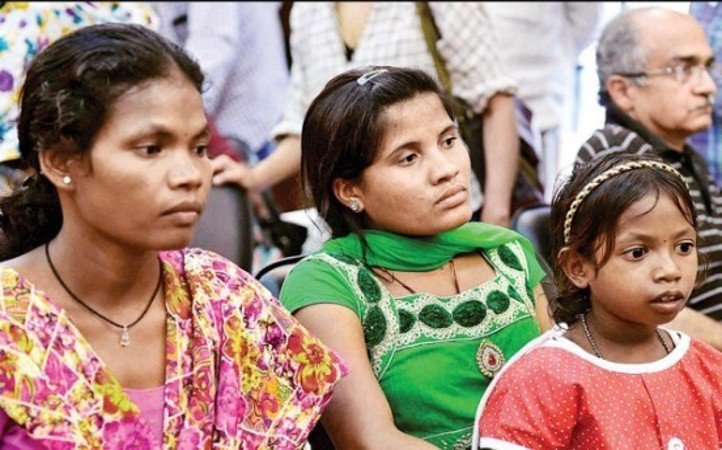 Kasawi Hidme (left) | Source: yuvasaisagar.com
It has been often reported that tribals in the Maoist belt have been subject to inhuman treatment. One of the casualties of India's war with itself is Kasawi Hidme from Chattisgarh. Hidme was arrested in 2008 at the age of 15, on charges of being one of the 350 Maoists that killed policemen in Bastar. By the time she was acquitted, Kasawi had endured a seven-year-long ordeal of rape and torture. Upon her arrest, Kasawi was lodged in different police stations for three months as she was raped and subjected to all kinds of torture. In addition to the story itself, the fact that this story and many such have remained untold among the masses is shameful for our country.
10. Muzaffarnagar riots, 2013:
62 people died and 50,000 displaced in violence sparked by an eve teasing incident.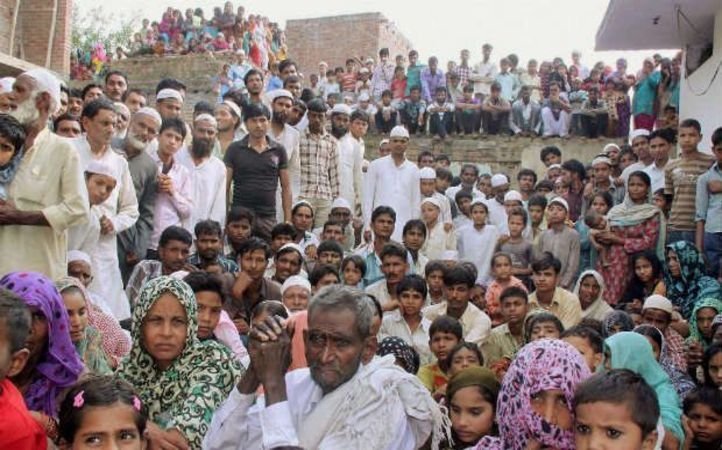 Like the previous two decades, the beginning of this decade was also marked by a major riot. This time the riots took place in Muzaffarnagar in Uttar Pradesh. The violence was described as the worst in UP's recent history, resulting in 62 deaths and a mass displacement of 50,000 people. The riots were sparked off following a dispute about eve-teasing which led to a youth being beaten to death. As if the gruesome violence was not enough, it was followed by political blame-games.
12. Bhopal gas tragedy:
Thousands died after being exposed to toxic gas methyl isocynate (MIC), which leaked from a Union Carbide India Limited (UCIL) pesticide plant near Bhopal in Madhya Pradesh.
On the night of December 2 1984, a gas leak occurred at the UCIL pesticide plant near Bhopal. Within an hour, around 30 metric tons of toxic MIC gas escaped into the atmosphere and formed a cloud which spread through the surrounding community. People who woke up to the symptoms like breathlessness and vomiting ran for their lives, and went on inhaling more. As children inhaled higher concentrations due to short height, the area around the plant became a gas chamber. 2,250 people choked to death that fateful night according to government reports, but other sources mentioned that 8000 had died in a week after the leak, while 8000 more died later on by diseases caused by the leak.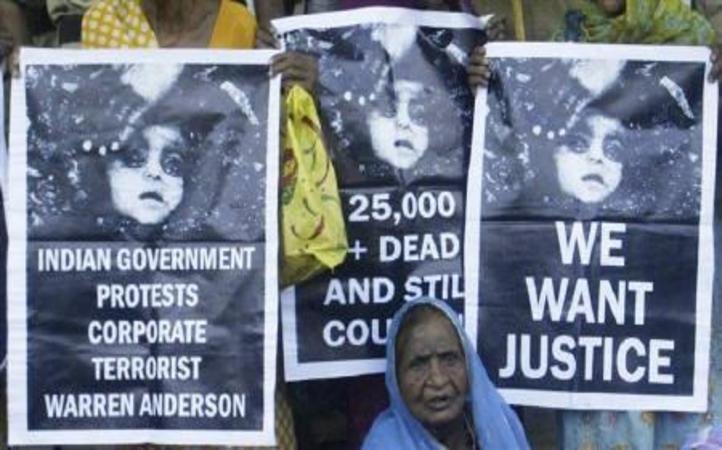 The plant was closed down, and UCC chairman Warren Anderson who came to India after the disaster was put under house arrest and later escorted out of the country, by Indian government officials. The aftermath of the disaster left it's effects in the area with health complications going up, as the stillbirth rate went up by 300% in the affected region. Over three decades have past, but the victims of the Bhopal gas tragedy still await justice.
These are some of the many human rights abuses by the state and gruesome crimes by other groups that have been a blot on India as a country and a democracy.