Sharing the pain of the suffering Kashmiris, Parliament today unanimously appealed to people of the valley to restore peace and harmony even as the government expressed readiness to hold talks with moderate groups and others and decided to call an all-party meet on Friday. 
Home Minister Rajnath Singh declared that there is no question of handing over Kashmir to the Army, quashing rumours that are being spread "deliberately". He also promised to consider sending an all-party delegation to Kashmir, responding to demands made in the Rajya Sabha which discussed the "prevailing situation" in the valley for over six hours.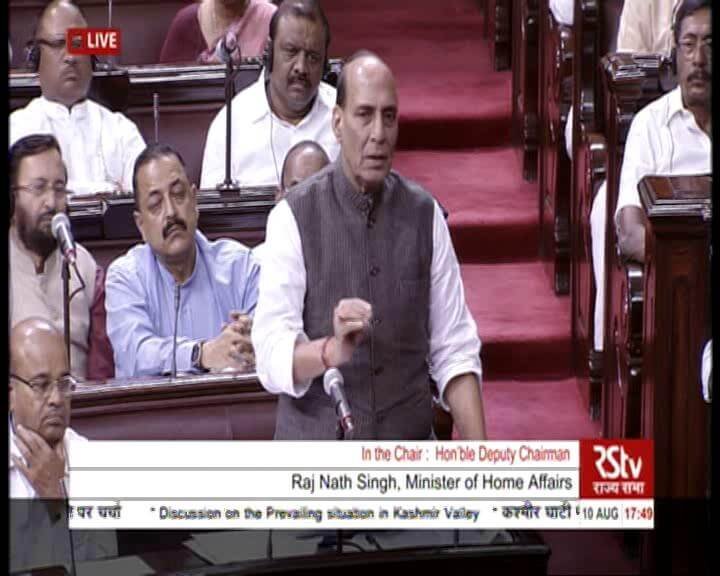 While replying to the debate during which demands were made for stopping the use of pellet guns, Singh said instructions have been issued to security forces to exercise "maximum restraint" but there will be no compromise on national security and pro-Pakistan slogans on the Indian soil will not be tolerated in any case. 
With regard to dialogue with Pakistan, he said any talks on Kashmir will be about the territories under the occupation of that country. "No power on earth can snatch Kashmir from us," he declared, while referring to letter of Pakistan Prime Minister Nawaz Sharif to the UN seeking 'plebiscite' in Kashmir. 
Duniya ki koi takat humse J&K ko nahi le sakti, says HM Rajnath Singh in RS

— ANI (@ANI_news) August 10, 2016
With regard to pellet injuries, particularly the eye injuries, which was raised by Leader of Opposition Ghulam Nabi Azad, the Home Minister said he will look into the damage caused by it and could not say anything off-hand. He, however, cited some study which had said that in the year 2010, six people had been killed, 198 were injured and 5 blinded because of the use of pellet guns. 
He said a team of eye specialists has already been sent to Kashmir and the central government is ready to send even a special plane to airlift any number of people requiring specialised treatment for eyes as also other injuries.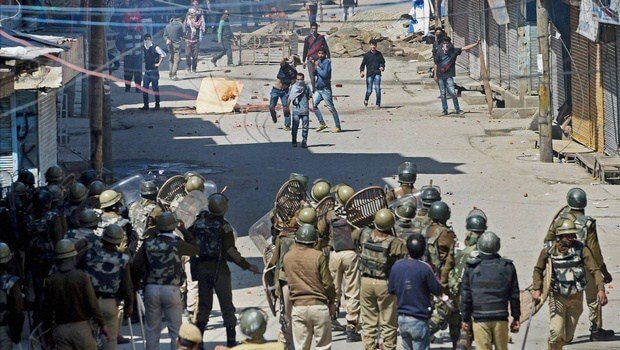 With regard to prohibitions on newspapers and mobile internet in Kashmir, he said it should not happen and that he will discuss this issue too with the Chief Minister. He asserted that militancy will be dealt with sternly and Pakistan should not interfere in India's internal affairs. 
Slamming Pakistan for its "irresponsible" role, Singh questioned its claim to be the "protector of Islam", asking, "How can a country claim to be protector of Islam when it was born on the basis of religion, when it is witnessing bloodshed in the name of religion."
Have no hesitation in saying that whatever is happening in Kashmir is sponsored by Pakistan: HM Rajnath Singh in RS

— ANI (@ANI_news) August 10, 2016
He questioned how Pakistan could claim to be concerned about Muslims in India when it itself could not remain united despite being a Muslim nation. "It is for the government of India to look after minorities of India and we will do so, whether it is Muslims, Sikhs, Christians or anybody," Singh asserted, asking Pakistan to lay off. 
He asked the minorities to "keep faith" in the government, cautioning that there are a "lot of people out to misguide them." "If we remain united, India is in such a position that it can become the world power," he said. 
I'm not saying that ppl living in Kashmir are leading a normal life, but state Govt is trying its best to provide basic facilities: HM in RS

— ANI (@ANI_news) August 10, 2016
Blasting those who celebrate the killing of security forces, Singh said, "it is reflective of Haivaniyat (devilish behaviour)." In this context, he criticised those who have described the gunning down of militant Burhan Wani in an encounter as "extra-judicial killing", saying such a mindset is "perverted". 
"This mindset has been seen whether in the case of Dantewada, Bastar or Kashmir. If security forces are killed, there are celebrations. Such is the perverted mind. We will address it," he said. 
Reaching out to the opposition, he said, "While addressing Kashmir unrest issue, we will take everybody along. This country belongs to all, including you (opposition).
At the end of the debate in which 29 members from across the political spectrum spoke, the Rajya Sabha unanimously adopted a resolution, saying: "This House expresses its serious concern over the prolonged turbulence, violence and curfew in the Kashmir valley." It added that the House "conveys its deep sense of anguish and concern over the loss of lives and critical injuries caused by the deteriorating situation."