A significant number of students are bullied and ragged beyond sense every year in our country, out of which some suffer serious consequences, sometimes even death.
The whole country has heard of the harrowing case of Aman Kachroo, a medical student who was beaten to death by four other students. That started a huge movement against bullying but our country is still suffering through the worst side of it.
Recently, another horrific incident came to light when authorities at a Dehradun school buried a 12-year-old student's body after he was beaten to death by his seniors.
Here are some recent bullying incidents that have taken place in our country.
When a 14-year-old boy committed suicide after being bullied by his schoolmate.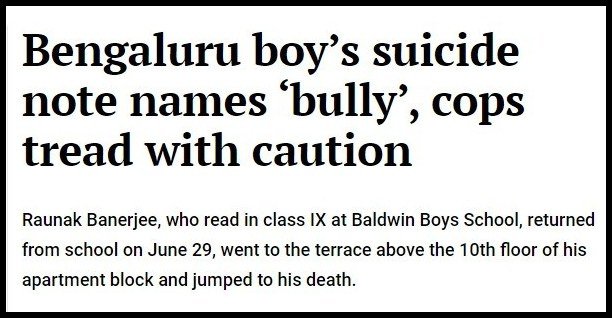 When an 11-year-old student was harassed by seniors who forced him to dance and give them massages.

When a first-year B.Com student was beaten senseless by five seniors and ended up hospitalised.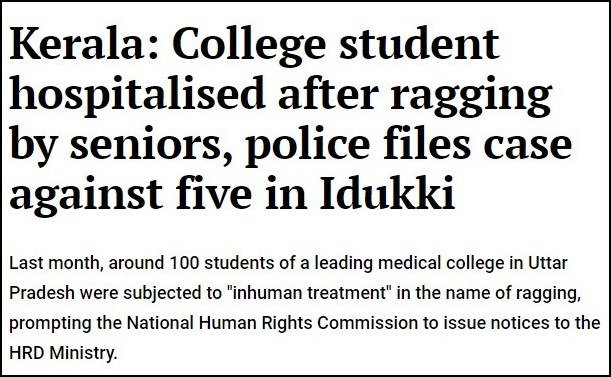 When AIIMS suspended a dozen students for ragging first years.

When three students and two school staff members were expelled in the case of bullying a junior.

When fifty 13-year-olds fled a boarding school due to the fear of being bullied.

When an 18-year-old was hospitalised after being beaten up and sustaining injuries.

When students were expelled from their university for causing terror in the campus/hostel.

When two Class 11th students were first beaten up with rods and then stripped naked.

When a student locked himself in his room for over 36 hours after getting brutally beaten up by seniors.

When school authorities buried the body of a student after he was beaten to death by his peers.

When two students ate poison and committed suicide to escape their bullies.

When a bully made a student commit suicide after constantly beating him up and stealing his money.

When a first-year MBBS student hung himself in his hostel after being ragged by his seniors.

When a student died after his bullies set him on fire on the campus.

When a 20-year-old attempted suicide after being ragged by her hostel roommates.

When a 20-year-old student's body was found on railway tracks after he was constantly bullied by his seniors.

When a 15-year-old suffered severe injuries after 17 seniors beat him up with metal rods.

When students aged 9 to 10 years were brutally harassed by their seniors who tied up their private parts.

When a student died after a group of bullies assaulted him in his own hostel room.

Ragging and bullying should be immediately condemned. There is no excuse for it.