Indian journalists, who went to cover the SAARC Home Ministers' conference in Islamabad, had to face hostile Pakistani officials, who not only denied them access to the inaugural function but also barred them from standing at the entrance of the venue where their Interior Minister was to receive dignitaries, leading to tense moments.
The six Indian journalists, who were given visa to travel to Islamabad to cover the event, were flatly refused entry to the inaugural function, which was attended by Pakistan Prime Minister Nawaz Sharif.
The Indian journalists then stood near the entrance of the where Pakistani Interior Minister Chaudhary Nisar Ali Khan was receiving the visiting dignitaries from SAARC countries.
As Pakistani media took position to capture the moment of Home Minister Rajnath Singh's arrival, Indian journalists too joined them. Immediately, Pakistani officials curtly told them to leave the place, saying Indian journalists were not allowed to stand even outside the gate.
When Pakistani officials asked Doordarshan cameraperson R Jayashree Puri and ANI's Ajay Kumar Sharma to remove their cameras, a senior Indian diplomat tried to intervene and protested.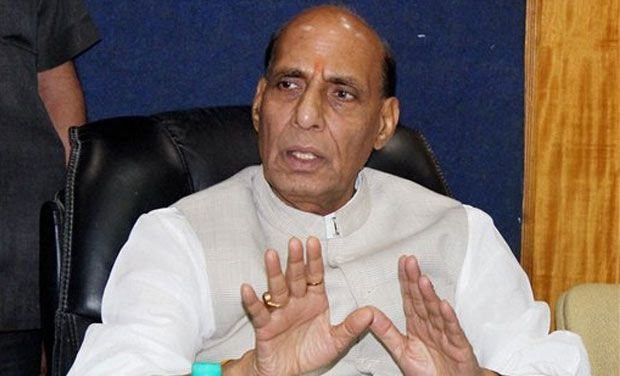 The diplomat hotly argued that Indian journalists be allowed to be near the gate to capture Singh's arrival as Pakistani journalists, video and still camerapersons were present and freely taking shots.
The Pakistani officials made it clear that the Indian journalists have to leave the place immediately, leading to a verbal duel between the diplomat and a Pakistani official.
The Pakistani official even directed some of his juniors to block the view of Indian journalists and soon the reporters and camerapersons were surrounded by several persons, apparently policemen in civvies, making it impossible for them to shoot anything.
This resulted the Indian journalists failing to capture the moment when Singh touched the hands of his Pakistani counterpart, a gesture short of a formal handshake, reflecting the growing chill in the ties between the two countries.
As per SAARC protocol, the inaugural statement by the host country is open to the media while the rest of the proceedings are in camera.
The Pakistani establishment was also circulating information in the local media that Indian Home Minister had visited washroom eight times to make calls to New Delhi when the conference was going on.
The fact is that the washroom was outside the conference hall and the Home Minister used it twice — once before the formal ministers' meet started after he and his SAARC counterparts had made a courtesy call to Pakistan Prime Sharif and again when the meeting got over.
Besides, Home Minister Singh does not carry a cell phone even while he is in India and, whenever necessary, uses those of his aides.
(Feature image source: Reuters)