New Delhi: Hours after an altercation took place between him and some ABVP-affiliated students, the missing JNU student Najeeb Ahmad was expelled from the hostel by an inquiry committee held immediately in the aftermath of the incident.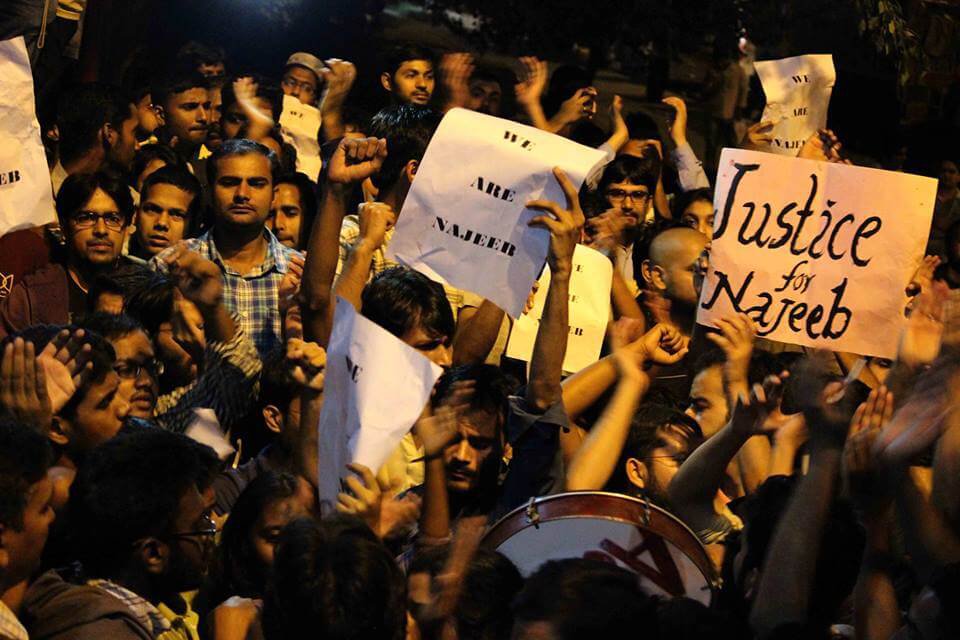 According to their report, Ahmad was directed to vacate hostel on or before October 21.  
While there are multiple versions of the event, all the versions clearly establish that there was an altercation between Ahmad and ABVP students in the hostel on the intervening night of 14 & 15 October. According to various accounts, Vikrant Kumar, a member of ABVP contesting for the post of mess secretary, landed in Ahmad's room during his campaigning drive on Friday. However Vikrant, who was accompanied by two other students from the group, was allegedly slapped by Ahmad.  
"I was doing a door-to-door campaigning for the hostel elections. When I entered Ahmad's room, he asked me why was I wearing a red thread around my waist and then slapped me," Kumar told ScoopWhoop News. Kumar also said that he locked Ahmad in his room to "save him from other students" who had gathered outside.   
However, a statement issued by JNUSU on 16th October accused ABVP of inciting communal hatred against Ahmad.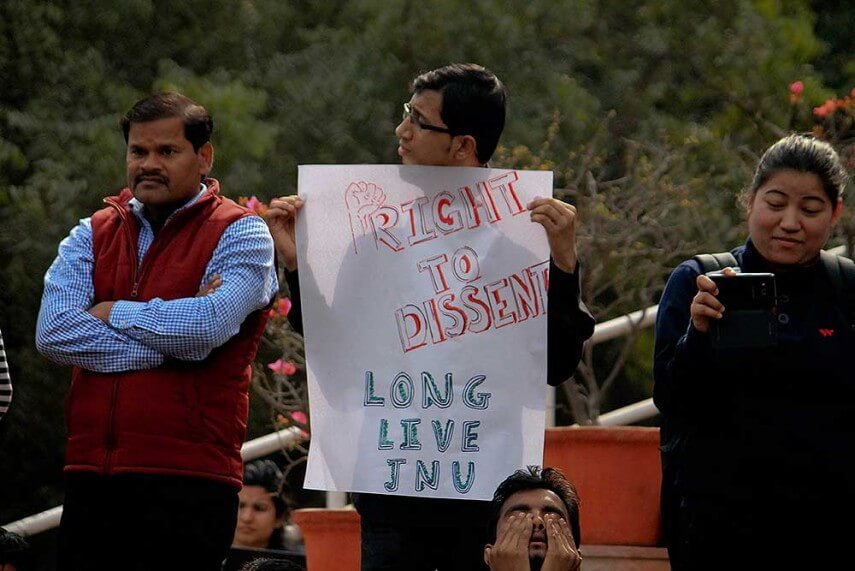 "…Vikrant summoned a throng of people, inciting communal hatred against Najeeb and creating an atmosphere of panic and violence. The group of goons, assembled at the beck and call of the ABVP activist, proceeded to intimidate and physically threaten and beat up Najeeb. The mob mentality incited by communal rage drove Najeeb to hide in the bathroom. As people tried to intervene and help, the lumpen group continued to hurl abuses and intimidate Najeeb. As the JNUSU President tried to accompany Najeeb to the hostel warden, the men assembled were not deterred from lashing out and hitting Najeeb, even in full view of the warden."
The students' union also said there were "concerted efforts to communally polarize the campus" after "deeply offensive statements" like "Muslims are Terrorists" on the table of hostel's common room were found written after the incident. 
In his written statement about the incident, president of the hostel, Alimuddin Khan said "it was a clash between some residents and due to external influences, things escalated quickly." While not making any direct references to the "slapping" and "assault", Khan also said "we are concerned about any political and religious escalation and further issues." 
"When I reached the spot, Ahmad was in bathroom and he was washing his face. We made a circle around him and didn't let the further confrontation to take place. But when the wardens and security officials came, we decided to move Ahmad to his office and understand what had happened actually. However, when we were taking Ahmad to the warden's office, Kumar and his friends pounced upon him and assaulted him," Khan told ScoopWhoop News.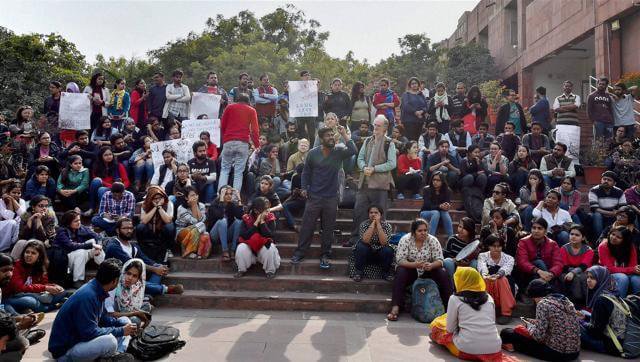 According to Khan, Ahmad, a first-year master's student of bio-technology, had joined hostel recently and was not a familiar face. 
"This prompted many to say that he's mentally unsound. During the proceedings before the wardens, Ahmad repeatedly kept pulling his own hair. He acknowledged slapping Kumar but then kept repeating 'I don't remember anything,'"Khan said. 
Khan's view also echoed in the testimony of Ahmad's roommate, Qasim. 
In his written testimony to the senior warden of the hostel, Qasim demanded "strict disciplinary action against Ahmad" and stressed that Ahmad "be kept out of bound from the hostel." 
Last call to mother 
Hostel residents said soon after the incident, Ahmad called his mother in Uttar Pradesh during the night and asked her to come to the campus. However, when she reached the campus on Saturday, she could only find Ahmad's wallet, mobile phone and belongings in his room. 
"He said nothing except that 'Mere saath koi haadsa ho gaya hai, aap aa jaiye (There has been an incident, please come)'. I told him I would leave as soon as possible, but would not make it to Delhi before noon the next day. I called his roommate Qasim, who said it was just a small incident and everything was under control," Ahmad's mother, Fatima Nafeesi, who reached Delhi on Saturday noon, told  The Indian Express.
Ahmad's mother, Fatima Nafeesi is currently staying at JNU campus, awaiting her son's return. 
On Monday, JNU administration issued a press release extending its support to trace the missing student and giving directions to wardens to search all the hostels. However, the press release stoked controversy after it called the missing student Ahmad, as "accused" of "physical violence."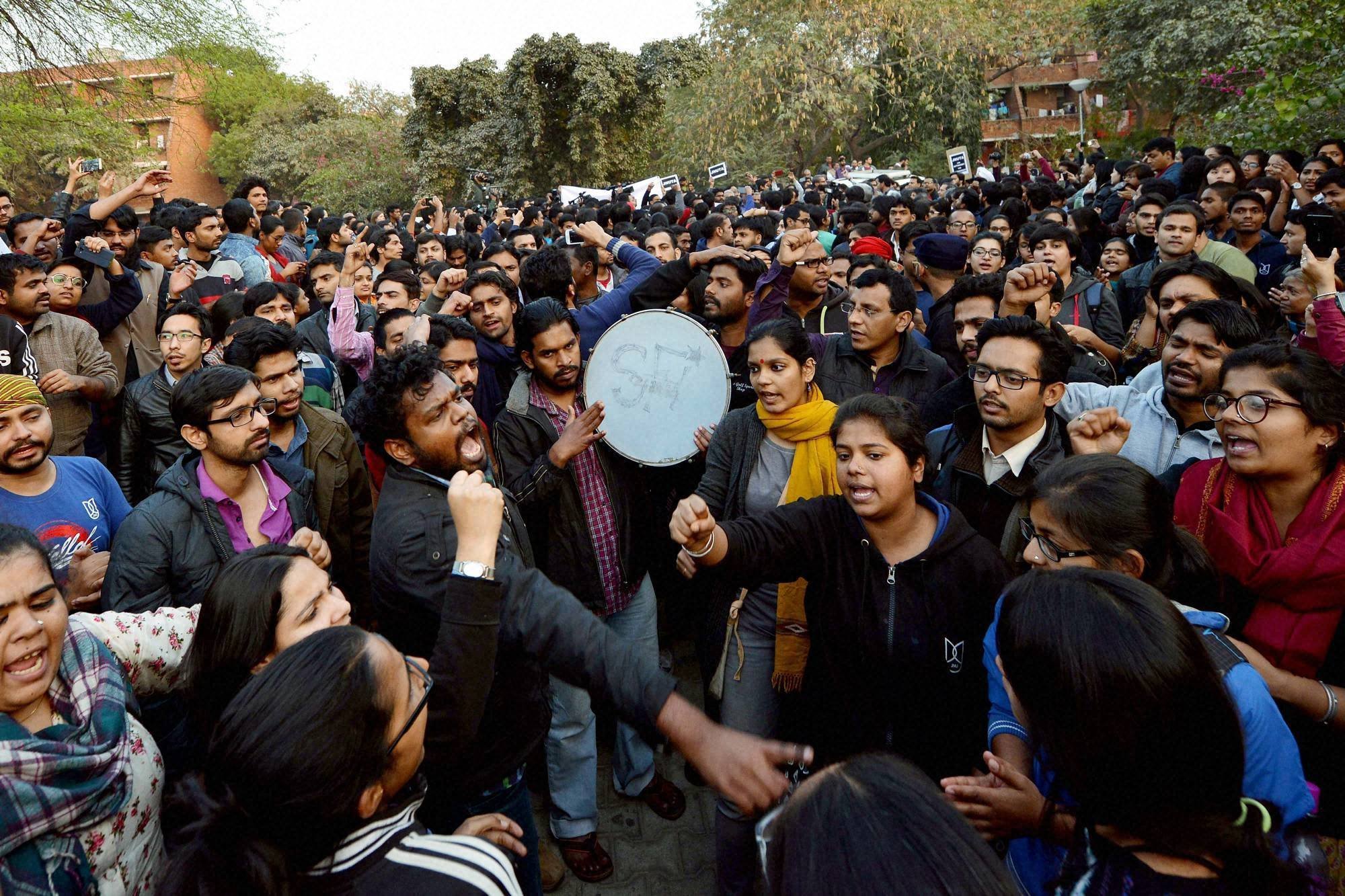 JNUSU called for a complete university strike on Tuesday against the administration's "callous" and "shameless" attitude towards the missing students. They also questioned the failure of JNU administration to lodge a complaint with police.  
On Monday night, the students held demonstration outside Vasant Kunj North Police station demanding quick action to locate Ahmad. Boycotting class work and other activities, the students also held demonstrations on Tuesday near the administration block of the varsity. 
What does ABVP say? 
Demanding swift action from police and JNU administration to find Ahmad and bring him back to campus, former JNUSU joint secretary and ABVP member Saurabh Sharma alleged that Leftist groups and JNUSU are "deliberately politicizing the issue" in order to create "communal tension" on the campus.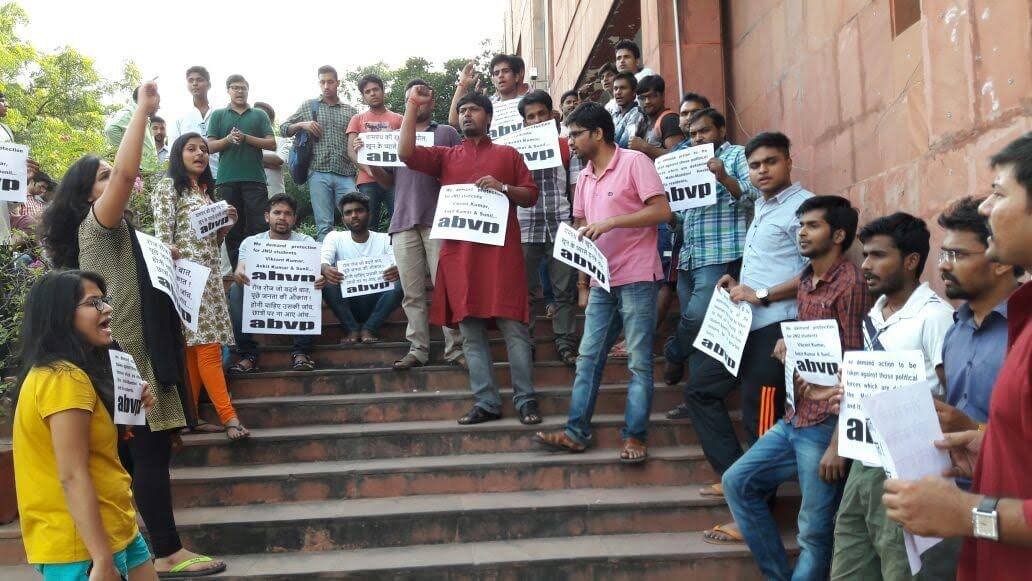 "There was an incident and an inquiry by hostel warden on the same day held Ahmad guilty of assaulting Kumar. As a punishment, he was expelled from the hostel. The next day, he went missing. We fail to understand why is ABVP held responsible for it when it was the administration that took action against him," Sharma told ScoopWhoop News.
Sharma also demanded checking of residential quarters of "Leftist" JNU faculty members who "might have kept Ahmad hidden" in order to draw "political mileage" from the incident. 
"We see this as an attempt to tarnish ABVP's image. After the February 9 incident, Umar Khalid and Anirban Bhattacharya remained underground on the university campus. Later, it came to fore that they were staying at the on-campus residence of some faculty members. Why doesn't police do a round of checking inside the campus,?" Sharma said. 
Feature image source: Facebook/Noushad MK