Little did the Tamil actor-director Radhakrishanan Parthiban, who says that his biggest motivation lies in trying new cuisines as work takes him places, knew that his interview to a daily would provide a hot topic for the nation to debate over. 
During the long-winded interview, where Parthiban clearly went nostalgic while talking about his favourite childhood memory, he talked about how food has been the biggest attraction to him since his toddler days when he assisted his mother in cooking.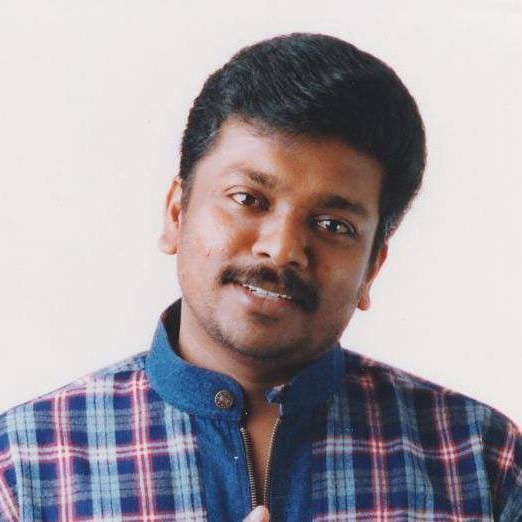 He talked about multiple south Indian cuisines, but in the end insisted on Upma being made the national dish of India, touting the healthy snack as the favourite go-to food for many directors. 
"Upma was my saviour those days. When there was enough money, I used to make kesari, and if there was no money, it was upma. Many assistant directors survive only on upma even today. It requires less ingredients and it is a one-pot dish that can be made in a short time. Upma must be declared the national dish of India." Parthiban told Hindu.
While this seems like a light remark coming from a true Upma lover, TV channel NewsX thought the statement to be breaking news worthy.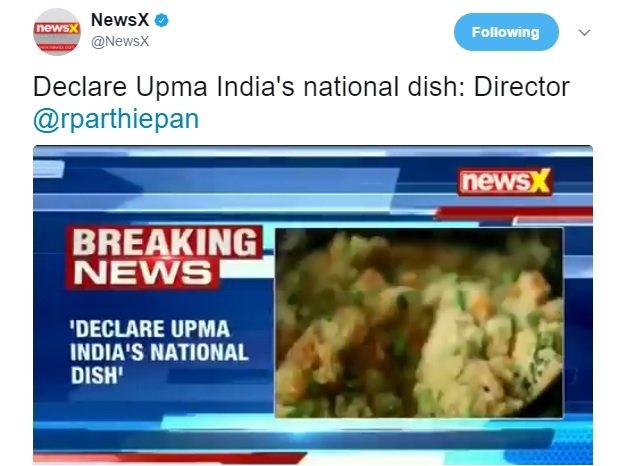 As bizarre as the statement was, people on Twitter had a bomb with it. While some mocked the frivolous nature of the proposal, others thought it to be the perfect time for taking the nation's opinion on what the country's national dish should be. 
lmaodfnsdilkdfslkdsf some dumb TN director insisted Upma to be the national dish now it's on the media…

— 🍊ᵃᶦʸᵒʷᵉᶦ🍋 (@babuxing) June 20, 2017
our national dish should be (please vote in large numbers or submit your own nomination)

— Surekha Pillai (@surekhapillai) June 20, 2017
Because we don't have enough that divides this country let's all scream out what we think should be the 'national dish'.

— Rehna (@Rehnak) June 20, 2017
If anything, the suggestion unleashed insults on the humble cuisine 
people who eat upma, I have some legitimate questions regarding the dish, the first and most important one being-

what the fuck is it?— soutrik 🐰 (@soutrikdebnath) June 20, 2017
wtf man how can upma be the national dish eww upma is barely a dish i mean barely qualifies as edible

— Het (@hetsatra) June 20, 2017
Upma is just rava idli that didn't go to MBA school.

— Lord Morningwood (@dangertoon) June 20, 2017
And then some more crazy-ass suggestions
Our national dish should be Peacock tears.

— Ivan Mehta (@IndianIdle) June 20, 2017
Being honest, the only dish that can be national dish because it's eaten everywhere in the country is, like it or not, puri bhaji.

— Ripper (@Ace_Of_Pace) June 20, 2017
Trust me they should make sev puri the national dish..I mean you should see the firangs !! How crazy they go over bhel and sev puri.

— Jubin (@AntiquityBlue) June 20, 2017
Make Chole Bhature the national dish or GTFO

— n (@NakliRedHead) June 20, 2017
Make wada pav national dish

— Bombay Bae (@BombayBae) June 20, 2017
(Feature image source: Twitter/Facebook)