After Chelsea's club record 12th win in a row in the Premier League, their manager Antonio Conte took journalists out for a drink. He can afford to do so – his side is winning, his ideology has been vindicated and Chelsea have never been more joyous to watch: after conceding 10 goals in their first six games, they've conceded just two in their last 12. It's a remarkable turnaround that has been masterminded by a switch to a 3-4-3 system, one which many thought wouldn't work in the Premier League.
Conte's first six matches saw him play a 4-1-4-1: it was tentative, safe and rigid, unlike the Italian, whose teams are usually expressive, risky and fluid. But after a 3-0 defeat to Arsenal in September, he'd seen enough, and reverted to a system that was questioned, before Conte hammered the answer home in style. 
In 12 games since the switch, Chelsea have scored 28 goals, beating Manchester United, Everton, Spurs and Manchester City in the process, with no team having worked them out.
So how does the 3-4-3 work, how has it been able to blow away teams with more defenders (on paper) in such an intense league, and does it really matter?
HOW DOES THE 3-4-3 WORK?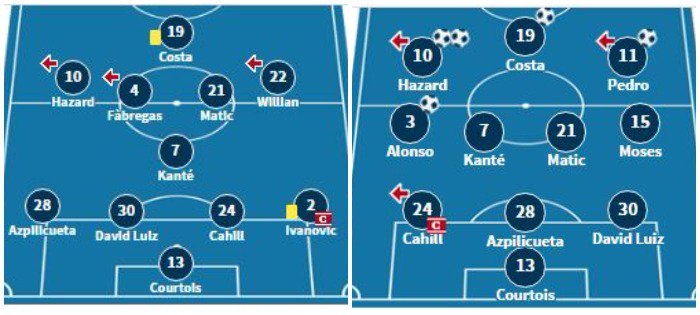 Unlike Pep Guardiola, Conte is not wedded to a 3-4-3 system. He has used the 4-2-4 and the 3-5-2 in title-winning campaigns in his career, with Bari, Sienna and Juventus as well. Chelsea's 3-4-3 is slightly different in its risk-taking capacity, along with the ability to contain pressure.
In N'Golo Kante, they have the league's most energetic midfielder. He is only second to Ander Herrera in the total interceptions made in the Premier League, with 47 in 17 games. He's won 38% of his tackles and 70% of his take-ons, and is the bedrock on which the entire Chelsea machinery works. With Nemanja Matic as the man who picks up the scraps with Kante, the front three of Eden Hazard, Diego Costa and Pedro or Willian are free to roam forward.
HOW HAVE HAZARD AND COSTA RETURNED TO FORM?
Hazard has nine goals and two assists in 17 league games this season. Last season, he finished with just four goals and four assists in 31 games. Diego Costa has 13 goals in 17 games. That's already one goal more than he scored in the entire 2015-16 season. While Jose Mourinho demanded his attackers to track back and help the defence, Conte has provided cover for his three-man attack with wing-backs Marcos Alonso and Victor Moses. Moses has in fact won more tackles than Kante this season. As for Alonso, he's a solid wing-back who protects Hazard on the left flank – boasting a passing percentage just short of 80%. 
As for Costa, Conte has channeled his aggression in the right way, allowing him to play his robust physical game but maintaining his need to stay disciplined for the team to win.
"I want him to play with the right passion and the right aggression. He must transfer his emotions on to the pitch in the right way. Always. I think that Diego is a good guy. He's a player who is very important for the team. I tell him: 'Transfer your passion and enthusiasm in the right way, and it's good for me'," he said.
WHY HAVE TEAMS STRUGGLED AGAINST THE 3-4-3?
Imagine a team which has three forwards up-front always, ready to pounce on chances like hyenas lapping up on the remains of a hunt provided by their midfield. Now imagine them protected by two wing-backs, who track up and down the pitch incessantly. Then there's Matic and Kante – who cover all these five players: the forwards and the wing-backs. And finally, a three-man centre-back partnership which sits deep, allowing teams to come at them — if they can get past the first seven men that is. Finally, in Thibaut Courtois, they have a brilliant goalkeeper.
While the four-man defence provides adequate cover as well, Chelsea's system allows them to push an extra man in attack and two extra defenders when containing pressure.
The transitions are beautiful to watch – and so are Chelsea.