First our children and now our elderly. Seems like India is not taking care of a significant amount of its population which needs it the most.
(Also read: These Infographics Prove That We Don't Take Care Of Our Children)
The recently released HelpAge India report titled 'How India treats its Elderly' paints an abysmal picture. Released on Wednesday on the account of 'World Elder Abuse Awareness Day', the report states that besides high amount of abuse at homes, the elderly also encounter hostility at common public places like malls, private hospitals and public transport. 
What is all the more alarming is that despite government's orders, a large number of senior citizens, particularly in Urban cities, are starved off their basic rights. 
Here are the results of the survey that was carried out on 4615 participants across 19 cities covering experiences of the elderly as they interact with people. 
So you thought private hospitals known for charging a handsome fee do justice to the senior citizens? Think again.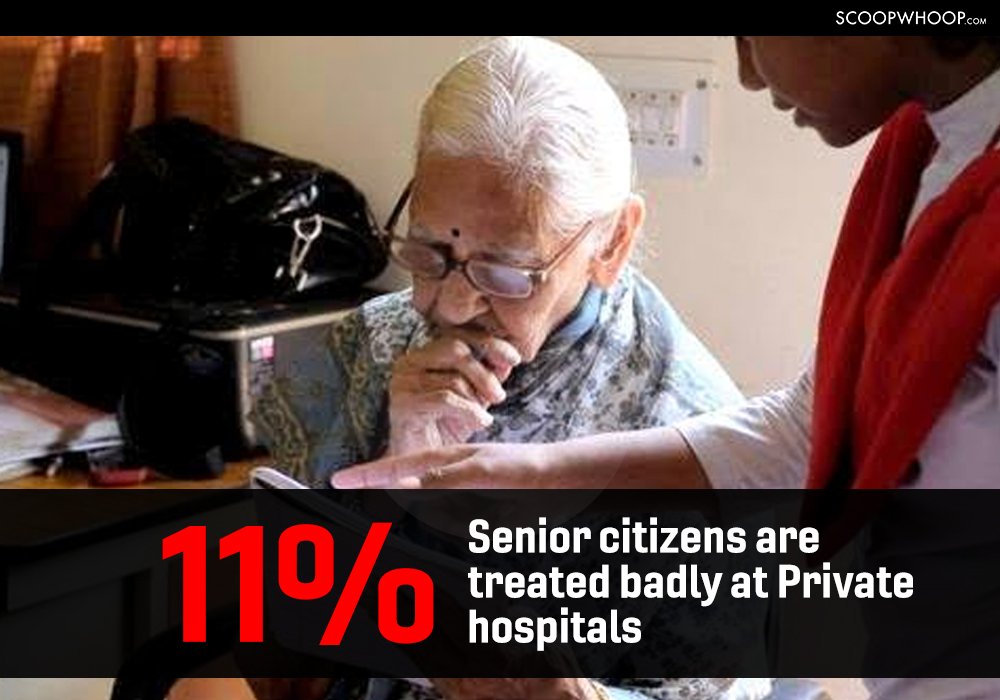 According to the report 26% of the elderly in the national capital have admitted of bad behavior at Private hospital, preceded by Lucknow with 54%. However, things are not very good with government hospitals either which accounts to a 12% rate nationally. 
This came as a shock to us as well. Several in the report have raised concerns over their appearances which often lead to bitter reaction from the young.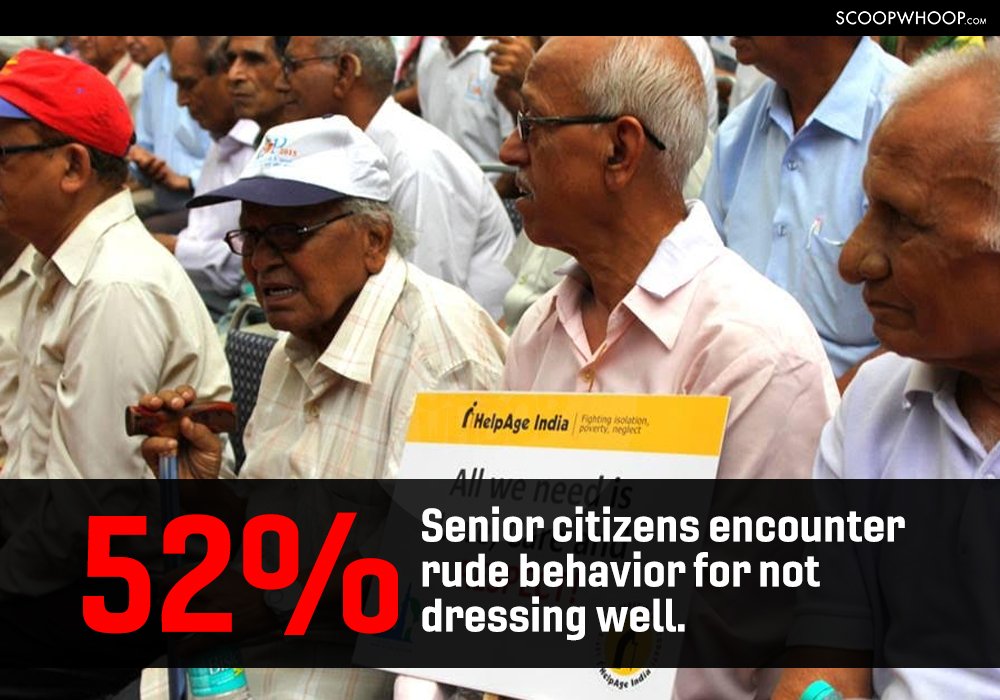 It's sad how 77% of elderly from Guwahati have admitted to not being respected solely for 'not dressing well'. 
"The core of it all is 'Ageism', which is discrimination on the basis of Age. Few understand it, but practice it knowingly or un-knowingly in their daily lives with elders," pointed out Manjira Khurana , Country Head-Communications, HelpAge India.
One would think that the staff at our Malls are very courteous, but this report suggests otherwise!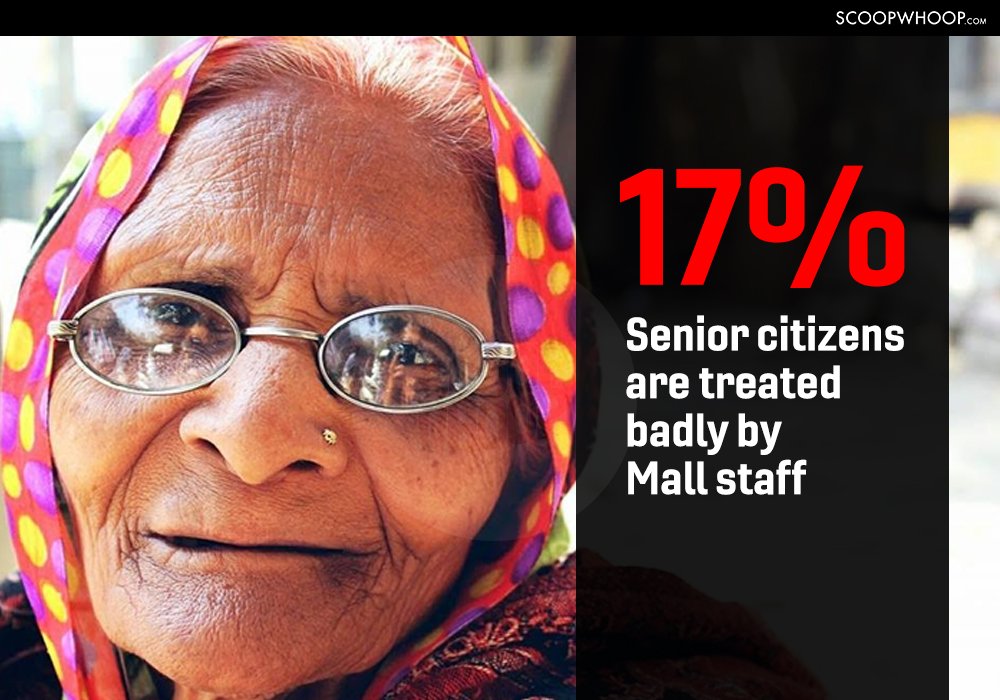 Unlike local markets where only 13% of the elderly have complained of hostility from vegetable vendors, the figure for the malls is a notch higher at 17%. 
About 31% of the elderly from Bhubaneshwar have admitted to lousy treatment at the hands of the staff while only 2% in Kolkata feels so. 
Things are not very different when it comes to Public Transports as well.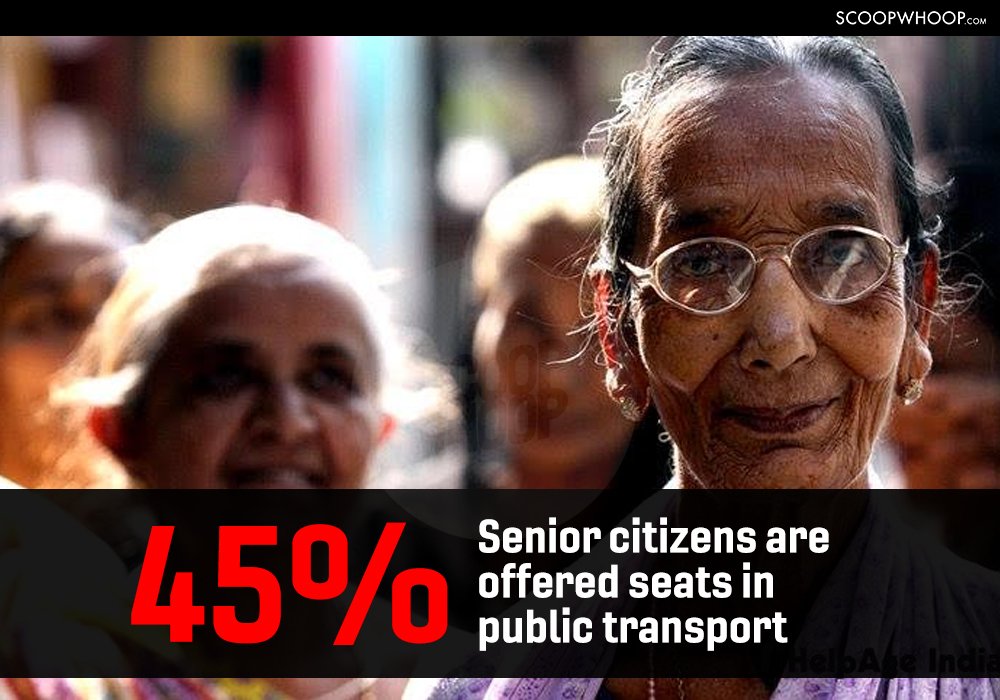 Out of 78% who opt to travel by public transport, only 45% have reported to have been offered seats. This data is all the more alarming as clear rules are already in place that rightfully grants access to the elderly in public transport. However, it seems like there is little implementation of the norms.   
According to the Accidental Deaths and Suicides in India report of 2015, 75% of accident deaths occur due to over speeding, dangerous driving and overtaking. So one can clearly understand why over 50% of the elderly fear our rash motorists.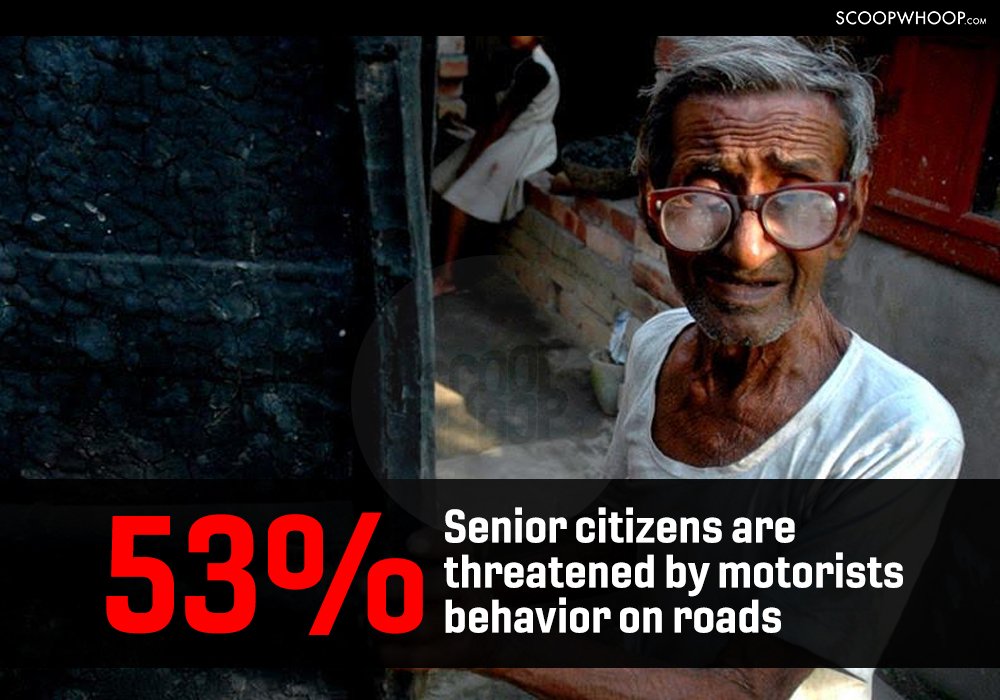 While 68% in Bangalore are terrified of motorists, the percentage is much lower in Hyderabad, 33% and Delhi 40%. 
The report also quoted that most elders believe that these kinds of behavior occur because it is easy to get away despite being rude with elders. 
But there's good news too! Many elderly across the cities have claimed that in Metro they are often offered seats.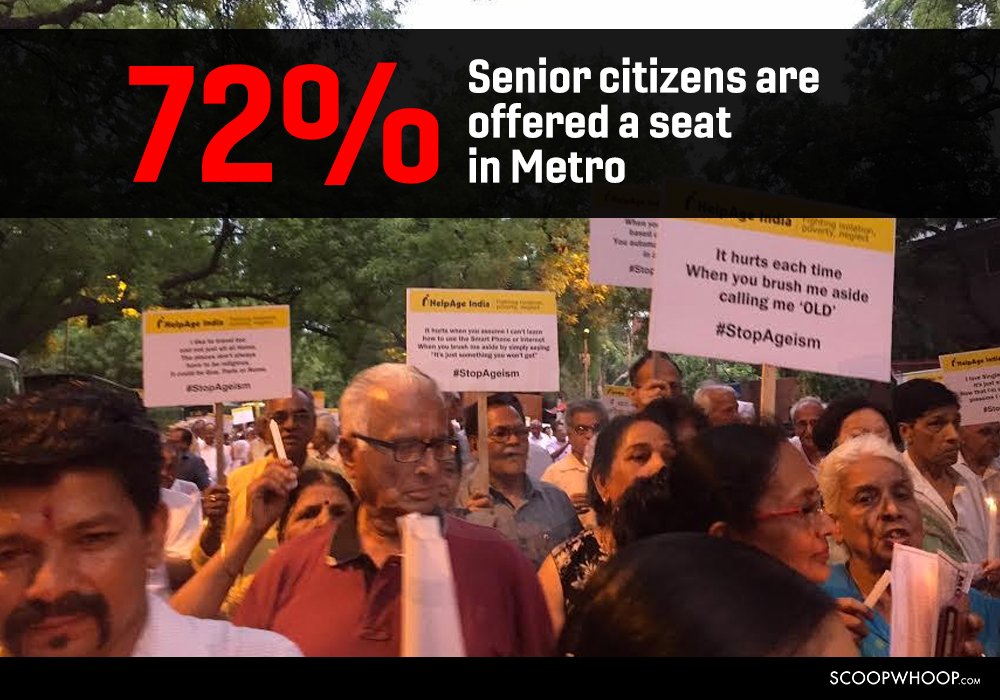 While 72% is not great, it is still laudable as it shows that the young are concerned about the elderly. While both Delhi and Bangalore boast of 91% elders being offered seats, only 62% elders in Mumbai get the privilege.  
As worrisome as these statistics maybe, it is high time that we take a cue and treat our elderly better. We know we can do much more. 
(Feature image design : Vineet Kumar/ScoopWhoop)