On February 12 when JNU Students Union head Kanhaiya Kumar was arrested from the campus on charges of sedition, the reaction was muted. Classes went on as usual. But that changed by evening, as the news spread like wildfire and students reacted with shock and confusion. 
There was considerable anger on the campus, but no display of it yet. 
It was then that the faculty at JNU took it upon themselves to fight what they believed was the high-handedness and attack on freedom of speech by the government and the police. Their decision catalysed a students' movement that made national headlines and ensured their voice never went unheard in the debate on nationalism and Kanhaiya Kumar's arrest.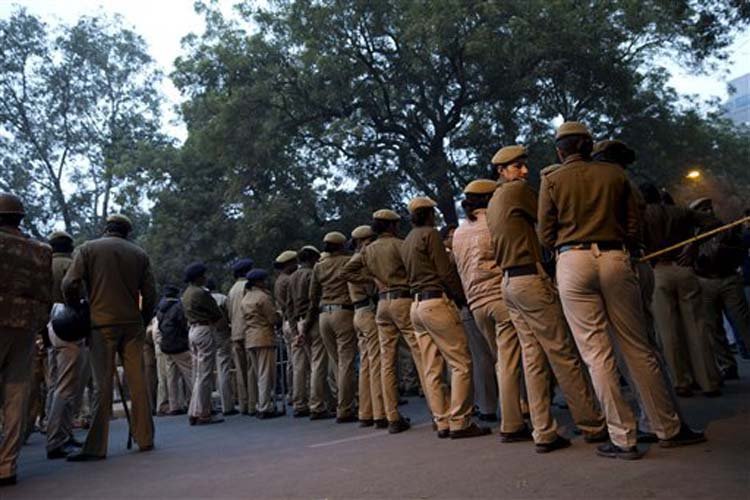 First strike
On February 13, the office bearers of the Jawaharlal Nehru University Teachers' Association took the first step. Bikramaditya Chaudhary, JNUTA secretary, held an emergency general body meeting with 100-odd association members. At the meeting, they decided their stand on the arrest. 
"We all unanimously agreed that sedition charges simply didn't apply because the preliminary condition for the charge – presence of an irrefutable evidence for disruption of peace – wasn't satisfied.
"By evening, we came out with a statement demanding immediate withdrawing of police and release of all those detained," he told Scoopwhoop. (Read the statement here)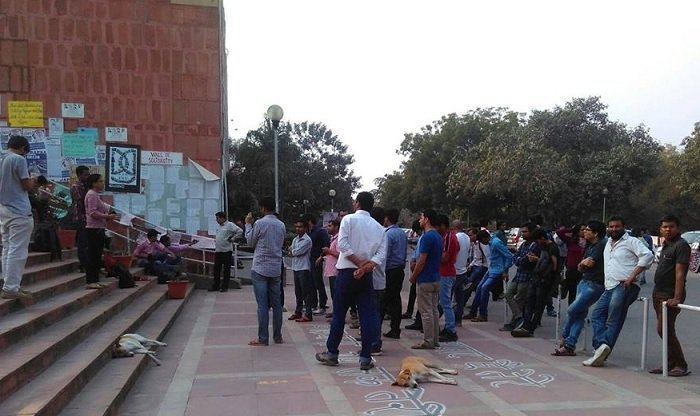 Chaudhary explained why immediate response from teachers was needed. 
"The students were shocked, but they were also very angry. Once anger becomes leaderless, it can turn to violence. We had to give them a direction," he said. 
Rahul N, a member of Student Federation of India (SFI) said that around 300-400 students had gathered at a dhaba in JNU, when the teachers' came out with the statement to the media. 
"It was one of those rare moments in JNU when leadership didn't take an immediate role," he said. 
The students' voices rise
By the next day, the students had gained in confidence, but their protest still hadn't taken shape. So they gathered at a dhaba in the campus and formed a long human chain. 
They raised slogans demanding that sedition charges against Kanhaiya Kumar be dropped. Families of staff members residing on the campus also joined in. 
Support had started trickling in, through mainstream and social media. The faculty and the students now decided they needed to speak in one voice. A group of five-six teachers and students came together and formed a social media group.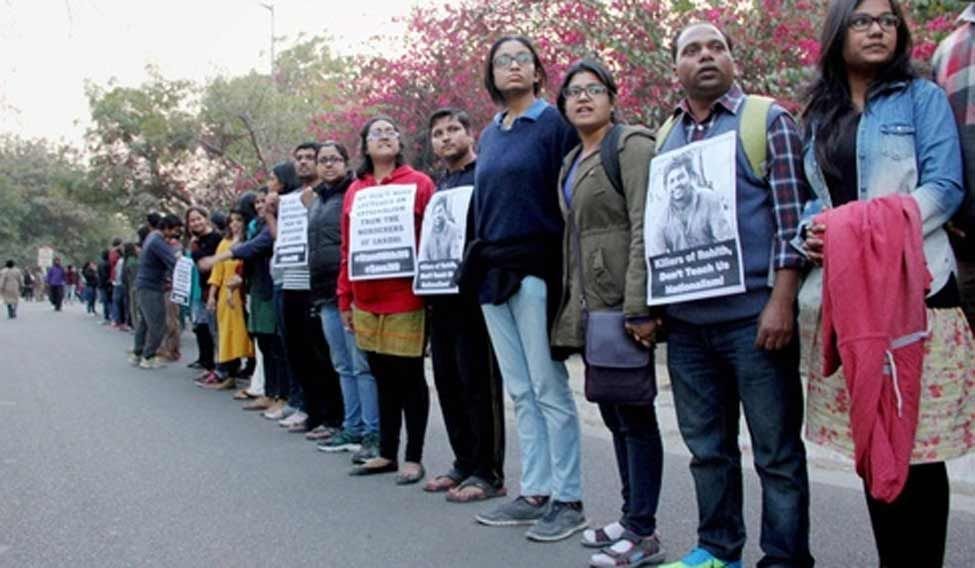 "People were already taking their protest to social media platforms, but channelising that was needed. We created the Facebook page Stand With JNU (it has has more than 10,000 likes) which proved very useful," Vikas Rawal, a professor of Economics at JNU, who led the group, said.
"Actually, multiple pages were created, but this picked up the most," he said.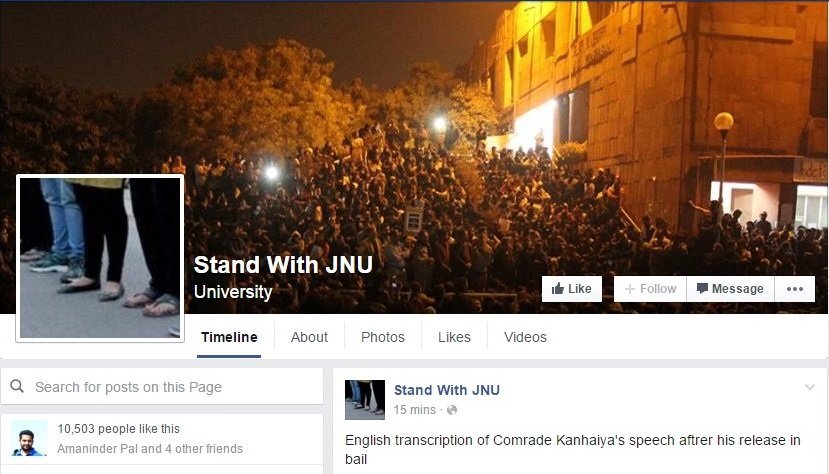 Rawal admitted the team was rather inexperienced in handling social media campaigns, but scraped through. For filming videos of activism at JNU, the team used personal phones for days to come. 
"I almost broke my phone when it slipped off my hands while filming a protest rally. We then bought a new phone only to film videos. We didn't have equipment for filming professionally," he said.
Looking back, however, Rawal said he wished they had set up a website. 
"We could only reach out to social media users. If we had set up a website, we would have reached lakhs of people more around India," he said.
No stopping them
From then on, the movement grew organically. "To say that students coordinated under a pre-planned strategy is not right. In the fast-changing environment, after the arrest of Kanhaiya, the students took to different roles almost without any order," said a student without wanting to be named. 
Students from all left-leaning parties, and even otherwise, joined hands and dropped differences.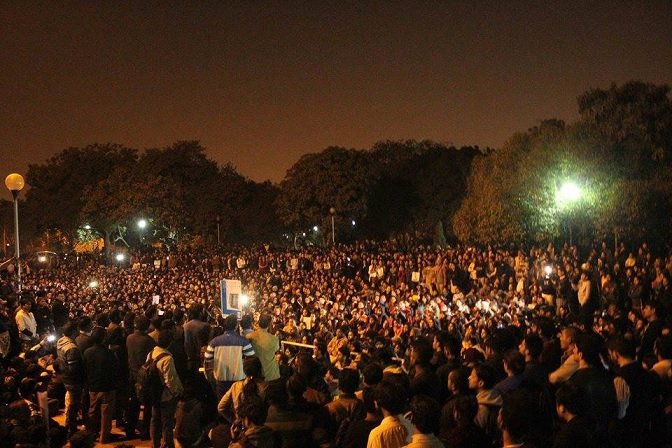 It was also then that JNUSU's vice-president Shehla Rashid took over as the face of the student angst. "It was largely because she was the only one left of the four JNUSU's office-bearers at the campus. While president Kanhaiya was in jail, general secretary Rama Naga had gone underground. Joint secretary Saurabh Sharma (from ABVP) belonged to the other faction" said Rahul N.
Watch this video of adressing students here:
Aprajita, another vocal protester, said all work was "voluntary."
We buried our differences
"The students who are fighting this battle belong to diverse ideological backgrounds but what acted as an immediate effect of the February 12 police raid was that each of us buried our differences under the sleeve and decided to fight together. We are trying to reason with Fascism. Teachers played an important role in guiding the movement," she said.
"When the media began targetting and maligning JNU students, we decided to utilise the space of democratic media – social media. The movement was also in flux. So if we had a particular plan on a particular day or time, we would easily restructure it around happenings outside JNU," she said.
Virender, another student, said, "Protests or strikes are nothing new at the campus. In that sense, we were experienced enough to carry out excellent coordination during the protest."
"Each one of us knew what to do, without having been assigned a job. For example, while we would go about collecting money for photocopying posters, a team had already designed and prepared a soft copy of the posters. Then we would distribute these among the students, who would then start campaigning in their respective hostels. A few of us took the job of pasting them over the walls," he said.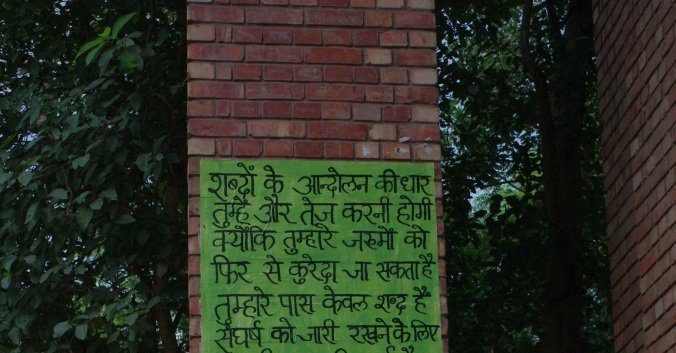 In fact, changes in schedule happened many a times. One such example was when members of ABVP invited army veterans near University's administration block, where already, protests against government were on in the form of lectures on nationalism. 
"JNUSU took a decision to postpone its lecture so as to avoid any possible confrontation, which could have heavily damaged the cause of students," a student said.
JNU insiders added there were clear instructions from the office-bearers and activists to debate and discuss JNU crisis on social media and expand the flow of information to the wider audience.
The rally that made a difference
All the efforts culminated in the form of a massive rally on February 18, which proved to be a big day in the crisis. Led by All India Students Federation (AISF), a protest march as carried out from Mandi House to Parliament Street in Delhi, despite an appeal by JNU's Vice-Chancellor to reconsider their decision. Thousands of people, including teachers and students from various universities, lawyers, academicians, artists and activists, joined in – making it a people's movement. Watch the video of the rally here:
The rally went on to make a mark and trigger many a debates. Then on, the protesters began assembling at administrative block everyday for lectures of "nationalism", and organising in-campus rallies off and on.
All this had an impact, and, on March 3 evening, Kanhaiya got bail and returned to the campus. And if you believe Kanhaiya, then the fight is far from over.