Maneka Gandhi, the Union Cabinet Minister for Women & Child Development, is in a bit of a spot. In an interview given to NDTV on March 8 she justified early curfew for girls in hostels saying it is needed to protect them from their own "hormonal outbursts". Needless to say, she was slammed unequivocally on most social media platforms because of this. 
Gandhi defended her comment in a Hindustan Times report saying that a part of her statement has been taken out of context. "If you see the video I have said that there has to be same deadlines for both boys and girls and why should boys be allowed to wander about in the campus after 6 pm," Gandhi told HT.
We analysed the fateful clip and discovered a number of stereotypes that Gandhi seems to be propagating here. 
Girls should be vegetarians? 
What happened?
A young woman from the audience, immaculately polite and respectful, framed a very valid question for Gandhi at an NDTV show: "The well-educated authorities of universities, they have formulated rules which themselves are gender-biased. For example, non-veg to be not served in girls' hostel…" 
"I am quite happy with that," interrupted Gandhi. "I am what's known as a proselytizing vegetarian," she smiled. 
Why is it wrong? 
To proselytize is to advocate or promote a belief or a course of action. Anyone who is familiar with the union minister's career, knows that Gandhi is indeed a passionate promoter of vegetarianism. 
But the question posed by the young girl, which the union minister interrupted, was not just about a lifestyle choice. The unidentified girl was obviously referring to the last year's unrest in Benares Hindu University, where, the residents of the women's hostel are allegedly subjected to stringent moral policing, which also includes diktats on their dietary habits. Gandhi, in one statement, downplayed all the allegations of discrimination at BHU.
'No non-veg food in girls hostel'
"The girls have to reach their hostel before 8 PM, otherwise they'll be suspended. They can't wear skirts and short clothes. The mess in the girls' hostel does not cook non-veg food anymore. If the hostel warden or hostel coordinator finds a girl using her mobile phone after 10 in the night, they will call our parents and tell them that your daughter is doing wrong things in the campus and bringing 'shame' to your name," a girl student from BHU's MMV Hostel Complex had told ScoopWhoop News.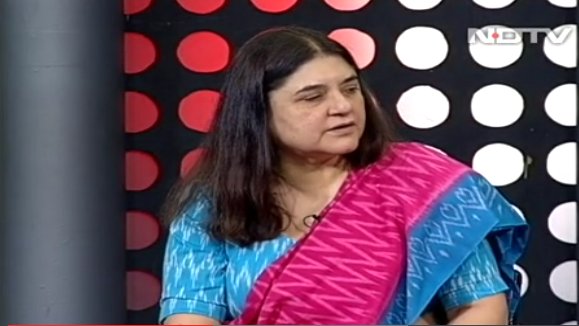 All about hormonal outbursts
What happened? 
Maneka Gandhi, who has frequently advocated gender equality and women's empowerment, took it upon herself to familiarize the youth of India with the oft-cited concept of "lakshman rekha".  
"To protect yourself from your hormonal outburst, perhaps a certain protection, a lakshman rekha is drawn… You can make it 6pm, you can make it 7pm… It's really for your own safety point (sic)… It's not simply against rapists or against something else, it can be also against traffic accidents…" she said. 
Why is it wrong? 
Women rights activists  have been trying to break  such curfews and let women reclaim public spaces for years now. Gandhi's statement seems to suggest that girls have to lock themselves in their hostel to keep themselves from harms' way. The 'hormonal outburst' comment itself seems to be loaded with preconceived notions about teenage sexuality. 
'Being out in the evenings has nothing to do with raging hormones' 
Dia Basu, a post-graduate student of Presidency College Kolkata, told ScoopWhoop News that women's hostel don't only having 'hormonally-challenged teenagers, as Gandhi seems to suggest. "She seems to think that going out means having sex. How is that logical? Moreover, a lot of adult post-graduate students too live in hostels, what about them?" asks Basu. 
"Maneka's allusion to hostel curfews as "laxman rekhas" exposes wonderfully what we have been saying right from the beginning, that these rules are not mere archaic rules, that underlying them is an elaborate system of brahminical control over women's lives and decisions. It only further proves the fact that what we are fighting against is a massive structure, from the family whose opinion is sought by the administration to legitimise these rules, to the structures of state power that seek to build their manuwadi edifices through regulation of women's bodies and sexualities," says a representative of Pinjra Tod, a students organisation from the Capital, working on reclaiming places for women. 
Bihari = Watchmen? 
What happened? 
The unidentified girl tried again to bring some sense to the proceedings by suggesting that the problem can be solved by "improving the security, not by, caging them inside the hostels."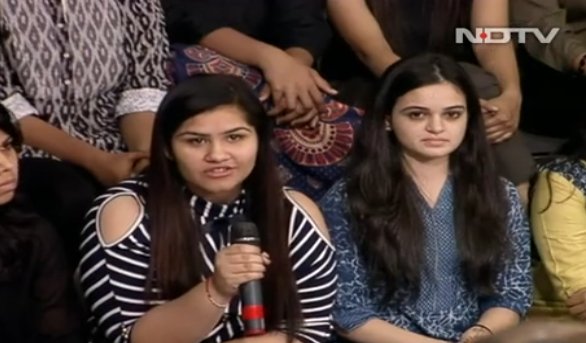 To which, the union minister for women and child development had a very problematic reply. 
"It can't be solved by putting two Bihari gentlemen on the gate with dandas," she said. 
Why is it wrong? 
In one sweeping statement, the honourable minister validated the rampant stereotyping and xenophobia that Biharis are subjected to in most parts of the country. Because, it seems, the words Bihari and watchmen are synonymous with each other for our union minister. 
'Are we only good for menial jobs?' 
According to Avinash Kumar, a member of Bihar student's union, Delhi, Gandhi should have exercised caution while making such a sweeping generalistaion. "She is a union minister. How can she indulge in such stereotyping? As Bihari students we are subjected to jokes and derogatory remarks everywhere. She just validated all of them," says Kumar.
Go out, but only to visit libraries 
What happened? 
Maneka Gandhi eventually came to a compromise, by suggesting that both boys and girls should be allowed to go to the library twice a week, "if, of course, your purpose is to go to the library." 
Why is it wrong? 
The implication of that statement cannot be ignored. She seems to be suggesting that for students, anything, apart from bi-weekly visits to the library is a nefarious activity.
'Why can't we step out for a movie?' 
Deepa Das, a second year student of Mass Communications at Jadavpur University, Kolkata feels that this particular statement is regressive because it imposes 'antiquated morality' on students. "We cannot venture out after 6 pm to watch a movie, for shopping, for an evening out with friends simply because we are young and our hormones are our worst enemy. Not the sexual predators who commit crimes against us," says Deepa Das, a second year student of Mass Communications at Jadavpur University, Kolkata.