Along with fighting militants and stone-pelters, the Indian Army has been engaged in a different kind of job in the Kashmir valley – education. And its efforts of ensuring quality education to Kashmiri students have slowly started paying dividends.
From the last 3 years, the army has been training Kashmiri students to crack IIT exams through its engineering coaching initiative, 'Super 40' . On June 11, when the IIT results were announced, nine of the students trained under the initiative had successfully qualified the exam. 
In the first stage of the competitive exam, 28 students out of total 35 enrolled in Army's 'Super 40' programme had cleared JEE Mains. All of them are now eligible for admission in the NITs.
"The success achieved this year was overwhelming, with nine getting through JEE advanced. Twenty-eight students, including two girls, had previously qualified in the JEE Main, the first step of the selection process, in April 2017,"  an army spokesperson said. 
Funded by PSU Petronet LNG Limited, the aim of the programme is to train students in the state to help them clear IIT entrance test. However, it's the army, along with Centre for Social Responsibility and Leadership (CSRL), that executes the program on the ground.
According to ANI, 'Super 40' Programme, known as Super 30 in 2013-14, started with the aim of coaching 30 students from Kashmir preparing for IIT main exams. In 2016, the number rose to 40. Under the program, the selected student are provided 11 months of free lodging and classes for free. 
On Tuesday, Army Chief General Bipin Rawat met the students in Delhi and congratulated them on their success. 
"Few amongst you will become the District Magistrates and SDMs. And you will be able to help the other children," he told students.
He also asked students to return to their roots after they complete their studies and help in the development of the state to alleviate the hardships faced by the people.
"They (the youth) should either have a laptop or a book. Whatever time they get they should devote to studies," Rawat said.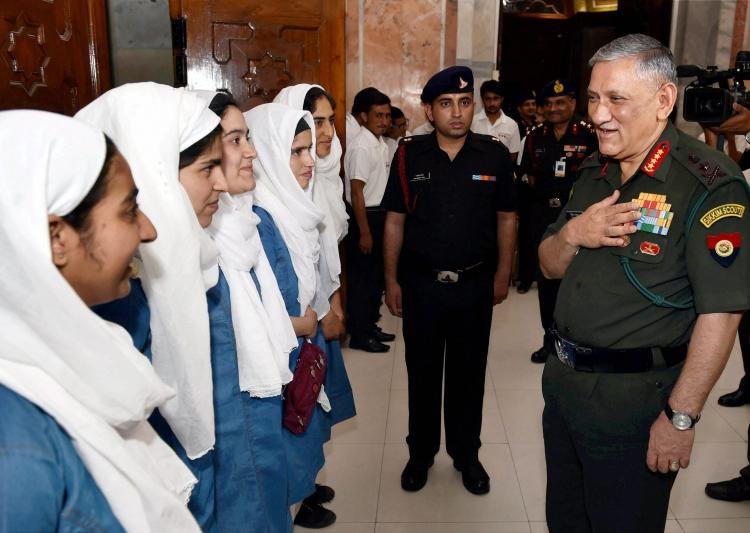 One of the students of programme, Nikhat said that the coaching helped her to achieve her dream of pursuing engineering.
"I am planning to do engineering. I was in the coaching programme. The faculty was good in Delhi and it helped us to prepare for the exams," she said.
Major General R.P. Kalitha, under whose supervision this initiative is being conducted, lauded the Kashmiri students for their exemplary handwork and dedication towards their studies. While the girls were coached at Noida, the boys were given training in Srinagar.
He also said the intake capacity of the programme might be extended next year. 
(With inputs from PTI and ANI)
Feature image source: