The two-member fact-finding committee set up by HRD ministry in the aftermath of Dalit scholar Rohith Vemula's suicide has held Hyderabad University administration squarely responsible for the circumstances leading up to Rohith's suicide. The report has also established that there existed a "trust deficit" and "academic discrimination among some of the students" in the University, Economic Times reports.
However, the report also absolves the Ministry of Human Resource Development of having any role behind the scholar's death. 
According to the ET report, the University's grievance redressal mechanism for students was "non-functional/dysfunctional" in providing any succor to the aggrieved students. 
Rohith Vemula's expulsion from the University along with five other members of the Ambedkar Students Association (ASA) in December 2015 had come in the wake of "gaps in several processes" followed by the university administration, the report added.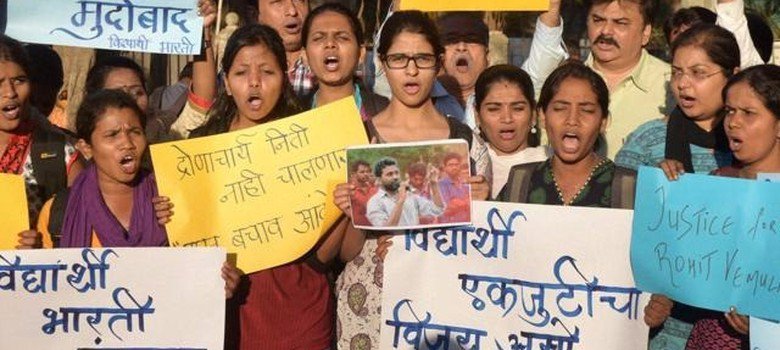 It also said that University top officials had told the fact-finding committee that they "had not taken serious cognizance of the letters from MHRD" and "did not feel any pressure to act" as a result of letters. 
While recommending an external inquiry to "re-examine" the whole issue once again, the report is frank enough to add that "very critical issues" were "left unchecked or unresolved… despite fault lines being obvious."
It also recommends Rohith's family to accept Rs 8 lakh ex-gratia compensation which the family has refused to accept until University's Vice-Chancellor Apa Rao Podile resigns first.
Podile has gone on an indefinite leave. 
After Rohith's suicide had turned into a political firestorm, HRD ministry had announced a judicial commission to examine the matter by sending two ministry officials to Hyderabad Central University. 
The committee submitted its report on January 22.
Feature image source: Facebook/Rohith Vemula