Humans Of New York are on an extended Pakistan visit, and for the past few weeks they have been sharing heart rendering stories of our dear neighbours, with fascinating lives. But while the posts garnered appreciation, none received the kind of overwhelming response that this woman's story did.
In a post on August 13, a woman from Lahore, Pakistan featured on HONY describing her life after getting out of an abusive relationship. She talks about her primary concern for her daughter, and a life threatening disease with nowhere to go.
"I left an abusive relationship and I have nowhere to go. I have Hepatitis C, so no one is willing to take me in. I…

Posted by Humans of New York on Thursday, August 13, 2015
The post was followed by another, of a person trying to help her in her time of distress. He says that the woman approached him at the Sunday market, and asked for help. Now, the kind man is helping her set up a stall, letting her be independent, with his limited means.
"I'm trying to help her figure out her future. I was working at the Sunday market, and she asked me for help setting up…

Posted by Humans of New York on Thursday, August 13, 2015
But the most heart warming part was, when support erupted for her across the social media, and people started asking for ways to contact and help her. Calls for helping her poured in from all directions. Sample some here.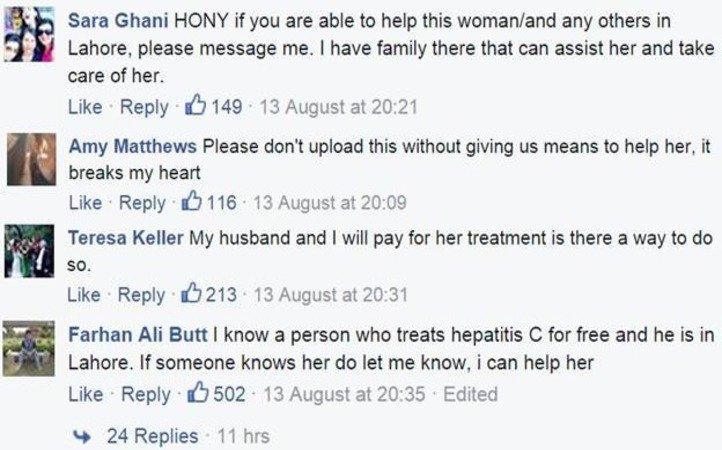 The triumph finally came when HONY managed to find the woman again, and put in efforts to help her. The page said, "Thanks everyone. Based on the outpouring of offers and support from yesterday, hopefully we can help her heal and get back on her feet."
We have located the woman from yesterday's post, and are in contact with her. We also have someone in Lahore who is…

Posted by Humans of New York on Friday, August 14, 2015
While the social media is infested by trolls and hate comments very often, such occasions show that humanity is still intact.