Gunmen and bombers attacked busy restaurants, bars and a concert hall at locations around Paris on Friday, killing dozens of people in what a shaken President Francois Hollande described as an unprecedented terrorist attack.
According to latest figures, Police sources said at least 140 people were killed and 60 wounded in up to five attacks in the Paris region. French media reported higher unofficial death tolls.
The apparently coordinated gun and bomb assault came as the country, a founder member of the U.S.-led coalition waging air strikes against Islamic State fighters in Syria and Iraq, was on high alert for terrorist attacks ahead of a global climate conference due to open later this month.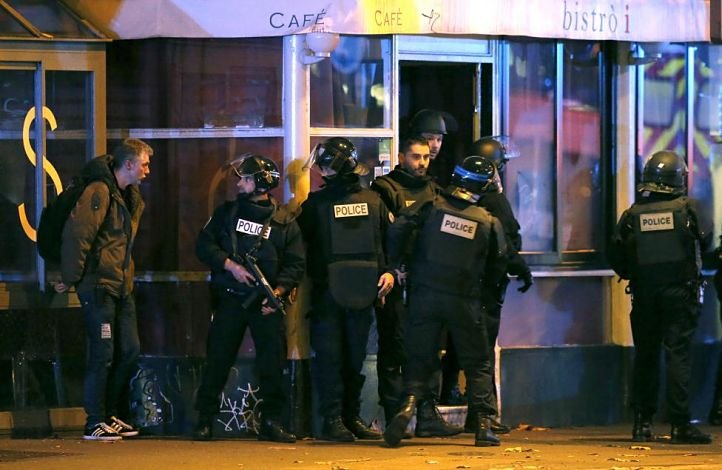 Hollande, who was attending an international soccer match with German Foreign Minister Frank-Walter Steinmeier when several explosions took place outside the national stadium, declared a state of emergency in the Paris region and announced the closure of France's borders to stop perpetrators escaping.
"This is a horror," the visibly shaken president said in a midnight television address to the nation before chairing an emergency cabinet meeting.
All emergency services were mobilized, police leave was canceled and hospitals recalled staff to cope with the casualties.
Hollande said police were launching an assault at one of the attack sites as he spoke. A Reuters witness heard five explosions outside the Batalla music hall, where up to 60 people were being held hostage.
Earlier, witnesses said an elite anti-terror unit had taken up positions outside the popular concert venue, which was attacked by two or three gunmen, who were reported to have shouted slogans condemning France's role in Syria.
"We know where these attacks come from," Hollande said, without naming any individual group. "There are indeed good reasons to be afraid."
France has been on high alert ever since Islamist gunmen attacked the satirical weekly Charlie Hebdo and a Kosher supermarket in Paris in January, killing 18 people.
U.S. President Barack Obama and German Chancellor Angela Merkel led a global chorus of solidarity with France and U.N. Secretary-General Ban Ki-moon condemned the "despicable attacks" and demanded the release of the hostages.
Julien Pierce, a journalist from Europe 1 radio, was inside the concert hall when the shooting began. In an eyewitness report posted on the station's website, Pierce said several very young individuals, who were not wearing masks, entered the hall while the concert was under way armed with Kalashnikov assault rifles and started "blindly shooting at the crowd".