India has an open defecation problem, and its a deadly one. It is said to be the root cause of over 1 lakh children dying every year due to diarrhea. And the problem is huge. According to a study conducted by an NGO, if the number of people who don't have access to a toilet stood in line, it could stretch all the way to the moon.
A report by non-profit agency WaterAid said that if every Indian who doesn't have a toilet stood in a single line to use one, that queue would stretch all the way to the Moon. And it would take more than 5892 years for that queue to be cleared.
Here's where India stands with respect to other countries in the world. Even Chile, which would have the second longest such queue in the world, would only have a queue that is half the length of India's: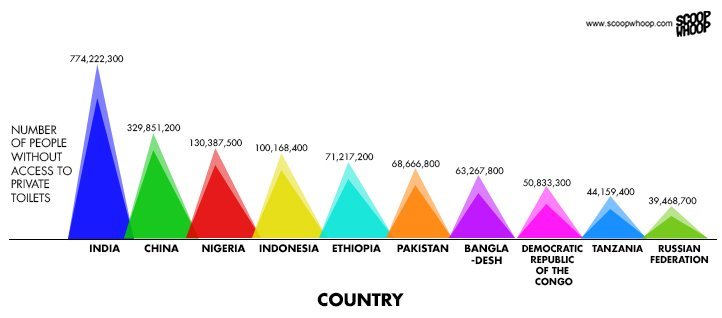 Source: WaterAid
The global study by the NGO only highlights the urgent need to end open defecation. It pointed out that the areas that are rapidly growing cities, with slums that lack sanitation facilities, are locations that have open defecation areas. In India, the problem extends well beyond urban areas and even in rural areas the problem of open defecation is a long way off from being solved.
The problem as WaterAid noted in its report, was a combination of lack of maintenance and cultural issues.
" In rural areas, new facilities fall into disrepair where there are no resources for maintenance. Often, cultural beliefs prevent people from using latrines or practising good hygiene," the report said in the context of India .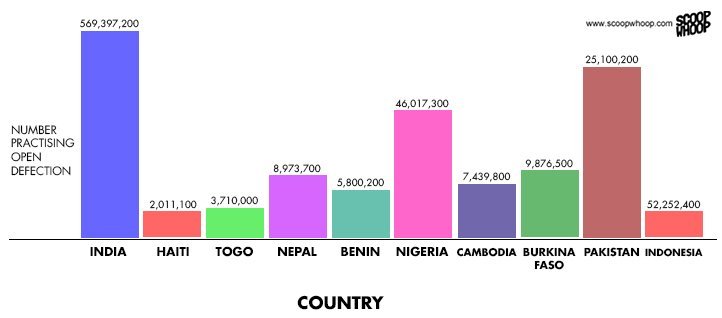 Source: WaterAid
In terms of the number of people defecating in the open as well, India is well ahead of other countries with its nearest competitor being Haiti. Even Nepal, despite the damage caused by a devastating earthquake in April, is far behind India.
According to the report, the only way to ensure people have access to toilets is to ensure that it is treated as a fundamental right of an citizen.
The non-profit group has viewed with approval Prime Minister Narendra Modi's pet project, Swacch Bharat Abhiyaan under which the government plans to end open defecation in India by 2019. So far the government has reportedly managed to ensure toilets were built in 8 million households in a year.
But given the length of the queue still awaiting a toilet, the target of ending open defecation may just be as distant away as the moon.