The Reserve Bank today imposed stiff restrictions on depositing more than Rs 5,000 in the scrapped Rs 500 and Rs 1,000 notes, mandating that it can be deposited only once per account till December 30, that too after explaining to bank officials the reasons for not having done that so far, reports PTI.
This means that if you have more than Rs 5,000, you must deposit it all in one go. Like if you have Rs 30,000, you need to deposit it all at once in one bank account. If you fail to, you'll have to deposit the rest in a different account.
No NEED TO PANIC

U can deposit any amount in ur bank, even above 5k.. but just once. This is probably to reduce the lines at banks— Ashutosh (@muglikar_) December 19, 2016
"Large deposits cannot be made multiple times in bank accounts. People can deposit up to Rs 5,000 on which there is no restriction," a senior finance ministry official told Economic Times.
Here's the full notification: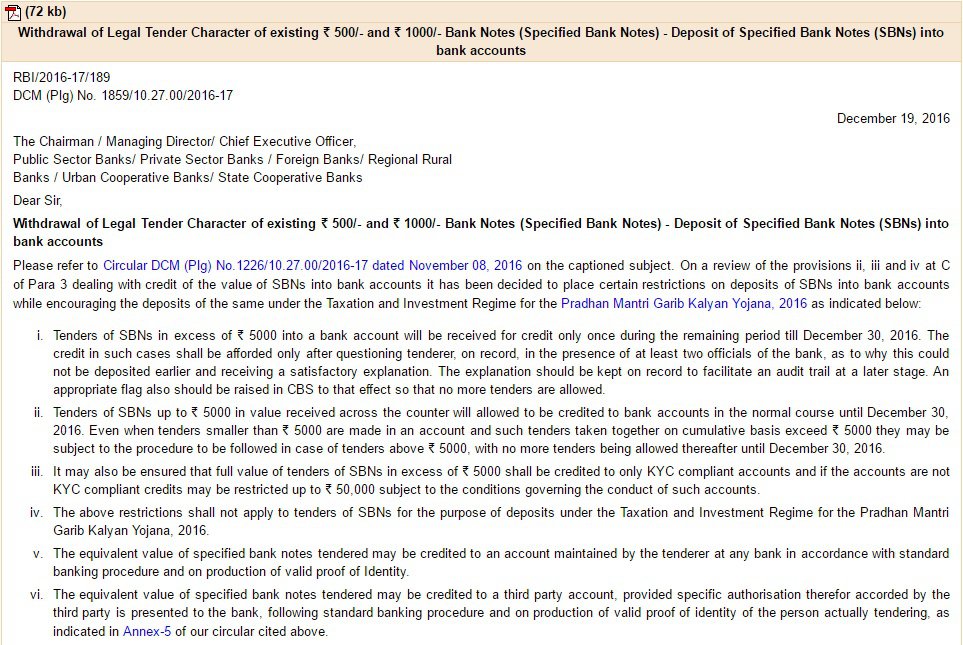 The notification says: "The credit in such cases shall be afforded only after questioning tenderer, on record, in the presence of at least two officials of the bank, as to why this could not be deposited earlier and receiving a satisfactory explanation."
It means that if you deposit over Rs 5,000 in old notes from tomorrow on, you will be questioned in the presence of two bank officials as to why you didn't deposit them earlier. Only after a "satisfying response" will the amount get credited in your account. The bankers will keep the explanatory statement on record for future trail. 
WHAT? Any deposits over Rs 5,000 will now lead to compulsory questioning by 2 officers on the record? This Govt has gone mad or what https://t.co/7uQ3EgNOh0

— Mihir Sharma (@mihirssharma) December 19, 2016
It further says: "It has been decided to place certain restrictions on deposits of SBNs into bank accounts while encouraging the deposits of the same under the Taxation and Investment Regime for the Pradhan Mantri Garib Kalyan Yojana, 2016."
It means that if you are depositing old currency in the new black money amnesty Pradhan Mantri Garib Kalyan Yojana scheme, there's no restriction. Under the PMGKY scheme, black money holders can deposit unaccounted cash in account which will be subject to 50 per cent tax and four-year interest free lock-in for the remaining 25 per cent of the amount. 
The notification also says: "Even when tenders smaller than Rs 5,000 are made in an account and such tenders taken together on cumulative basis exceed Rs 5,000 they may be subject to the procedure to be followed in case of tenders above Rs 5,000, with no more tenders being allowed thereafter until December 30, 2016."
It means that if you are depositing smaller amounts multiple times but the total exceeds Rs 5,000, you'll be subject to the same procedure as in case of tenders above Rs 5000. Which means you will be questioned by two bank officials.