The cries of hungry babies pierce the quiet of dawn in the green jungles of northwestern Colombia.
For thousands of indigenous families displaced by war, recent peace efforts have brought no relief.
Sordid fighting over drugs and land continues. Terrified locals are starving to death.
"There is no food here," says John Hamilton Sagugara, a school teacher in Tasi, one of a grouping of local indigenous communities.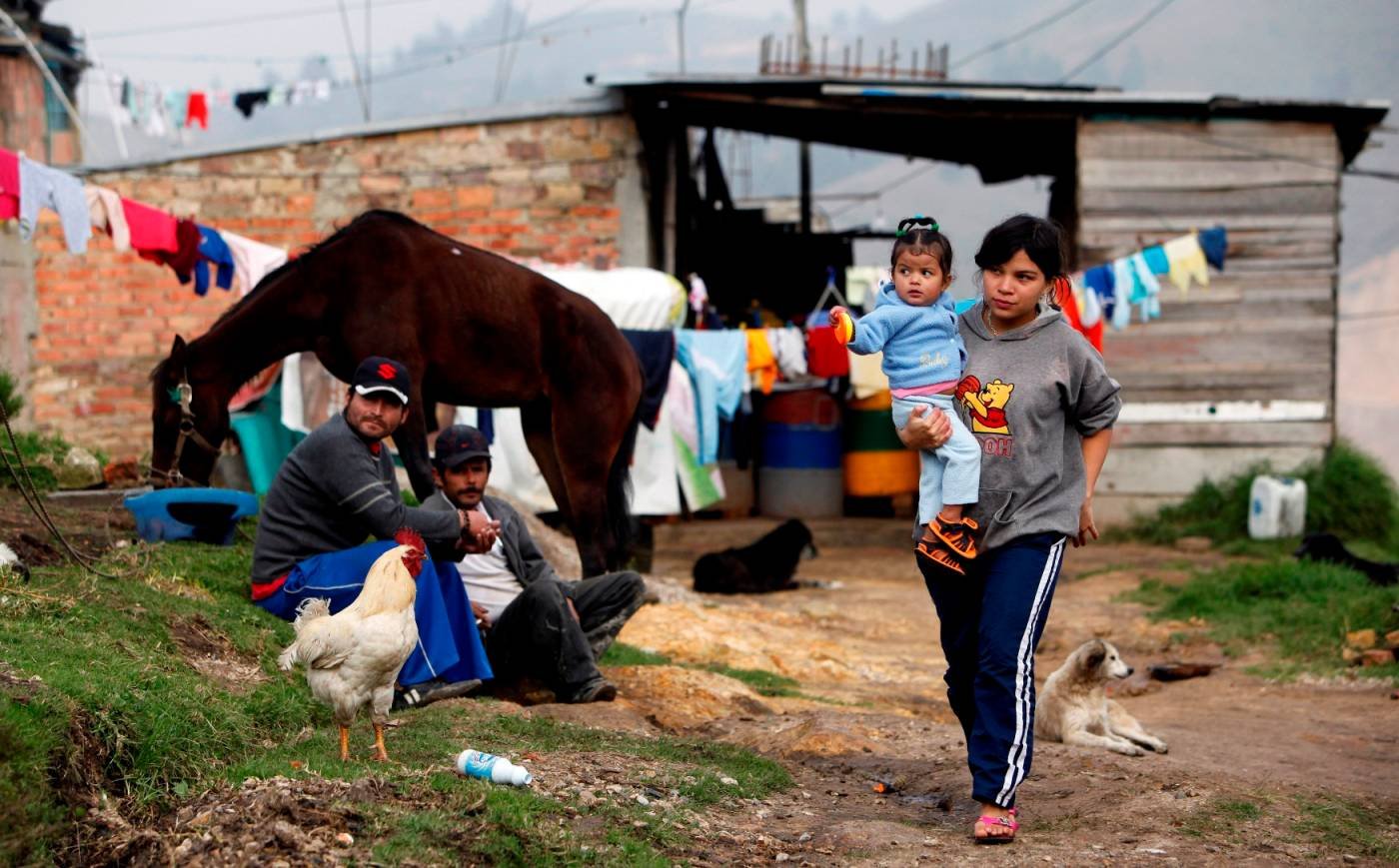 "Many people have diarrhea, vomiting and fever."
With the youngest of her seven children clinging to her breast, Mariluz Dari confirms it. Her baby has been sick for the past three weeks.
Naked children with bellies swollen by hunger roam the mud streets between the wooden houses.
Local authorities say two children died here last year from gastric and respiratory conditions caused by malnutrition.
Nothing but bananas
Colombia's President Juan Manuel Santos won the Nobel Peace Prize last year for reaching an accord with the leftist FARC rebels to end five decades of conflict.
His government has also launched peace talks with the country's last remaining rebel group, the leftist National Liberation Army (ELN).
But local officials here say that the ELN is still fighting against right-wing paramilitary groups — remnants of a long, many-sided conflict.
"There is a really strong presence of ELN here," says Dayro Palacios, an administrator in Pie de Pato, municipal capital of the surrounding district.
"They are seeking control of the drug-trafficking and that means they are constantly fighting for territory."
Fleeing from home
The violence forced hundreds of people to abandon their homes near the Upper Baudo river in 2014 and resettled in other nearby communities.
One of them, Tasi community leader Jeison Mecha of the indigenous Embera people, says he eats once a day on average: "nothing but bananas."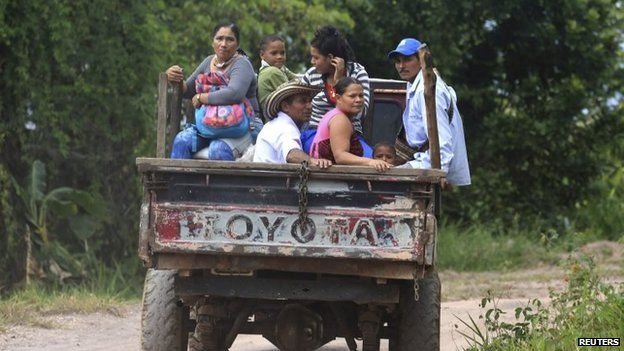 Despite the peace efforts, "we are still suffering," he says in broken Spanish.
The locals used to grow corn, plantains and rice. They used to rear pigs and hens. They have had to abandon it all for the jungle.
"We ran in fear," says Sagugara, the schoolteacher, his golden tooth glinting in the midday sun.
Death threats
Upriver in the village of Puesto Indio, resettled families live crammed in overcrowded huts perched on piles.
On January 9, armed guerrillas burst into a meeting of local leaders and threatened to kill them.
"They accused us of collaborating with the paramilitaries," said one leader, who has not been named to protect him from reprisals.
"We were very, very afraid."
The Red Cross has mediated to help calm the conflict in the region and aid civilians.
But for fear of being attacked, locals stay in their settlements, guarded by indigenous strongmen with wooden staves.
Stuck there without access to their crops, they are slowly starving.
"When people are hungry, there is no peace," Jaime Valderrama, a senior official in the Upper Baudo district government.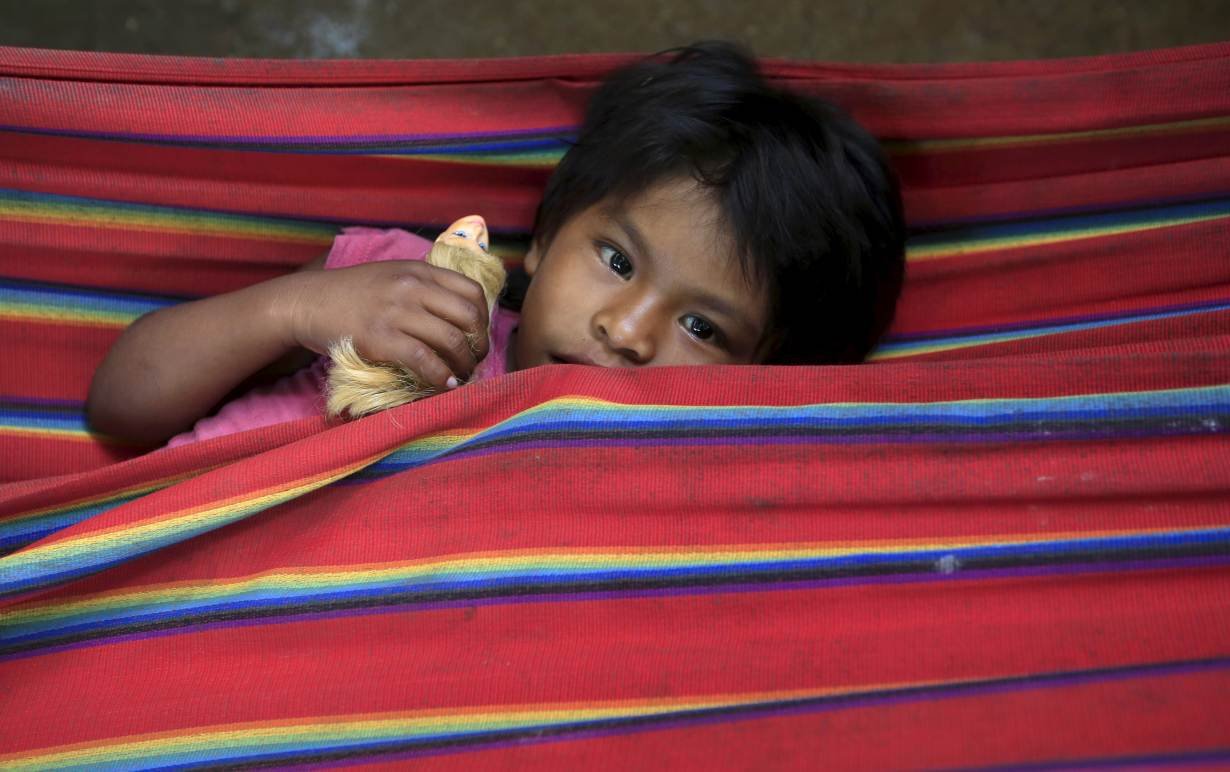 As well as extortion and reprisals by the fighting sides, locals fear being caught in the crossfire.
They say they are also at risk from bombardments by government forces targeting drug-traffickers and illegal mines.
The United Nations warned last year that the local Afro-Colombian and indigenous populations needed "urgent" protection.
Authorities say there are 6,000 people displaced and 7,000 confined to their homes in the surrounding Choco region for fear of violence.
"We cannot guarantee that the peace process will end the violence," says Luis Carlos Arce, governor of Alto Tumando, another settlement of displaced people.
"The violence of hunger, its impact on education and health — that is not going to end."
Feature Image Source: Reuters