Sangeeta Dubey, a police naik in Mumbai, had boarded the second class compartment of Dahanu-Churchgate fast local from Vasai Road at 2.04 pm on Tuesday. After the train pulled out of Borivli, she noticed something uncomfortable. 
According to Mumbai Mirror, A drug addict, who had just entered the first class compartment of the train, sat close to three women despite protests. Suddenly, he started to strip and even caught a woman commuter by the hair. 
As the women struggled, passengers in the second class – which is sealed off from the first class with steel rods – started screaming for help. Chaos ensued.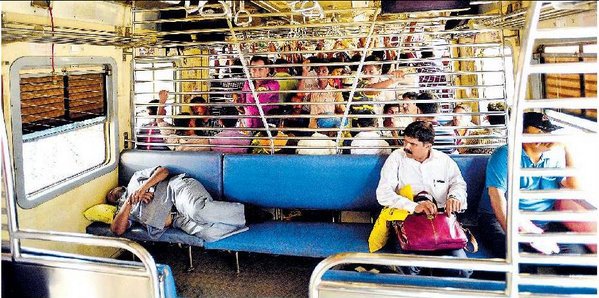 Dubey, who was also in the second class, figured out she had to do something fast.
"We had to do something there and then to help the woman who was fighting off the man alone. We were telling her to hit the man who by then had pinned her down near the partition. With some difficulty, the woman managed to push the man away who was trying to tear her clothes and came close to the partition," Dubey told Mumbai Mirror.
The woman, who was being harassed by the addict, reached near the partition. It was then that Dubey took over. She put her arm through the rods and caught hold of the addict.
With all her strength and with assistance from other passengers, she kept him in his clutch till the train stopped at Andheri station. 
After that, the government railway police (GRP) came to their rescue and took the addict away. 
Wow!