Paceman Kane Richardson claimed his maiden five-wicket haul to script India's spectacular collapse and bowl Australia to a 25-run victory in the high-scoring fourth one day international on Wednesday, January 20. Three batsmen struck centuries in the 671-run match between the world's top two one-day teams but it was Richardson's (5-68) incisive bowling that clinched the contest, while also earning him the man-of-the-match award.
Chasing 349 for victory, India were cruising at 277 for one before losing their last nine wickets for 46 runs to succumb to their fourth successive defeat in the five-match series. Opener Shikhar Dhawan (126) and Virat Kohli (106) featured in a 212-run stand for the visitors before the wheels came off India's chase at Canberra's Manuka Oval. Dhawan registered his ninth ODI century and Kohli scored his second consecutive hundred but India lost three wickets in 11 balls for the addition of one run that derailed them.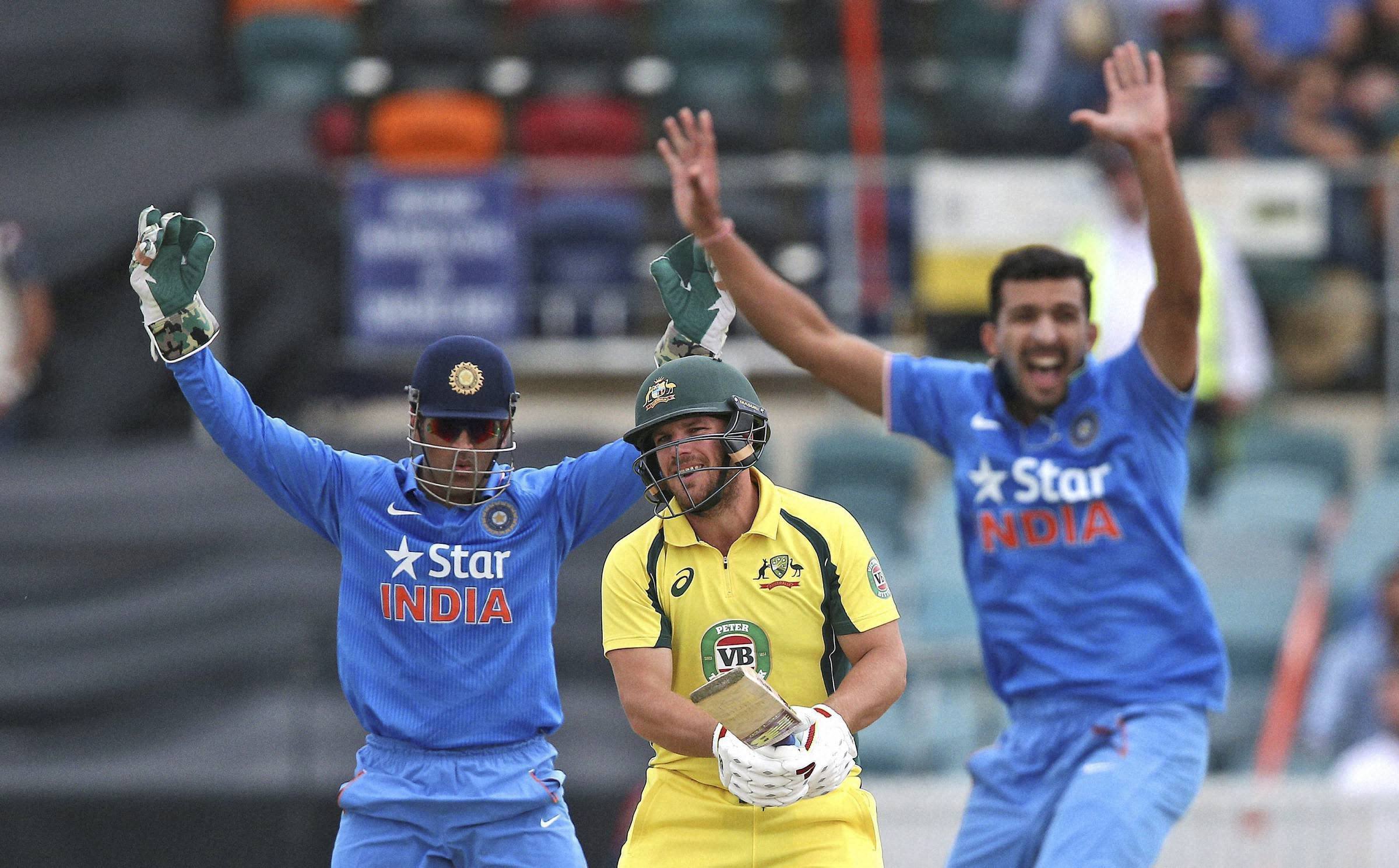 For them, in-form Ajinkya Rahane came out to bat despite a split webbing of his fingers, but could score only two as India were all out for 323 in the final over. Earlier, Aaron Finch struck his seventh hundred in a blistering opening partnership of 187 with David Warner to power Australia to 348 for eight wickets.
Finch smashed a run-a-ball 107 while Warner fell on 93 from 92 deliveries as the hosts continued to make merry against India's toothless bowling attack after opting to bat first. Australia had chased down each Indian target to take an unassailable 3-0 lead in the five-match series and the tourists' battered bowlers did little better after finally getting the chance to bowl first. Warner, who missed the last two matches due to the birth of his second child, started off with a maiden against Umesh Yadav but soon hit his stride with three fours in an over against seamer Bhuvneshwar Kumar.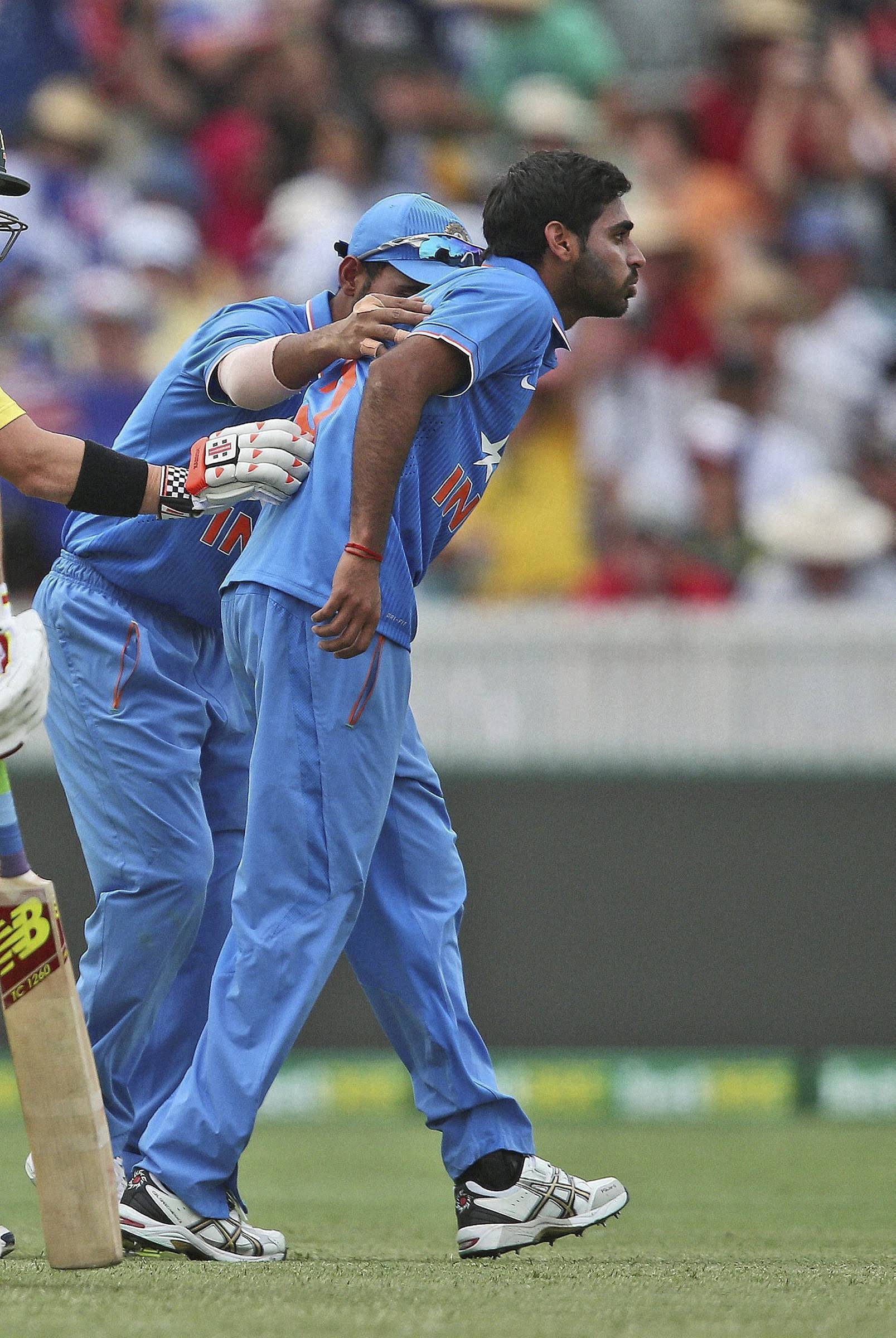 Yadav also conceded three boundaries in the next over against the diminutive left-hander as Australia raced to 50 in the seventh over. Finch was equally destructive and a fierce straight drive from the right-hander off fast bowler Ishant Sharma (4-77) hit umpire Richard Kettleborough on the shin, forcing the official off the field.
Finch mistimed a pull to be dismissed eight overs after Warner had played Ishant on to his stumps while attempting a slog over mid-wicket. Australia captain Steven Smith (51) and all-rounders Mitchell Marsh (33) and Glenn Maxwell (41) chipped in with some quick runs.
Sydney hosts the fifth and final one-dayer on Saturday, January 23.
Here are some obvious Twitter reactions:
Tch.Those days: We will win One Day match.These days: One day, we will win match.#IndvsAus

— Ramesh Srivats (@rameshsrivats) January 20, 2016
Umesh Yadav is that batsman for the aussies about whom we used to say in childhood "Oye, ise out nahin karna hai…"#IndvsAus

— The-Lying-Lama (@KyaUkhaadLega) January 20, 2016
There is a competition between Niagara falls and Indian Batting fall. #IndvsAus

— Godman Chikna (@Madan_Chikna) January 20, 2016
WHO ARE WE-INDIANS-WHAT WE DO-WE GIVE OUR BEST-WHEN WE DO THAT?-WHEN WE REALISE THAT WE LOST-#IndvsAus

— Godman Chikna (@Madan_Chikna) January 20, 2016
Akshay kumar is working on the sequel to AIRLIFT and rescue Indian bowlers out of that stadium. #IndvsAus

— Gabbbar (@GabbbarSingh) January 20, 2016
(Text from Reuters)