An earthquake of 7.9 magnitude hit Nepal on Saturday, April 25. The death toll in Nepal has reached 758. According to Firstpost , over 20 people have died in Bihar alone and 133 are injured.
The Indian government is working in full force and has stepped up relief and rescue efforts. Prime Minister Narendra Modi chaired a high-level meeting to review the situation in Nepal.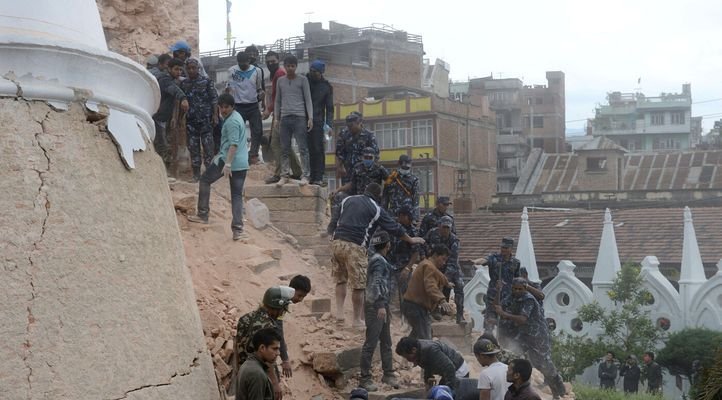 The meeting was attended by Union Ministers Arun Jaitley and Rajnath Singh, National Security Advisor Ajit Doval, Principal Secretary Nripendra Misra, Additional Principal Secretary P.K. Mishra and senior officials from the Government, Indian Meteorological Department and National Disaster Relief Force.
PM Modi has assured Nepal that India will provide absolutely any assistance necessary. He directed immediate dispatch of relief and rescue teams, including medical teams to Nepal, as well as, affected areas in India. He also directed that proper arrangements be made for rendering assistance in evacuation of stranded tourists.
As many as four aircrafts, including a C-130 plane carrying three tonnes of relief supplies, and a 40 member rescue team, have been sent into Nepal. The Indian government will also be sending medical teams and mobile hospitals.
The relief supplies include tents and blankets as asked by the Nepalese government. In the meeting chaired by Modi, the message was very strong that "we should do whatever possible to help Nepal".
Spoke to PM Sushil Koirala, who is in transit in Bangkok on his way to Kathmandu. Assured all support & assistance during this tough time.

— Narendra Modi (@narendramodi) April 25, 2015
More relief on the way. One C-17 Globemaster III airborne with NDRF personnel and relief material.

— Vikas Swarup (@MEAIndia) April 25, 2015
#NepalEarthquake An IAF C-130 Superhercules with NDRF relief teams onboard is airborne for Kathmandu. More relief efforts underway.

— Vikas Swarup (@MEAIndia) April 25, 2015
MEA opens 24 hour Control Room for queries regarding tragic #NepalEarthquake . Numbers: +91 11 2301 2113 +91 11 2301 4104 +91 11 2301 7905

— Vikas Swarup (@MEAIndia) April 25, 2015
Feature image source: IBN