India and Pakistan have found a moment of warmth during the Yemen crisis. On Wednesday evening, a group of 11 Indian citizens who were evacuated by Pakistan from Yemen, reached New Delhi on a special flight of Pakistani Air Force from Karachi, says a report in The Hindu .
The gesture has led to an exchange of goodwill and gratitude between the Prime Ministers of two countries.
On Saturday, a Pakistani Naval ship Aslat evacuated the 11-member Indian group along with 148 Pakistani citizens from Al Mukalla port to Karachi, says Times of India .
The evacuees reached Karachi on Tuesday where they were thrown a grand reception party at Kiamari, according to the Hindu report.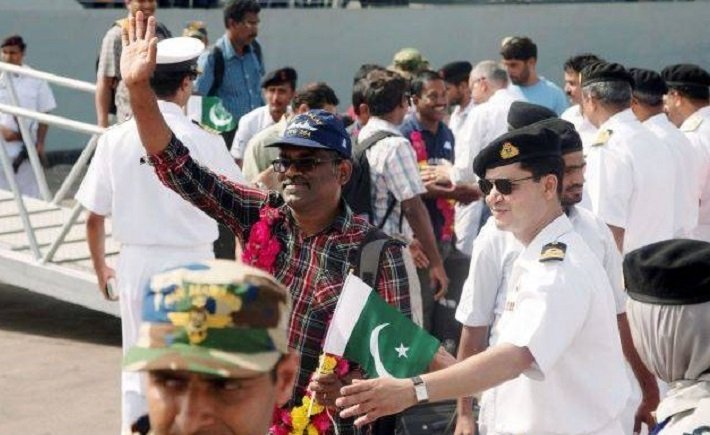 Pakistan High Commissioner Abdul Basit was quoted in the Hindu as saying, "Prime Minister Sharif had directed that the special Indian guests should be flown to Delhi in a special plane...it shows how strongly the PM feels about Indians."
On being asked about the visa arrangements necessary for them to enter Pakistan, Basit said during humanitarian efforts "these things become peripheral."
Thanking Pakistan for the special gesture, Prime Minister Narendra Modi, welcomed the 11 Indian citizens who returned with the Pakistan's assistance.
"I welcome our 11 citizens who've returned from Yemen with assistance from Pakistan. Thank you PM Nawaz Sharif for your humanitarian gesture" PM Modi tweeted.
Earlier, India in its Operation Raahat had also removed citizens of different countries including Britain, Germany, USA, Pakistan, Nepal and Sri Lanka from Yemen. India also received requests from 26 countries seeking assistance in evacuation operations of their citizens.