Gymnast Dipa Karmakar narrowly missed the bronze by finishing fourth in the women's vault event, scoring an impressive total of 15.066, which included a score of 15.266 for landing the Produnova.
Karmakar shot up to second in the table after her performance, then dropped to third after Russia's Maria Paseka (15.253) completed her moves – and finally to fourth as USA's all-conquering Simon Biles pipped everyone for gold.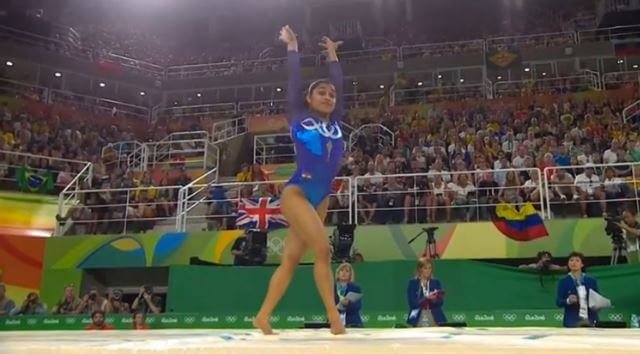 The gap between Karmakar and Switzerland's bronze medal winner Giulia Steingruber (15.216) was just 0.15 points – and the feat put her alongside other Indian greats like Milkha Singh and PT Usha, who also missed out on bronze in Rome 1960 and Los Angeles 1984 respectively.
Indian united in praise of Karmakar, who hails from Tripura and has come through as one of the best in the world on the vault despite the lack of gymnastics facilities in India.
Here are some of the best tweets, including those from Olympic champion Abhinav Bindra and superstar Amitabh Bachchan:
Thank u #DipaKarmakar fr getting us united at midnight cheering fr Gymnastics,in a country with no infrastructure for this sport.Super Proud

— Virender Sehwag (@virendersehwag) August 14, 2016
Dipa Karmakar you are my hero !

— Abhinav Bindra (@Abhinav_Bindra) August 14, 2016
I love you Dipa Karmakar, youre not a #gymnast.

You're a flying manifestation of hope .— Sorabh Pant (@hankypanty) August 14, 2016
T 2348 – #DipaKarmakar .. the pride of India .. your story is what compels us to do better … and we will !! Many congratulations !!

— Amitabh Bachchan (@SrBachchan) August 14, 2016
Its not about winning medals. Its about breaking through all stereotypes n proving u are there with the best, u inspire us all #DipaKarmakar

— Shekhar Kapur (@shekharkapur) August 14, 2016
#Rio2106 We are all so proud of you #DipaKarmakar May your historic performance inspire future generations of boys/girls.You won our hearts

— Mamata Banerjee (@MamataOfficial) August 14, 2016
So proud of #DipaKarmakar!! To come 4th, so close to a medal, in a sport we haven't even qualified in before at the Olympics is huge! 🇮🇳

— soha ali khan (@sakpataudi) August 14, 2016
From left-liberal to internet-Hindu we all came together for Karmakar. Never forget.

— Salty Twat (@sidin) August 14, 2016