The Comptroller and Auditor General (CAG) has highlighted a disturbingly massive shortage of ammunition in the Indian Army. According to the report, the ammunition reserves would barely last 20 days of intense fighting. The army must have at any point war wastage reserves up to 40 days of intense fighting.
Another report by CAG warned that the Tejas Light Combat Aircraft (LCA) Mark-I could prove to be the Achilles heel of the Indian airforce.
" Stocking of ammunition even at 'minimum acceptable risk level' was not ensured, as availability of ammunition as on March 2013 was below this level in respect of 125 out of a total of 170 types of ammunition," reported Hindustan Times .
According to Firstpost, the report claims in 50% of the total types of ammunition the condition was "critical" – meaning it was insufficient for even 10 days of fighting.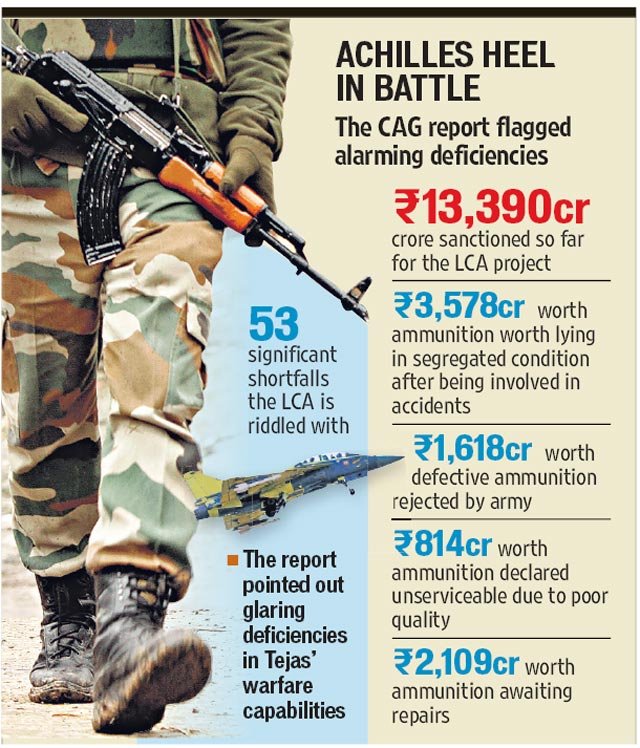 The report which was tabled in Parliament also stated that the locally produced fighter, Tejas had approximately 53 "significant shortfalls", that could affect its survival in combat. This means that a project that the government spent Rs 13,390 crore on is almost completely insignificant. On these LCA Mark-Is pilots would be sitting ducks, vulnerable to fire from 7.62 mm machine guns, especially at the front-end of the aircraft, according to a Times of India report.
There are glaring deficiencies in the warplane's electronic warfare capabilities making it an easy target in a hostile environment.
The CAG report also mentioned self-protection jammers could not be fitted in the LCA Mark-Is due to space constraints and glitches in radar warning receivers, which have still not been sorted out. This could result in "reduced operational capabilities" for the pilots.
" The IAF would be constrained to use 40 LCA Mk-I aircrafts with limited operational capabilities," the report said. On the upside, there are developments on the LCA Mark-II, which is said to be packed with several major improvements compared to its predecessor.
Back to the downside, the CAG said a delay in the manufacture and supply of the LCA had set the IAF back Rs 20,037 crore as it was forced to opt for temporary measures such as upgrading its existing fighter planes MIG BIS, MiG-29, Jaguar and Mirage aircraft and revise the phasing out of MiG-21s to counter the problem of rapid force depletion.