The Indian-American community in the US has launched a White House petition, seeking the Trump Administration's intervention to save Indian national Kulbhushan Jadhav who has been sentenced to death by a Pakistani court for alleged espionage and subversive activities. 
Created by one S.S, the 'We the People Petition' on the White House website said the allegations against Jadhav that he was spying for India is totally false and fabricated. The petition requires at least 100,000 signatures before May 14 to qualify for a response from the Trump Administration.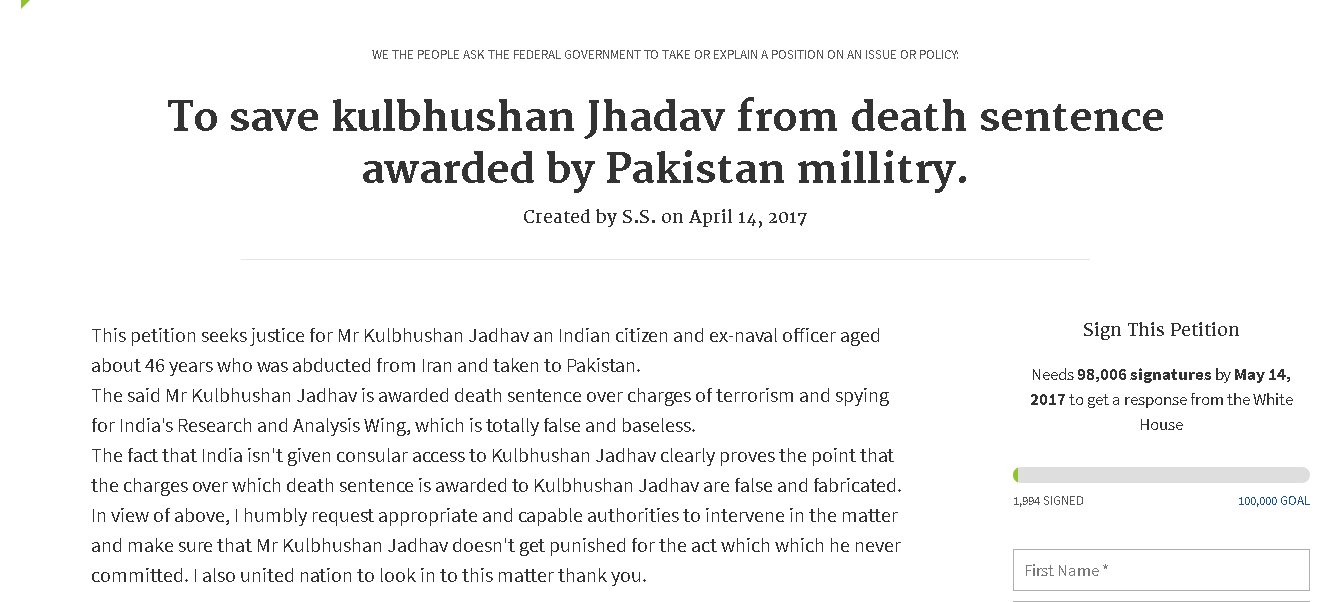 "The fact that India is not given consular access to Kulbhushan Jadhav clearly proves the point that the charges over which death sentence is awarded to Jadhav are false and fabricated," it said. 
"In view of above, I humbly request appropriate and capable authorities to intervene in the matter and make sure that Kulbhushan Jadhav doesn't get punished for the act which he never committed," the petition said.
 Jadhav, the 46-year-old former naval officer, has been sentenced to death by a Pakistani military court for alleged espionage and subversive activities Pakistan claims its security forces had arrested Jadhav from the restive Balochistan province on March 3 last year after he reportedly entered from Iran. 
It also claimed that he was "a serving officer in the Indian Navy." The Pakistan Army had also released a "confessional video" of Jadhav after his arrest. However, India denied Pakistan's contention and maintained that Jadhav was kidnapped by the Pakistan authorities. India had acknowledged that Jadhav had served with the navy but denied that he has any connection with the government.