Neil O'Brien, a pioneer of quizzing in India and leader of the Anglo-Indian community, passed away here today.
He was 82.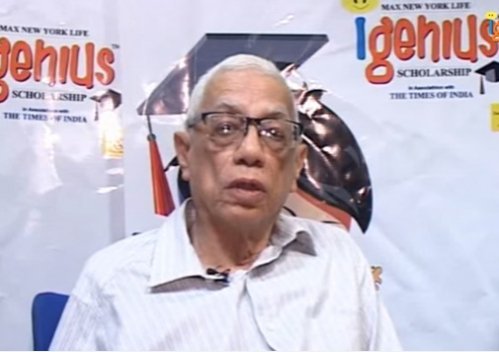 Brien is survived by his three sons, Derek, Andy and Barry O'Brien, and wife Joyce O'Brien.
Derek O'Brien took to Twitter to make the sad announcement:
Saddest tweet I've ever written. Dad Neil O'Brien gone.Passed at home Kolkata,quiz pioneer, ex ICSE chief, AI community icon, educationist

— Derek O'Brien (@quizderek) June 24, 2016
A former member of Lok Sabha, Neil O'Brien was also a three-time nominated Anglo-Indian MLA in West Bengal and an educationist.
He was the chairman of the Council for the Indian School Certificate Examinations (CISCE) and managing director of Oxford University Press, India.
As a leader of the Anglo-Indian community, he was the president-in-chief of All-India Anglo-Indian Association and headed the Frank Anthony group of schools.
Other colleagues and celebrities, and even Bengal's CM Mamata Bannerjee expressed their condolences through Twitter: 
Extremely saddened to hear about the passing away of the very talented Neil O'Brien. He will be missed by lakhs of quiz fans across India

— Mamata Banerjee (@MamataOfficial) June 24, 2016
My deepest condolences to Aunty JOYCE, @quizderek , Andy and Barry on the passing on of Neil O'Brien…

— SUHEL SETH (@suhelseth) June 24, 2016
The greatest quizmaster of our time breathes his last. RIP Neil O'Brien – you will never be forgotten. Condolences to @quizderek

— Ronojoy Banerjee (@RonBanter) June 24, 2016
The man who made Calcutta the quizzing capital of India, the erudite, humble and endearing Neil O'Brien will always live in our memories.

— Pratim D. Gupta (@PratimDGupta) June 24, 2016
Yet another childhood hero departs us only to impart his infinite wisdom in heaven.

RIP, Neil O'Brien.— Shiv (@ForwardDefence) June 24, 2016
Before KBC, before Quiz Time, before BQC… there was Neil O'Brien.

RIP, sir. And thanks for some great rounds. https://t.co/COL4laMwpW— Diptakirti Chaudhuri (@diptakirti) June 24, 2016
And lastly, this heartrending message from son Derek:
When the Great Questioner in the Sky asks u that Final Question even a quiz legend does not have an answer.Neil 0'Brien my dad. My champion

— Derek O'Brien (@quizderek) June 24, 2016
(Feature Image Source: Twitter/@quizderek) 
(Inputs from PTI)