The truck hurtles past us in a flash. All we can see is the brown of the tarpaulin sheet covering it. SP Acharya, 35, twirls his moustache dramatically. "Follow it!" he says. Our car speeds down the muddy Rajasthan highway only for a few minutes. Acharya gets a phone call, he signals the driver to stop. "False alarm! The truck has no cows in it, it only has gutkha packets," he smiles.
Acharya, is an amiable man, his intimidating physical presence notwithstanding. He has bulging arms, a chest that almost juts out of his khaki shirt and the smile of a five-year-old. "We were luckier last week, we got a truck full of cows," says Acharya, a member of Ramgarh Gau Rakshak group for the past 10 years.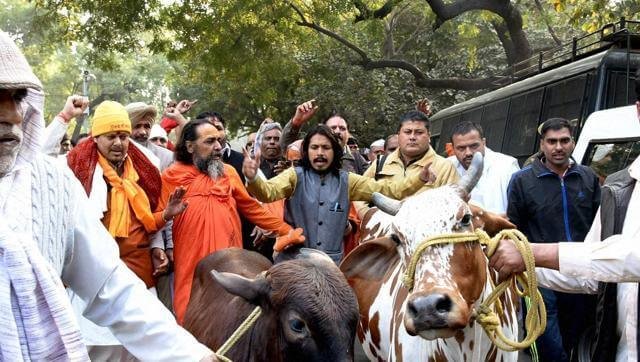 Ramgarh in Rajasthan is a one-horse town. The village, famous for being home to a man who is perhaps India's best known gau rakshak, Nawal Kishore Sharma, is a muddy collection of a few concrete houses. Bajra and cotton fields roll down one side of the village, the Aravalli hills, lush in the monsoons, rest at the other side. "Can you spot the white patches on the hills? They are gau matas," says Nawal Kishore Sharma, 45. He is a slight man, not more than 5' 8''. He is wearing a striped button-down shirt with a saffron-coloured gamchcha casually draped around his neck. "You can't wear this piece of cloth if you haven't been a gau rakshak for more than a decade," says Sharma.
He should know. Sharma has led the local cow vigilante group of the village for the past 25 years now. He has also earned the distinction of being the uncrowned king of Ramgarh. The village of 15,000 residents is his fiefdom. His is the final word in Ramgarh. As we are welcomed to his modest office in the village centre (Sharma runs a real estate business in the neighbouring town of Alwar), the whole village literally gapes. "Kuch kaam nahi hai kya?" (do you have no work?) scolds Sharma as the ironsmith scuttles away.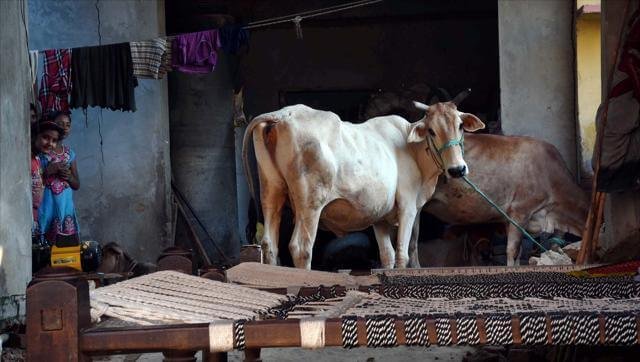 When Prime Minister Narendra Modi, at a town hall interaction in New Delhi earlier this month, declared that 80 per cent of gau rakshaks are fake, Sharma was in pursuit of an errant truck which was rumoured to have been ferrying smuggled cows from Rajasthan to Haryana. "That truck made us go round and round for two months. We finally caught it in the second week of August," says Sharma.
Sharma and his band of cow vigilantes were not affected by Narendra Modi's comment. "After Modi came into power, some right wing extremists thought they will get away with blue murder. they started indulging in fake gau raksha to earn a quick buck. We are not like this. We have been involved in gau raksha for 25 years now. You can see the kind of infrastructure we have here," says Sharma.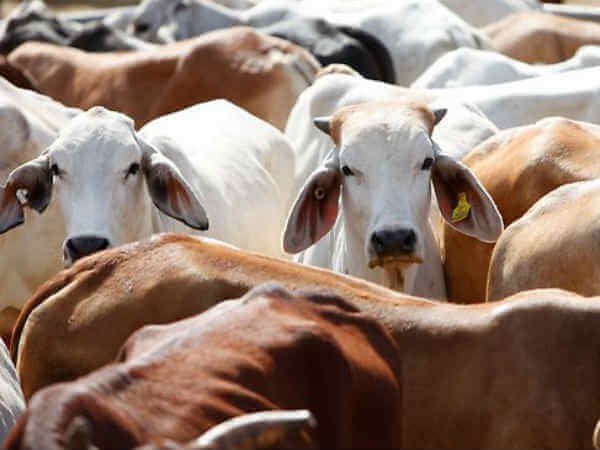 Indeed, Ramgarh has a very sound infrastructure for cow protection. The village of 15,000 residents has two gaushalas (cow shelters), each with a capacity of 500. There are four special Gau Raksha police stations in the village, that are meant to exclusively deal with cow smugglers. "We take this very seriously," says Sharma.
It's past lunch hour when we reach the intimidating gate of Sri Digambar Jain Sudhasagar Gaushalya Samiti. Sharma is waiting to welcome us at the gate. "Don't be scared of the animals, they are scared themselves," warns Sharma as he opens the gate to the gaushala (cowshed). It's the stench that hits you first, the smell of dung and urine is so strong that you can almost feel it in the air. The gaushala is basically a sprawling courtyard with cows and calves huddled in the middle. Sharma, makes his way towards a huddle and starts patting a particularly impassive white cow. "She was brought from the raid two days ago. You can see the mark going around her stomach. The smugglers tie the cows akimbo so that they scan be stuffed in a truck easily," says Sharma.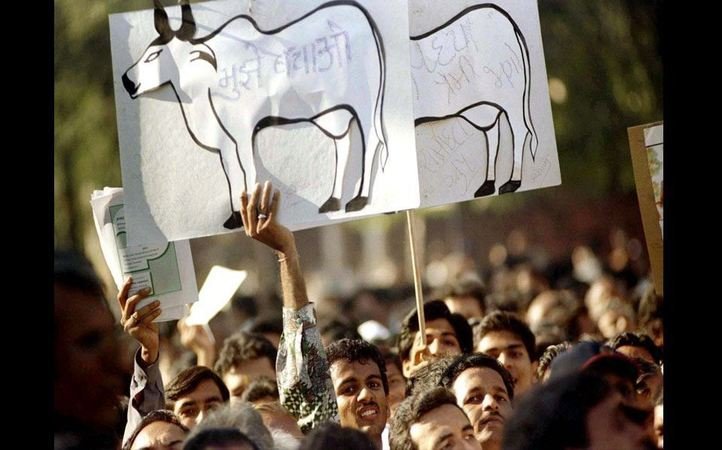 Sharma, who belongs to a family of marble sculptors, was inspired by a village elder to take up this "noble cause" in 1986. "There was a drought in our area. People were migrating to other places. I was barely 11-years-old then. We were standing in the village square, where all the village elders had gathered in the afternoon. We saw a procession of people walk past us. They had abandoned everything to settle down somewhere else because of the drought. Their cattle were following them, but they weren't paying any heed to them. One of our elders said that misfortune is plaguing us because of the way we treat our mothers. That thought stayed with me. It inspires me even now," says Sharma
The first time Phool Singh, 34, visited a gaushala, he had nightmares for months. Today, he is a dedicated gau rakshak with Sharma's gang. Sharma has delegated him to give us a tour of the sick ward of the cow shelter. This is where the rescued cows are treated. "Every time I visit this place, my eyes fill up. This is our mother and look at how she is treated," he says. Singh leads a disciplined life. He wakes up every morning at 4:30 am. He performs the surya namaskar. Then he meditates for an hour. 
"Breakfast is just fruits and milk. I only have cow milk products. That too desi cow milk. We don't have milk from Jersey cows," says Phool Singh. The Jersey cows, a small breed of dairy cattle originally bred in the Channel Islands of United Kingdom and known for the high butterfat content of their milk, is not "worthy of protecting", according to most gau rakshaks. "They are not our mother. Americans bred cows and buffaloes to give us inferior quality milk," says Singh.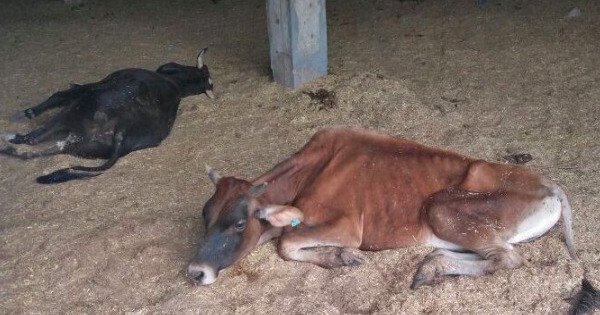 Singh, who has dedicated most of his life to gau raksha, firmly believes that there is no ailment that cannot be cured by cow products. Pointing to a patch of floor where the cows of the gaushala have defecated, he says that no bacteria will ever infect that patch of land. Science is not a reasoning tool for Sharma and his followers. "Scientific research has also proved that cow milk can cure cancer," he says defiantly.
But what about the meat industry? According to data released by the US Department of Agriculture, India was the world's largest exporter of beef last year. According to the data, India exported 2.4 million tonnes of beef and veal in FY 2015, compared to 2 million tonnes by Brazil and 1.5 million by Australia. "It's indeed a shame that this is happening. It's because of vested interest of some people that we are destroying an animal which has so many other benefits. Even its urine is beneficial to us. Why should we kill it for its meat?" asks Sharma.
Sharma, who has also managed to involve the Muslim community of the village in the cause, insists that his boys never target the Muslim community. "Hindus are also involved in cow smuggling. There are some really greedy Hindus too. And were are ashamed of that. We have involved Muslim boys in our endeavour because this is not a religious thing. When it comes to protecting our mother, there is no religion," says Sharma. 
(Feature image source: PTI)