India is home to many prodigies who have outstanding achievements in the field of sports. But some go unnoticed despite their extraordinary feat which are near equivalent to superhuman abilities.
Kaustubh Radkar from Pune is one such athlete whose story of remarkable achievements in Ironman events across the world remains untold. Remember the Ironman title Milind Soman recently won and was all over the news about it? The race includes swimming, cycling and running. All of these are required to be finished under 17 hours. And everyone to do that becomes an Ironman.
Milind Soman was among the five contestants from India who successfully completed the race and Ironman coach Kaustubh Radkar was the one leading the team.
Radkar , in an exclusive interview with ScoopWhoop , reveals his fitness regime.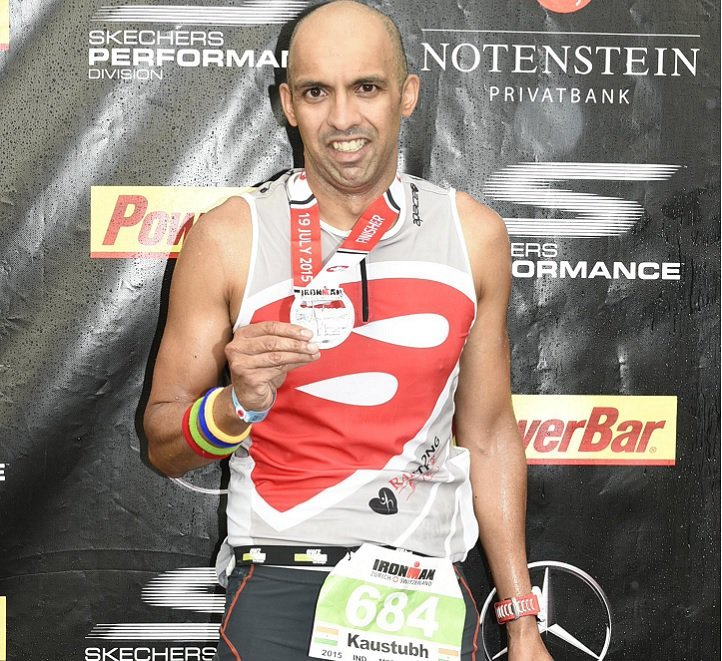 Kaustubh Radkar after winning the title in Zurich, Switzerland.
What is the Ironman Triathlon event?
The Ironman Triathlon is organised by the World Triathlon Corporation across the world where the required level of endurance and stamina is quite high. A 3.86 km swim, 180.25 km bicycle ride and a 42.2 km marathon has to be completed within 17 hours in order to become an Ironman.
Radkar's achievement
This incredible 'Ironman' from Pune has managed to bag the title 13 times over a period of eight years . Recently, he completed two Ironman races over two successive weekends, the first in Zurich on July 19 which he completed in 12 hours 32 mins and the second on August 2 in Colorado which he finished in 12 hrs 31 mins .
The fitness mantra
This is what he has to say: "I usually like to give myself six months of training before an Ironman race. The first two months are a lot of base training that includes work on getting aerobic fitness up. After the second month, I look to workout for 16-20 hours per week . It is the most I can do with my professional and personal schedule but are the bare bones if you want to put together a strong racing performance."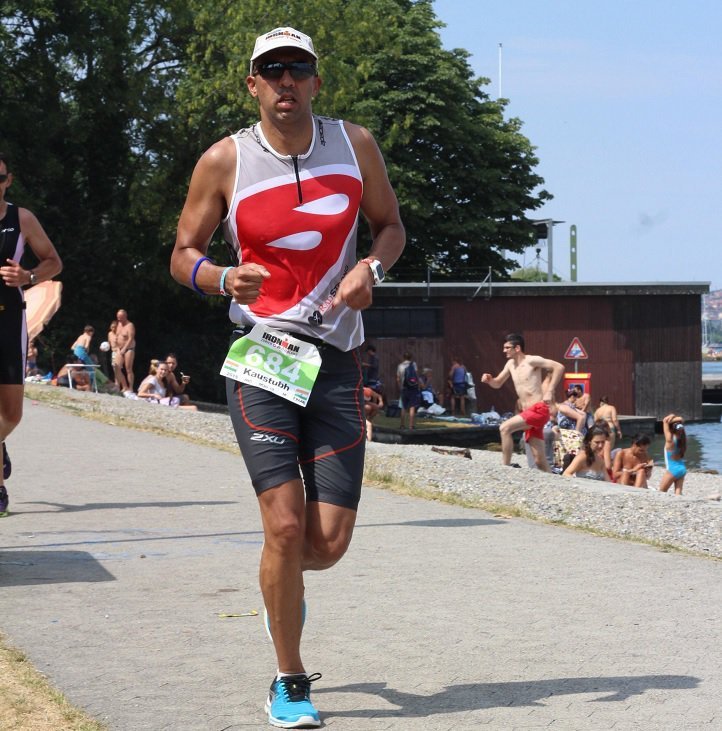 Radkar during the marathon in Zurich
You are the CEO of RadRx, how do you manage to look after it while you are out of the country?
I am the CEO and a healthcare consultant of a company which specializes in sports medicine, cardiac and pulmonary rehabilitation and healthcare consulting. It is a challenge to handle business when you are travelling. I know my calendar well ahead of time, so it's somewhat easy to block out calendar dates and inform my patients when I will be travelling.
What is the next event you are preparing for?
I will be participating in Ironman Kalmar, Sweden, on August 20th, 2016. So far we have 10 people from India registered for this race. We are expecting 5-10 more athletes to join us in this journey.
Is it weird that media likes to focus only on a celebrity, like they did on Milind Soman?
It is not weird, it is somewhat to be expected in our country. Especially in an upcoming sport like Ironman. You see this with cricket, tennis, badminton too its usually people who make a lot of noise get focus. To do an Ironman at 50 is quite a feat so Milind should get a lot of credit no doubt, but there were other athletes who sacrificed a lot to get to the finish line who never got any credit and that is very unfortunate.
More Ironmen from India?
I believe India is at a tipping point of triathlon now. I have been personally active in coaching athletes from all over India, trying to get more athletes to convert from just being runners or cyclists to join the tri club. I have recently started Radstrong Tri club to promote the sport. This is India's only officially recognized tri club by Ironman. I also host triathlon camps from time to time to expose more athletes to triathlon. We will soon also host a basic triathlon for beginners.
What is your message on fitness for India's youngsters?
You only live once and you only have your health for a certain while if you don't take care of yourself. I see a lot of young people becoming obese, diabetic, with high blood pressure issues, cholesterol off the roof and sadly having poor quality of life by their 40s. It's a scary situation we are now facing due to our busy, stressful lives – the age expectancy could reduce for Indians, you also sadly see that a lot of young people dropping dead. There is an old saying that goes — a person who has his health has hope, and a person who has hope as everything.
Read more: