India's latest communication satellite GSAT-18 was successfully launched by a heavy duty rocket of Arianespace from the spaceport of Kourou in French Guiana.
The launch was originally scheduled on Wednesday, but deferred by 24 hours owing to unfavourable weather conditions at Kourou, a French territory located in northeastern coast of South America.
GSAT-18, built by the Indian Space Research Organisation (ISRO), aims at providing telecommunications services for the country by strengthening ISRO's current fleet of 14 operational telecommunication satellites.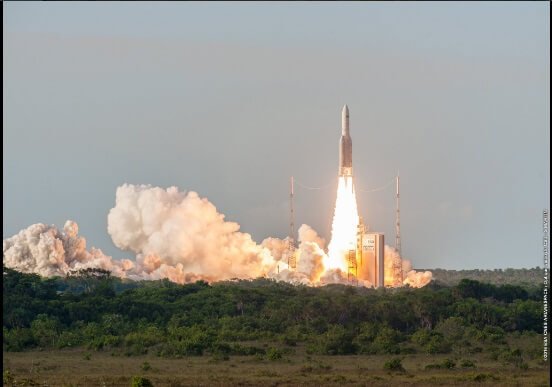 With the weather being clear today, the European launcher Ariane-5 VA-231 blasted off at around 2 AM (IST) and injected GSAT-18 shortly after orbiting co-passenger Sky Muster II satellite for Australian operator nbn (National Broadband Network) in a flawless flight lasting about 32 minutes.
GSAT-18 was launched into a Geosynchronous Transfer Orbit (GTO) about 32 minutes after the lift-off.
"GSAT-18 successfully launched by Ariane-5 VA-231 from Kourou, French Guiana," Bengaluru-headquartered ISRO announced after the mission.
GSAT-18 is the 20th satellite from ISRO to be launched by the European space agency and the mission is the 280th for Arianespace launcher family.'
ISRO, which has been dependent on Ariane-5 rocket for carrying its heavier satellites, is developing GSLV Mk III for this purpose.
Weighing 3,404 kg at lift-off, GSAT-18 carries 48 communication transponders to provide services in Normal C-band, Upper Extended C-band and Ku-bands of the frequency spectrum.
Announcing the successful launch of the satellite, Arianespace CEO Stephane Israel tweeted: "We take great pride in our strong relationship w/ @ISRO! Tonight marks 20 sats.
"Launched for India's space agency & more to come. Congrats!" ISRO Chairman A S Kiran Kumar, who watched the launch from the mission control centre, left shortly after lift-off, and his message was read out later by one of his senior colleagues.