Key Points
ISRO to launch nine micro satellites for United States this year

Low cost (RLV-TD) technology to be tested

Major advancement in space technology expected
The Indian Space Research Organisation (ISRO) will launch nine nano/ micro satellites for United States in 2015-16 which will go as piggyback on PSLV's (Polar Satellite Launch Vehicle).
"As on date, Antrix Corporation Ltd, the commercial arm of ISRO, has signed agreement to launch about nine nano/micro (US) satellites during 2015-2016 time frame," said ISRO Director Public Relations Deviprasad Karnik.
Indian Space Research Organisation (ISRO)'s PSLV C 28 carrying five satellites from the UK, lifts off from Satish Dhawan Space Center in Sriharikota | Source: PTI
Although a total 45 satellites from 19 countries have been launched successfully by the ISRO on previous occasions, but it is the first ever instance of the agency launching satellites for the United States.
What is interesting to note is that Reusable Launch Vehicle-Technology Demonstration (RLV-TD) would be held at the end of this year as stated by Dr K Sivan, Director of Vikram Sarabhai Space Centre. RLV-TD is a series of technology demonstration missions that have been considered as a first step towards realising a Two Stage To Orbit (TSTO) fully re-usable vehicle.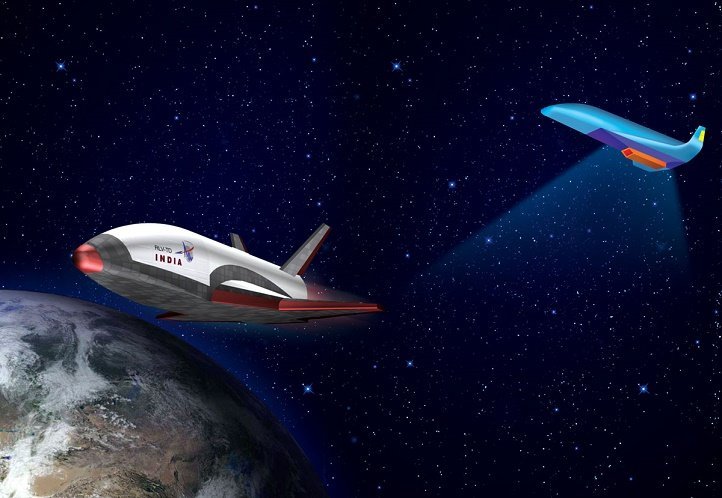 A representational image depicting the RLV-TD technology | Source: ISRO
A Winged Reusable Launch Vehicle technology Demonstrator (RLV-TD) has been configured to act as a flying test bed to evaluate various technologies, namely, hypersonic flight, autonomous landing, powered cruise flight and hypersonic flight using air-breathing propulsion. This technology would be extremely beneficial in cutting down on high cost space expeditions which has always proved as a deterrent in space research and explorations.
By the end of August, the fully indigenous developed Geo-synchronous Satellite Launch Vehicle (GSLV) D6 weighing 2.5 tonne and costing Rs 250 crore would be launched. Officials are expecting that GSAT 6 launch would prove as a major boost in the advancement of communication technology across the globe.