After the report of JNU High Level Enquiry Committee was made public on Tuesday, the mentioning of two Kashmiri students in the report for "raising slogans" and for being in "close proximity of the outsiders" who had allegedly raised anti-national slogans on February 9, has evoked concerns among the Kashmiri students in the university.
Two J&K students – Mujeeb Gattoo and Muhammad Qadeer  – have been named in the HLEC report which was submitted to the JNU Vice Chancellor on March 11. 
One of the two named students Mohd. Qadeer told ScoopWhoop he is being targeted for being a Kashmiri and the way it's being done is worrisome. 
"There were around 1000 students in the crowd but they did not name any of them but randomly picking two guys because they look like Kashmiris seems like framing them because they could not find the real culprits. And they mentioned in their report that Mujeeb was found shouting slogans (I don't know if he was) and Qadeer was seen near him. What does it mean 'seen near him'? Wasn't there any other student present there?," Qadeer told ScoopWhoop over mail. 
According to the HLEC report, "It has been seen in the video clip ( Q6, time 0:00.44 – 0:01.07) authenticated by Truth Labs) that one JNU student Mr. Mujeeb Gattoo is seen raising slogans, of 'hum kya chahati hain azadi,' 'hum cheen ke lenge azadi". Another student Mr. Mohd. Qadeer was seen close to Mr. Gattoo. Both were found in close proximity of the outsiders."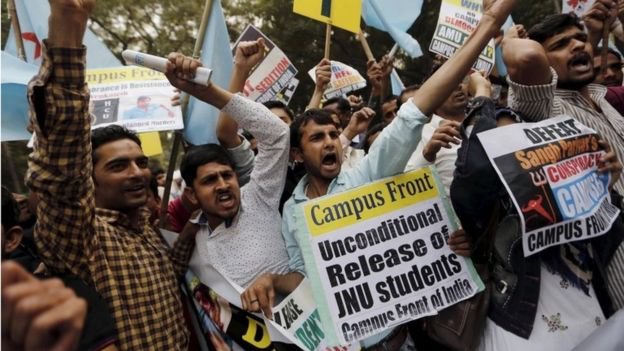 A Phd scholar at JNU's Centre for Economic Studies and Planning, Qadeer, who hails from J&K's Rajouri's district also stated that the report has not said he was shouting any sort of slogans but it was trying to convict him merely because he was present there.
Qadeer, who is also a JNUSU Councilor and a member of All India Students' Association (AISA), also took to Facebook to explain his view about the findings of the report.
While stating that he does not endorse freedom of Kashmir in political sense but supports right to dissent and self determination, Qadeer also said "the slogan of Azaadi that they said Mujeeb was raising doesn't make him an outlaw. There is nothing wrong in asking for freedom as it is semantic in nature and can be interpreted in many senses but stereotyping it because a Kashmiri is raising it is completely bogus, communal and biased." 
JNU sources said the two students are currently not on campus and both of them had left campus before the report was made public. 
Denying media reports that he has left university in the wake of his naming in the report, Qadeer, told ScoopWhoop that he had left the university campus for home on March 5, six days before the HLEC report was submitted to the VC. He also said he did not receive any show-cause notice from the JNU administration till he was in the campus.
Qadeer also informed that he has gone to home to visit his ailing mother and will be returning to campus soon.
Efforts to reach another Kashmiri student Mujeeb Gattoo who has been named in the report proved futile.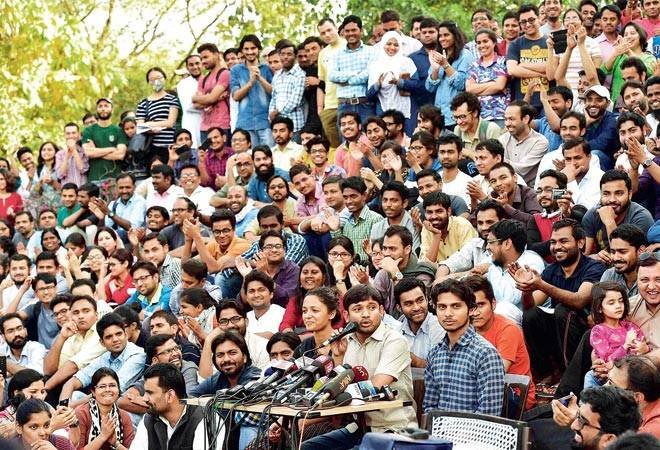 JNUSU General Secretary Rama Naga told ScoopWhoop they are not only against the naming of two J&K students in the report but every JNU student's name in the report. 
"It's a totally biased, politically motivated enquiry which is targeting students without any concrete evidence," Naga told ScoopWhoop. 
He also referred to the resolution passed by JNUSU on Wednesday night that stated "JNUSU will oppose any disciplinary action based upon the findings of this partial and biased enquiry." 
Feature image source: AFP/Representational Image