There were a couple of moments on Sunday night that stood out when Novak Djokovic created history by winning the French Open title.
Firstly, moments before the match was done, Djokovic was thumping his chest and egging the crowd on, who in turn, were cheering at their top of their voices. He had a satisfied smile on his face. He knew he was winning the match. 
And more importantly, he was winning hearts.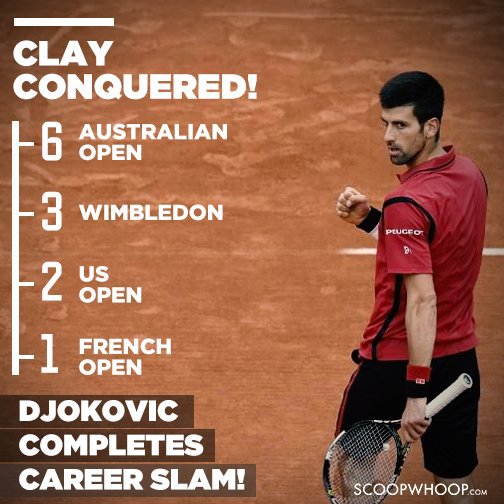 Then, once he the moment arrived, when the career slam was complete, he drew a big heart in the clay, stepped inside and fell on his back inside the heart. It was a homage to Gustavo Kuerten's famous celebration in 2001.
And here's Djokovic's version of that:
And therein lies the significance of the win. For Novak Djokovic, the seemingly unstoppable Serbian Superstar, the French Open 2016 title was extra special. This was his 12th appearance at his Roland Garros and this is the most number of attempts anyone's ever made to win the tournament for the first time. 
And when he did it, not only did he break the clay-jinx, he won the crowd's hearts. The hearts that always rooted for Roger Federer or Rafael Nadal over the last decade.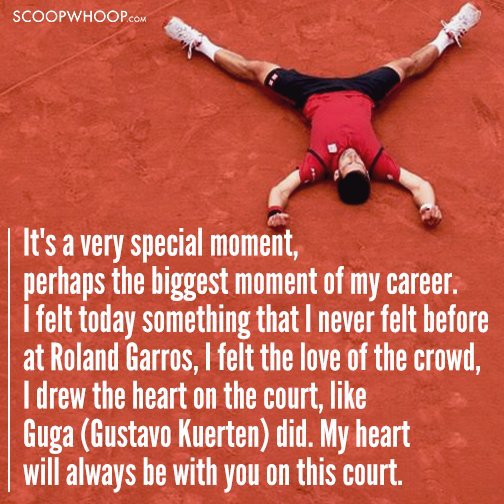 For the longest time, Djoker was seen as a great tennis player, but that's where the admiration ended as a whole generation was blinded by their love for Roger Federer and Rafa Nadal, and chose to stop short of loving the Serb. He kept at it with antics on and off the court, but when it came to the big final, the loudest cheers never came for him. The crowd at the US Open even crossed a line by cheering his double-faults as Federer went on to lose yet another slam final.
When asked what he thought about that boorish crowd in New York last year, he had this to say:
And, funnily enough, in the first slam in a long time that saw both Nadal and Federer absent, the tide is beginning to turn for Djokovic.
He is, finally, the people's champion and that will mean as much to him as the career slam.