Like any other boy of his age, 18-year-old Zakir Ali Tyagi has an active presence on social media platforms. A look of his Facebook profile reveals that he calls himself a 'journalist' and has done social work. As you scroll down his timeline, you will find the quintessential selfie with friends, a few quotes about life philosophies.  However, there is one distinctive thing about Zakir's profile.  On his timeline, he has shared several news reports, most of which are about him being released from jail after 40 days.
Zakir, the teenager from Muazzarfarnagar in Uttar Pradesh was arrested by the police and jailed for 40 days because of his social media posts. He was charged under Indian Penal Code's Section 420 (cheating) and Section 66 of the Information Technology Act (computer related offences). Police also later charged him under Section 124 A which deals with sedition.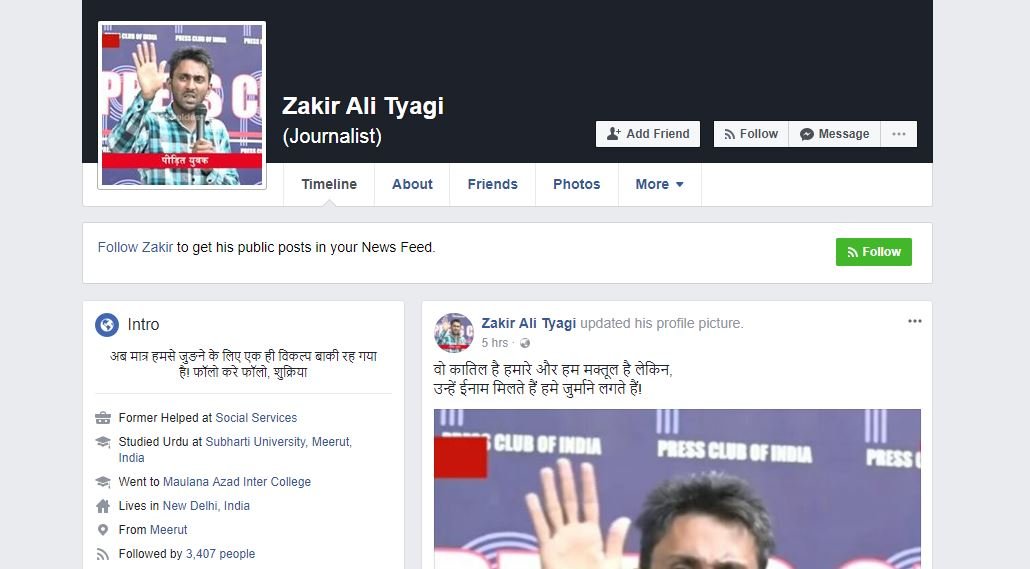 And his crime? He had shared tweets which were allegedly offensive towards chief minister Yogi Adityanath, river Ganga and the practice of Haj subsidy. And that too, while using a profile picture of a slain UP police officer Akhtar Ali who was martyred in an encounter in 2015.
On April 2, this year, Zakir was picked up from his employer's home in Muzaffarnagar. The arrest was made after police received complaints against him about the offensive content shared by him on social media. He then had to spend 40 days in jail and was released on bail only on May 13.  
This is the tweet against CM Adityanath which landed him in trouble after a user complained it to the police: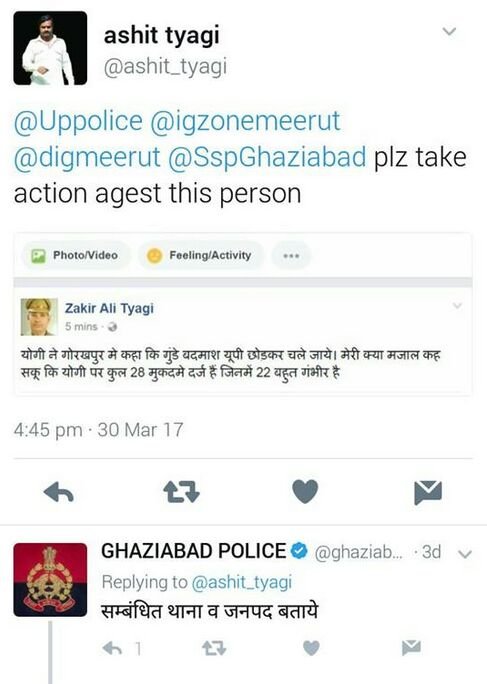 "I thought they had come to meet someone from the house. I even gave them water and treated them well. But later, they took out few print outs of what I had posted on social media. They asked me to come the police station for questioning and said that I will be released in an hour. I was shocked," he told ScoopWhoop News.
When he reached the police station, he was abused and manhandled by a person who he says was not in uniform. However, little did he know that this was just a beginning of the ordeal.
His tweet against Ganga: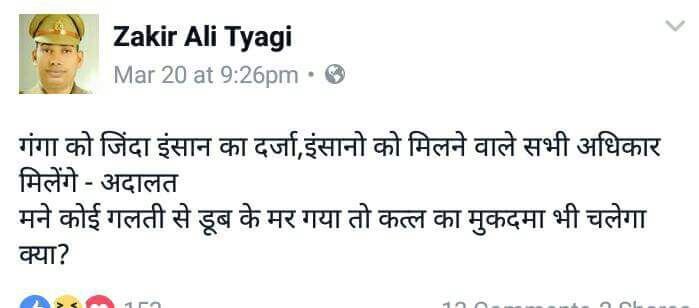 His tweet against Haj subsidy: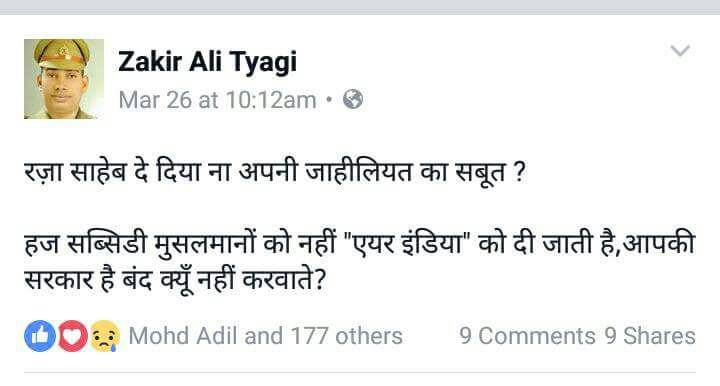 "Was bullied, verbally abused"
He had a harrowing time in jail for the next 40 days that he had to share the cell with criminals and thugs. "They used to bully me all the time. I was always verbally abused with expletives," he said.
He also added that the Muzaffarnagar jail was so overcrowded jail that people even fought to sleep in the toilet. "I was told that 2800 inmates were staying in the jail which had the capacity of only 800," he said.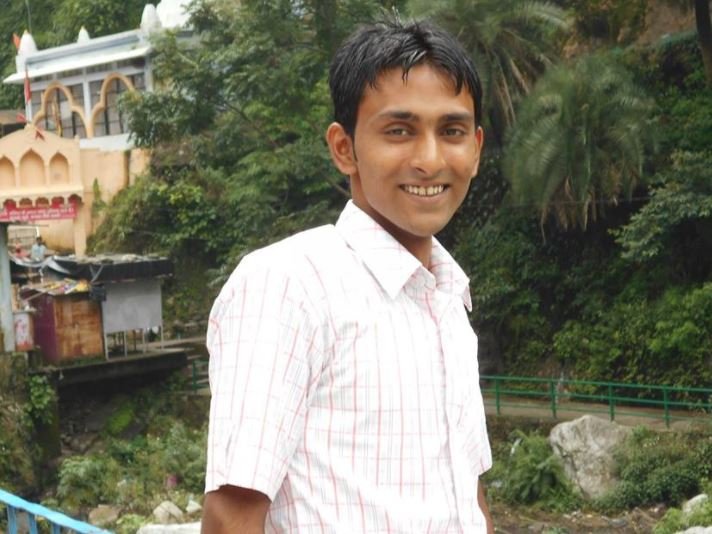 Zakir's comes from a modest family in Meerut. His family members include his mother and three elder brothers. He was staying at a relative's house in Muzaffarnagar, with whom he was working as an accountant, when he was arrested.
Every week, a relative visited him and gave him Rs 500 out of which he used to pay food Rs 450 for 'better food' in jail'. But he never had visitors from his home. "No one from my family came to meet as they didn't have any money to come to Muzaffarnagar," he said.
"I cried for many days"
Zakir says life has been extremely difficult after the 40-day stint in jail and it has been very difficult for him to move on. "I cried for many days. I didn't talk to anyone. I cannot say that I am perfectly fine even now," he said. 
He had been without work since August and is in desperate need of a job.
His lawyer Qazi Amjad who argued for his bail says that all the charges against him are invalid. " I have advised his family to move High Court against the charge sheet," he said.
In September, Supreme Court called the 66 A of IT Act 'draconian' and said it was unconstitutional in its entirety because it invades right to free speech.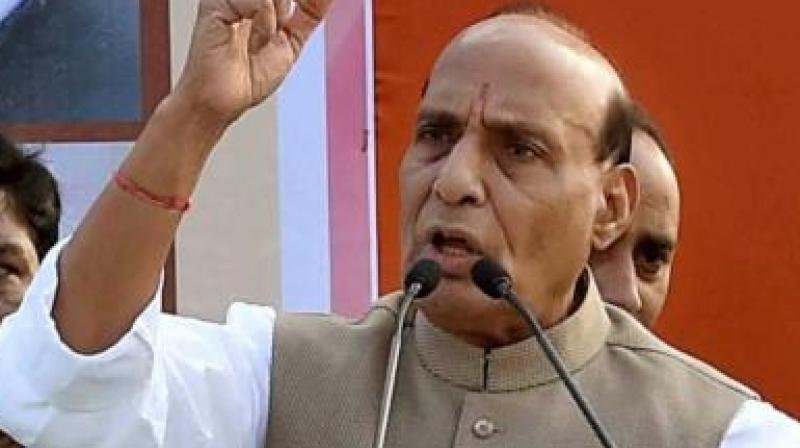 "I stay away from anything which is political or religious"
His hearing in the case is scheduled on October 19 in the Muzaffarnagar court. 
Meanwhile, he is currently pursuing BA in Urdu through correspondence from a university in Meerut. He says he is secular and doesn't follow any political ideology but looks up to home minister Rajnath Singh. "He is the only leader whom I admire."
He now thinks twice before posting anything on social media. "I only share poetry or news reports. I stay away from anything which is political or religious," he said.