The southern districts of Tamil Nadu like Madurai, Thanjavur, Trichy, Pudukottai, Theni celebrated by lighting fireworks and distributing sweets. The reason? After months of requests, persuasions and protests, the government of India permitted the controversial bull-taming sport 'Jallikattu' to be held in Tamil Nadu this year.
Union Minister Pon Radhakrishnan who had been playing a key role in persuading the Centre to lift the ban on the sport tweeted his joy on Twitter:
Union Min Pon Radhakrishnan tweets rejoicing Centre's decision to allow Jallikattu in Tamil Nadu #JallikattuBack pic.twitter.com/cJqHOR1EWv

— CNN-IBN News (@ibnlive) January 8, 2016
Tamil Nadu wholeheartedly welcomed the move and preparations are being carried out in full swing."I am very grateful to you for your prompt response in the matter, which has enabled the conduct of Jallikattu," said Tamil Nadu Chief Minister J Jayalalitha thanking Prime Minister Narendra Modi.
However, not everyone is happy. People for Ethical Treatment of Animals (PETA) registered its strong dissapproval with the decision and said that it was a U-turn by the Centre which was a gross violation of the Supreme Court directive.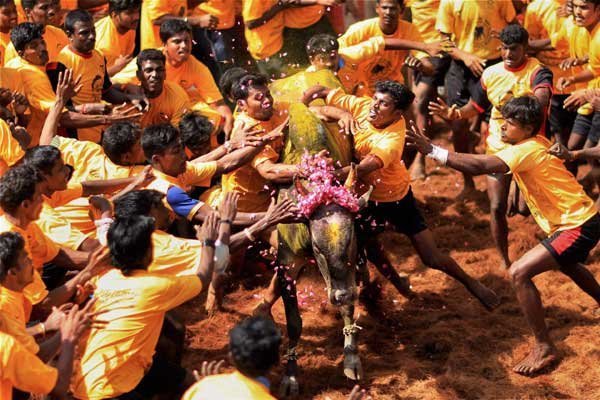 "The use of bulls in performances was banned by the Environment Ministry itself in 2011 and the causing of suffering that is inherent in jallikattu, bull races and bull fights has been illegal since 1960 under the Prevention of Cruelty to Animals Act," PETA said in a statement.
What is Jallikattu?
Also known as Eruthazhuvuthal, the bull taming sport originated in the Sangam period (around 3rd century BC to 4th century AD). It is a part of the popular Pongal celebrations on Mattu Pongal day. The bullfighting sport later became a platform for display of bravery and prize money was introduced.
Why is it so controversial?
 Keeping in mind animal cruelty and public safety, Animal Welfare Board of India took the case to Supreme Court. The sport was thus banned in May 2014 by the Supreme Court of India as per a report by The Hindu.
"Jallikattu is still happening, on the sly and without the knowledge of the cops. There are closed groups on Facebook whose members have excellent coordination. They are all gearing up for January 15," said an e-learning editor as per a report by The Times of India.
What was the Centre's role ?
Centre lifted the ban with certain restrictions in order to prevent animal cruelty and maintain public safety. As every Tamil Nadu politician, irrespective of his/her political affiliation supported the sport, it has also been said that the Centre's move has a political angle. 
Also don't forget, the Tamil Nadu Assembly elections are just four months away.
(With inputs from PTI)
(Feature image source: PTI)