New Delhi: Stand off between the administration of Jawaharlal Nehru University and students over the new the amendments in the admission policy continued for fourth straight day on Monday with students occupying the administration building and disallowing the admin staff to enter the building. 
Calling the gherao by students as "unlawful and criminal", JNU VC Jagadesh Kumar on Monday warned students that "law will take its course" if the discussion between JNU officials and "adamant" students fail. 
In a series of tweets on Monday morning, Kumar said more than 250 staff members were not allowed by the students to enter the admin building.  
Students have been agitating against the recent amendments in the admission policy of the university following certain guidelines by the University Grants Commission (UGC) and remained adamant on preventing the officials from entering office until their demands were met. 
The JNU Students Union (JNUSU) said the students have been sitting at the administration block since Friday and claimed that they will only budge from there after the Vice Chancellor meets them. Several students had also observed indefinite hunger strike before the Friday gherao.
However, several rounds of talks between admin officials and students have failed.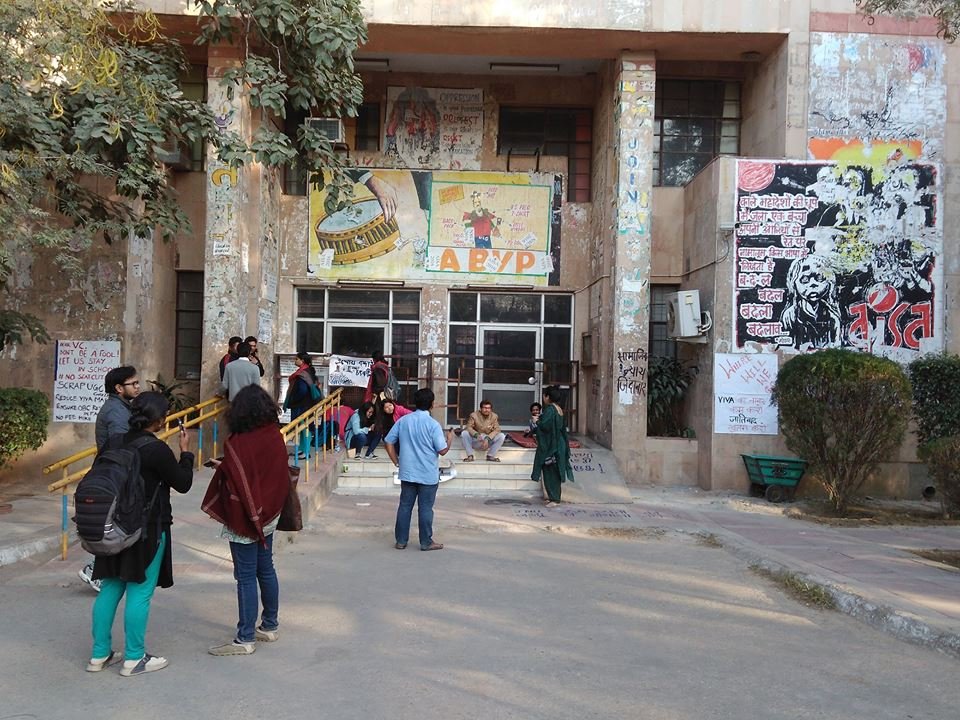 On Monday, several groups of teaching and non-teaching staff tried to negotiate with the students. But students were demanding a meeting with VC. 
"We have been demanding a rollback of the university's acceptance of the University Grants Commission's notification of May 2016, which among other things, stipulates the number of research students a faculty can guide and makes the viva, rather than the written test, the main criterion for intake into the MPhil and PhD programmes," JNUSU General Secretary Satrupa Chakraborty told PTI on the second day of protest. 
"Now it has also emerged that the there will be massive seat cuts in Mphil and PhD programmes. We want to raise all these issues with the VC to get an assurance that all these anti-students decisions will not be implemented," she added.
Feature image source: Prashant Nihal/Facebook