A day after the JNU administration rusticated three of its students and slapped financial penalty on 14 others including JNUSU president Kanhaiya Kumar for the alleged "anti-national" event on February 9, the students union has decided to go on an indefinite hunger strike from Wednesday evening and intensify its fight for social justice and student rights. 
Mentioning its earlier reservations over the composition of the High Level Enquiry Committee (HLEC) since its inception in February, the JNUSU on Tuesday reiterated its stand of "not recognizing" the "casteist enquiry committee" and "its arbitrary" decisions.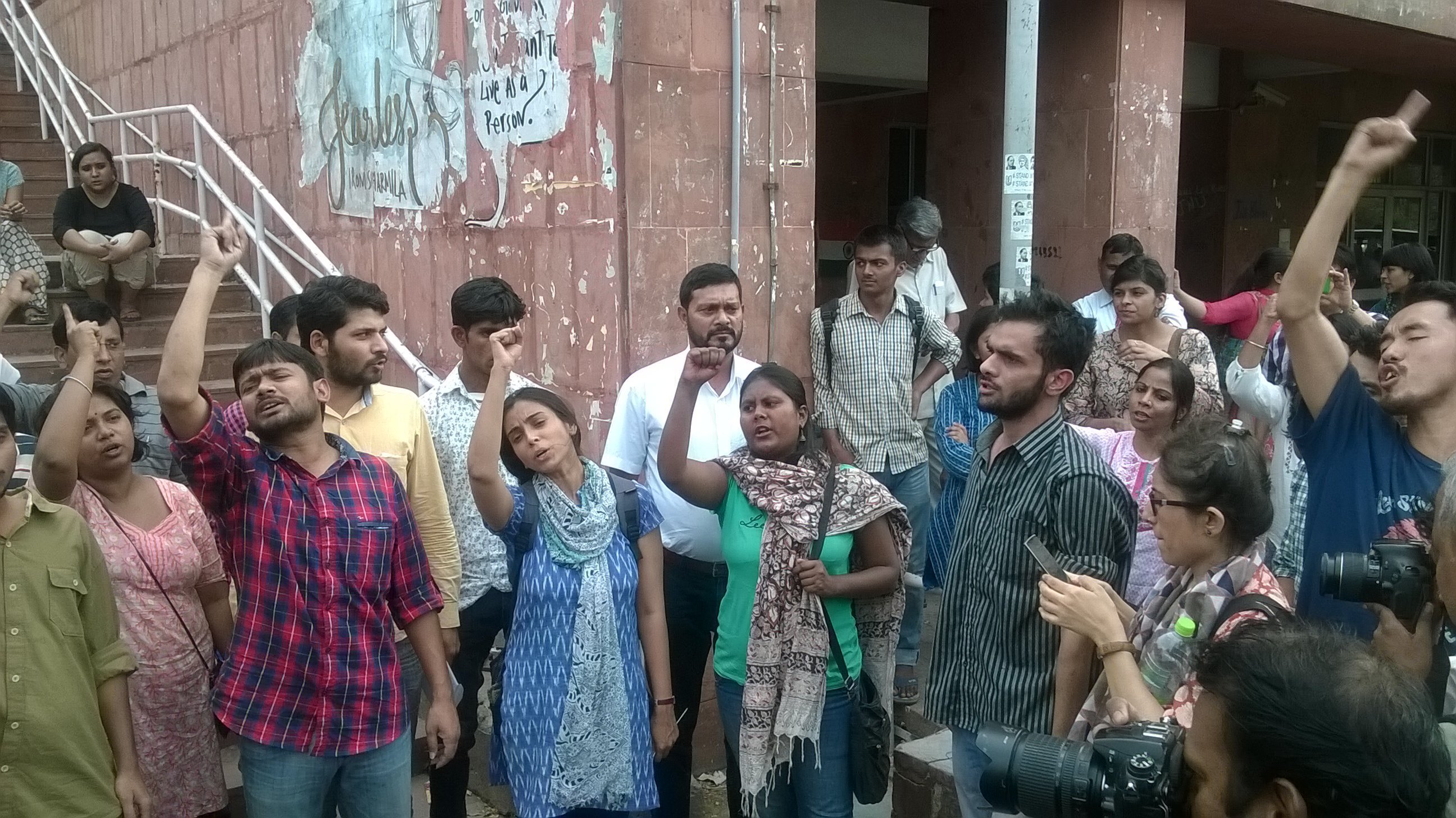 "We had a number of apprehensions against the composition of the committee since day one as it was not representative. Most of the students named in the February 9 event belong to marginalised sections of the society like Dalits and Muslims, and there was not a single representative of these groups in the HLEC. This kind of report is liable to raise objections," JNUSU president Kanhaiya Kumar said while addressing a press conference on Tuesday near the varsity's administration block. 
"Our apprehensions were not addressed. The committee did not listen to our side of the story. Two of our students – Umar Khalid and Anirban Bhattacharya – were sent show cause notices by the HLEC when they were in jail," he said. 
The student leader, who was joined by JNUSU vice-president Shehla Rashid and general secretary Rama Naga, also announced that they will take a protest march on Wednesday night inside the university premises which will be followed by indefinite hunger strike.
Accusing the government of targeting students for raising different issues in the country, JNUSU vice-president Shehla Rashid said, "The Modi government is fighting a proxy war with students by installing puppets."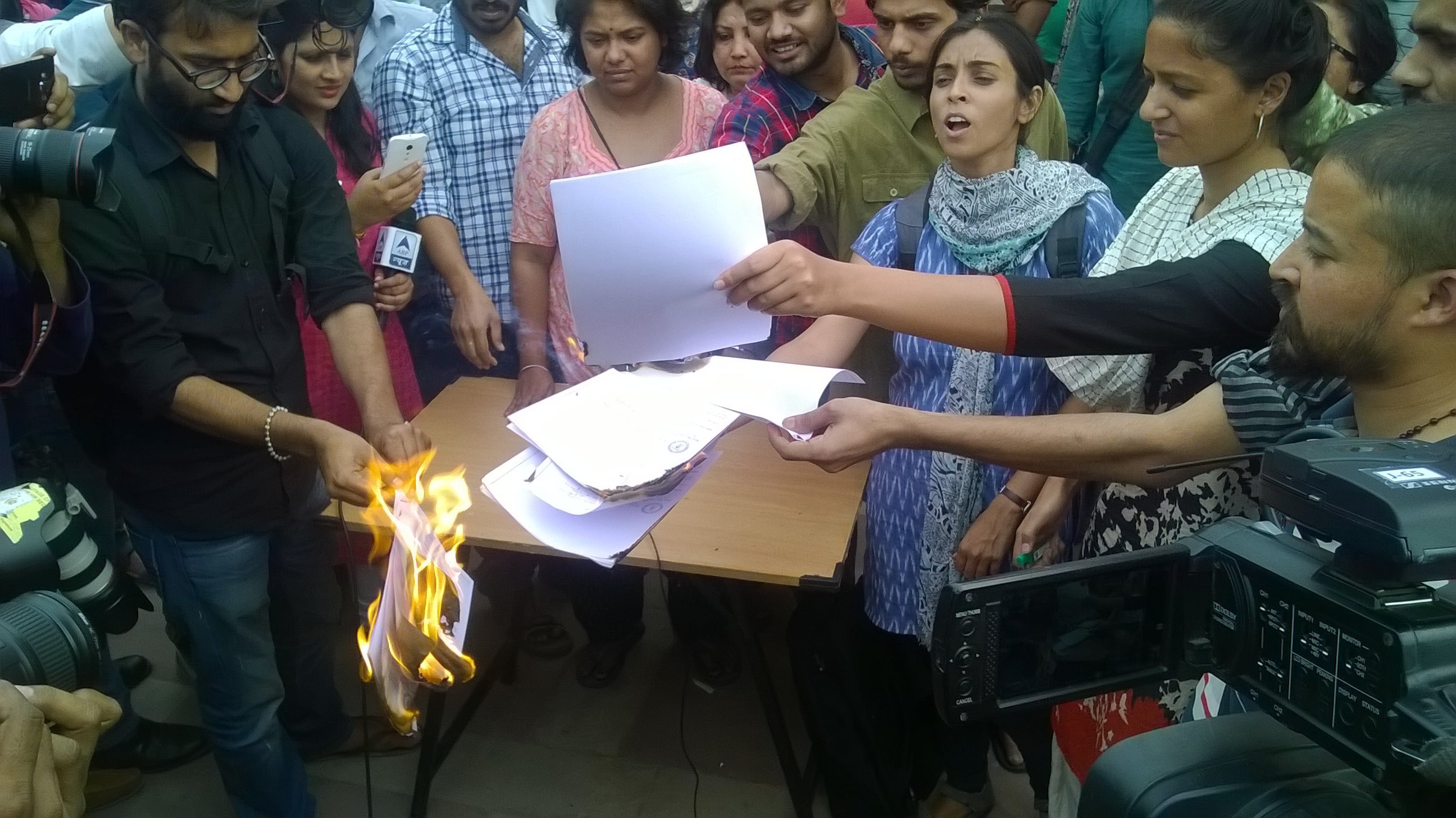 She also said the committee's decision to charge financial penalty on the students who come from poor backgrounds and study in the university on a small amount, is actually to create a "chilling effect" among the students. 
"We are fighting for various student issues like implementation of Rohith Act, deprivation points and OBC reservations, the HLEC's decision is to divert the attention from these issues which are being raised throughout the country by students," she said. 
After the press conference, the students, joined by teachers, also burnt down copies of the HLEC report.
JNU student Umar Khalid, who along with Anirban Bhattacharya and a Kashmiri scholar Mujeeb Gatoo has been rusticated by the HLEC, told ScoopWhoop that there's no question of complying with the decisions of HLEC report. 
"What they have done is outrageous. It took them one day to suspend us. They never gave us a chance to depose. We were in jail when the enquiry was completed and we were told you have been found guilty. The administration did not stand by us when we were being threatened and Kanhaiya was attacked in Patiala court. They also didn't respond when we demanded security in the campus. But when it comes to acting against students they played a kind of pro-active role. It shows that they are being guided by someone else. It's not the JNU statue book or rule which is guiding them. It'something else," Umar told ScoopWhoop.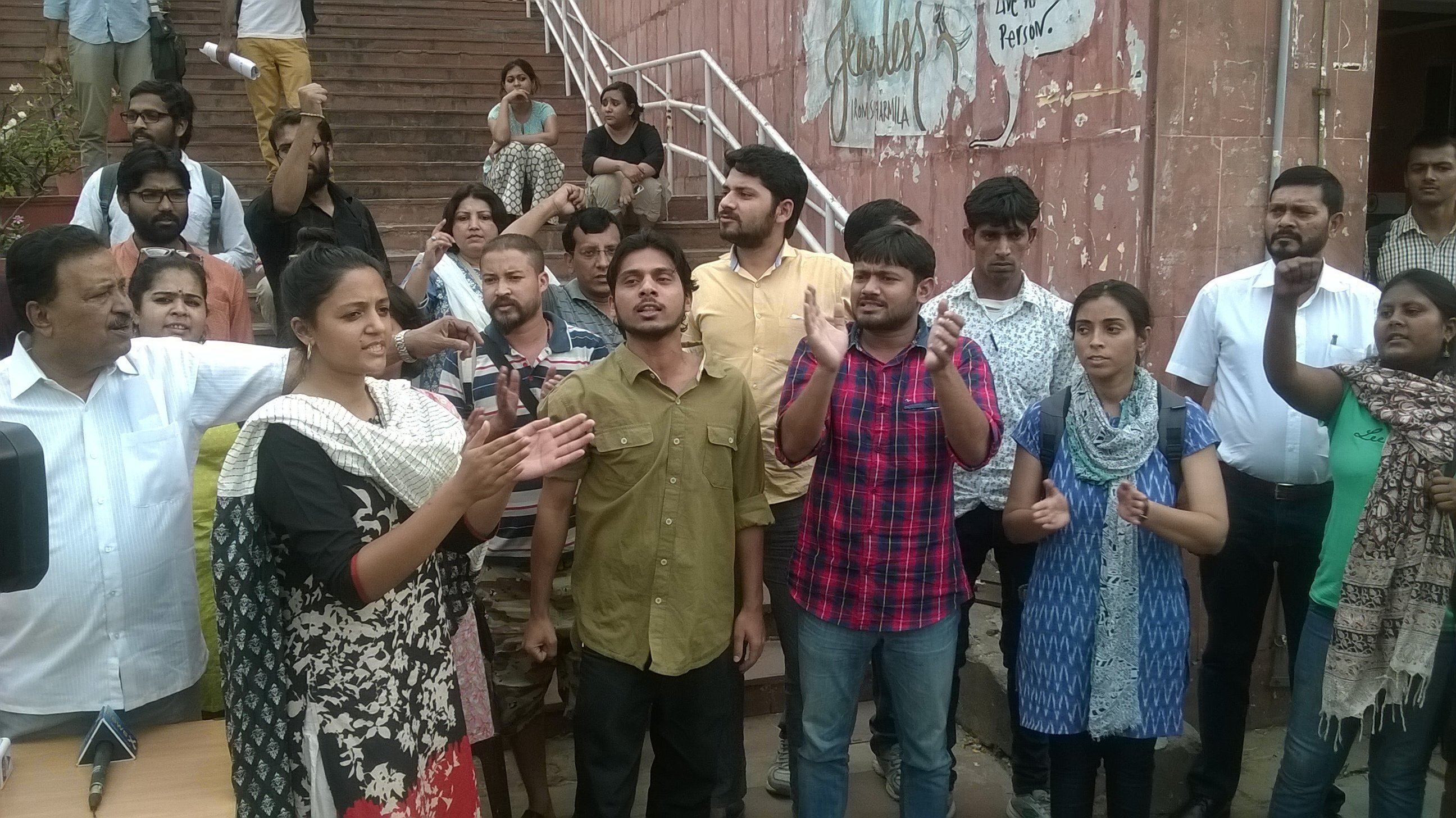 "No student will pay the fine, no student will leave the hostel. We are going to fight it," said Khalid.
Interestingly, the HLEC report is being rejected even by ABVP on the campus.
JNUSU joint secretary and ABVP student leader Saurabh Sharma told ScoopWhoop that the HLEC's action against the students is a "joke on India's democracy." 
"This is just a compromise and not justice. Those who raised anti-national slogans are being merely suspended for a semester and penalised 10-20,000 rupees," he said. 
Saurabh, who has also been fined Rs 10,000 for "blocking traffic" on February 9 in the university, said "By fining me, JNU administration has proven that fighting for the country and raising slogans of 'Bharat Mata Ki Jai' has become the biggest crime."  
Terming it a political compromise, Saurabh also said there are many students who were involved in February 9 event but were being shielded despite video evidence against them.
Saurabh also said he has given the university administration an ultimatum till 6 PM to revoke HLEC's financial penalty against him and take "stricter" action against those who were involved in February 9 event.   
Feature image source: PTI/File