A new video has surfaced on social media which shows JNU professor Nivedita Menon saying the whole world knows that Kashmir is not a part of India and that pro-azaadi slogans are justified.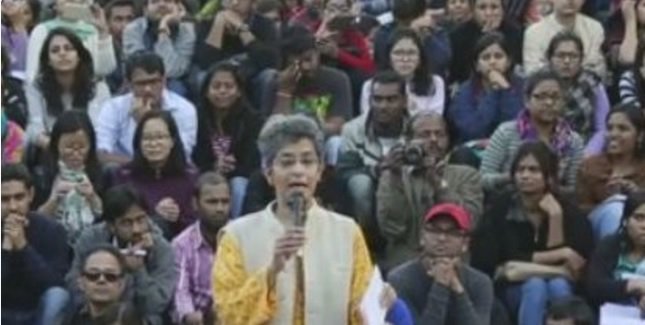 The video, allegedly dated February 22, shows Menon telling students at the university campus:
Students can be seen applauding the statement with claps.
Watch part of the video here:
BJP's youth wing Bharatiya Janata Yuva Morcha (BJYM) has now filed a complaint against Menon for "anti-national" statements in the aftermath of February 9 event. 
A statement by BJYM statement said, "JNU professor Nivedita Menon has been spewing hatred against the Indian Armed Forces in public meetings as well…She made statements like it is recognized worldwide that India is illegally occupying Kashmir." 
When PTI contacted Menon, who teaches at the Centre for Comparative Politics and Political Theory at the School of International Studies in JNU said, " I don't believe anything I said was anti-national".
Meanwhile, her remark has invited criticism on social media:
Her own FoE apart, Nivedita Menon wrong as Prof to say world says Ind in "illegal occupation" of JK. Not heard that from anybody in 25 yrs

— Shekhar Gupta (@ShekharGupta) March 9, 2016
JNU prof NiveditaMenon's claim that India illegally occupies #Kashmir must be strongly condemned & countered.India's unity is non-negotiable

— Sudheendra Kulkarni (@SudheenKulkarni) March 10, 2016
With inputs from PTI
Feature image source: Screenshot