The Jawaharlal Nehru University Students' Union on Friday filed a complaint against two websites for allegedly spreading malicious reports that the students were glorifying the Sukma naxal attack.
What did the websites publish?
As per JNUSU president Mohit Kumar Pandey, the websites www.srishtanews.com and www.dainikbharat.com are spreading reports claiming that JNU students are glorifying the Sukma naxal attack. 
Here's a screenshot of the fake news by www.srishtanews.com which has not yet been pulled down despite several other websites calling them out for it: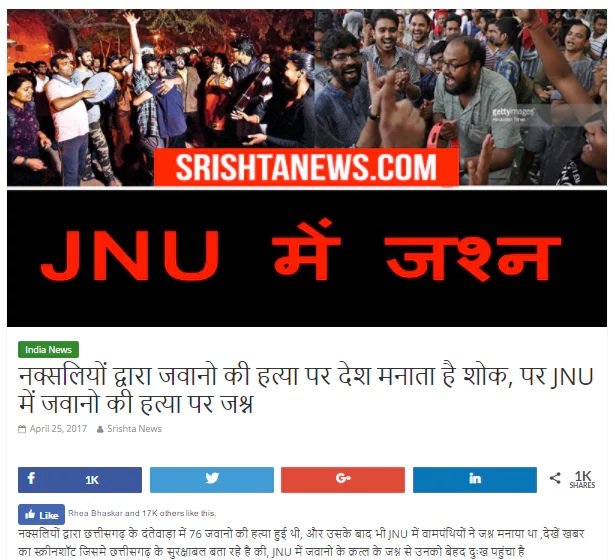 The website www.dainikbharat.com did not open.
What's JNU students' objection to it?
As per Pandey, the pictures linked with the reports are of celebrations in September 2015 and the 2013 JNUSU elections, and another picture was taken when former JNUSU president Kanhaiya Kumar got bail in 2016.
He alleged that the websites had ideologies similar to that of the BJP and the RSS and the reports were spread widely.
"Spread of such content is maligning JNU students who are actively participating in several social service activities. Students and faculties are getting threats of murder, rape and are being abused because of this," Mohit said.
Pandey also wrote a Facebook post about it: