Just as the JNU crisis seemed to be calming down, Home Minister Rajnath Singh threw a shocker on Sunday when he alleged that the raising of anti-national slogans in JNU campus on February 9 had backing of Lashkar-e-Taiba founder Hafiz Saeed, prompting reactions from opposition and leftist parties. 
"The incident (Afzal event) at JNU has received support from Hafiz Saeed. This is a truth that the nation needs to understand. What has happened is very unfortunate," Singh told reporters in Allahabad on Sunday. 
Rajnath's comments came two days after a series of tweets, purportedly by a Twitter handle impersonating as the chief of terror outfit Saeed, had appeared under a hashtag asking Pakistanis to support the agitation in JNU. 
While Police are investigating as to whether the twitter handle actually belonged to the LeT founder, the Leftist parties and former Chief Minister of Jammu and Kashmir Omar Abdullah termed the allegations against students as a "very serious charge" and asked for evidence from Home Minister to prove his claims.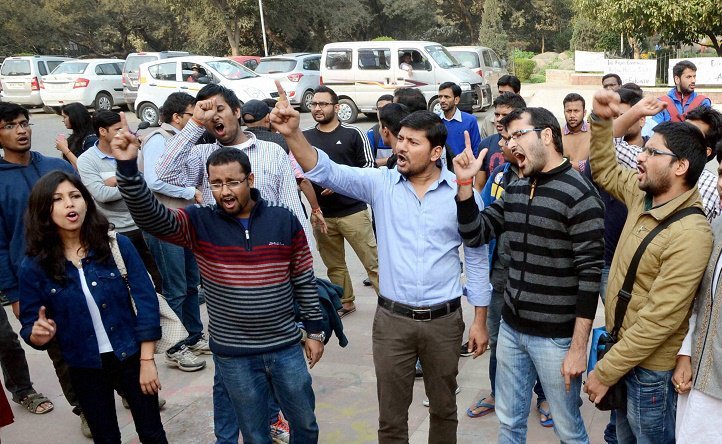 CPI-M General Secretary Sitaram Yechury said the Home Minister has to come out and share the evidence he has with the country to back up his "serious allegation."
The students at JNU have also rubbished allegations of Singh. 
"All the students are laughing at the allegations of Home Minister," Mayank (name changed), a JNU scholar told ScoopWhoop. 
"It's a mockery of credibility on the part of central government which has issued such an ominous statement based on a fake tweet," he said. "Sadly, government's reliance on a tweet to unleash a malicious campaign against a university speaks of foolishness but when this kind of foolishness comes up from government, it's very dangerous."  
Justifying its comments, a home ministry spokesperson later on Sunday said the minister's statement was based on consolidated inputs from security agencies. Nothing further was explained. 
Other students reacted to the allegations by echoing views of Leftist parties which have asked Home Minister Rajnath Singh to give evidence for his claims. 
"There's no evidence to prove the allegations against students. It's apparent that the government has a predefined mentality and tilt towards right-wing forces without even looking at the facts on ground," another JNU student, fearing reprisals from the university authorities told ScoopWhoop. 
On the other hand, a faculty member of JNU told ScoopWhoop that Rajnath's comments were to justify police action on the campus. 
"The motive of linking student activism with a conspiracy of alleging connections with your arch-enemy is a dangerous precedent. This should not be taken as easily. All of us need to resist this kind of baseless mud-slinging," the professor added.  
"Otherwise, there'll be no room for dissent." 
Feature image source: PTI