US Secretary of State John Kerry has asked Prime Minister Nawaz Sharif to prevent terrorists from using Pakistani territory as safe havens, as he expressed strong concern over the violence in Kashmir particularly the terror attack on an Indian army base. 
Kerry met Sharif on Monday on the sidelines of the 71st session of the UN General Assembly. Sharif raised the issue of alleged human rights violations and killings in Kashmir and sought American help to resolve the Kashmir issue.
US State Department Deputy Spokesperson Mark Toner said that the US wants to see more progress from Pakistan in dealing with the terror groups effectively. "We've seen some progress; we want to see more, and I think moving forward we'll just continue to work closely and try to encourage greater counterterrorism cooperation with Pakistan but also within the region," Toner said.
Later, State Department Spokesperson John Kirby said that Kerry "reiterated the need for Pakistan to prevent all terrorists from using Pakistani territory as safe havens, while commending recent efforts by Pakistani security forces to counter extremist violence."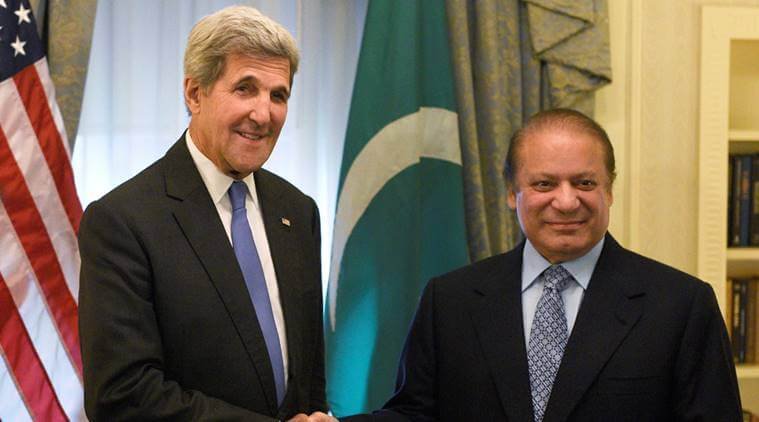 "The Prime Minister and Secretary Kerry expressed strong concern with recent violence in Kashmir – particularly the army base attack – and the need for all sides to reduce tensions," he said. 
In one of the deadliest attacks on the Indian Army in recent years, 18 soldiers were killed and as many others injured as heavily armed militants stormed a battalion headquarters of the force in Kashmir's Uri town early Sunday.
Kerry also stressed the need for restraint in nuclear weapons programs. According to a readout of the meeting by the Pakistan mission, Sharif asked the "US Administration and Secretary Kerry to use his good offices to help in resolving bilateral issues between Pakistan and India." 
In his meeting with British Prime Minister Theresa May, Sharif again raised the Kashmir issue and asked the British leader to play her role in convincing India to stop the alleged use of force against the people in the region.
Sharif said Pakistan's support for Kashmiri people in their legitimate struggle for self determination and its commitment to the Kashmir cause are non-negotiable, according to information released by the Pakistani mission. 
Sharif alleged that human rights violations and state oppression is at its peak in Kashmir and it is the duty of the international community to "ask India to immediately end state atrocities on innocent and defenceless Kashmiri people".
He said the people of Jammu & Kashmir must be allowed to chose their destiny and longstanding resolutions of the UNSC on the right to self determination of the Kashmiri people need to be implemented. 
He added that "if the international community does not succeed in asking India to immediately end state oppression on the people in Jammu & Kashmir, India will be encouraged to increase the intensity of the continuing state atrocities."
(Feature image source: Reuters)