When Tanmoy Bhaduri, a 25-year-old photojournalist from Kolkata, left his Agarpara home to cover the CPM (Communist Party of India-Marxist) rally early on Monday morning, he had no idea this would be the day his belief in the system will be shattered. 
"I have been a freelance photojournalist for about three years now but I have never seen anything like this. The police targeted us specifically. The chased us like wild dogs," says Bhaduri.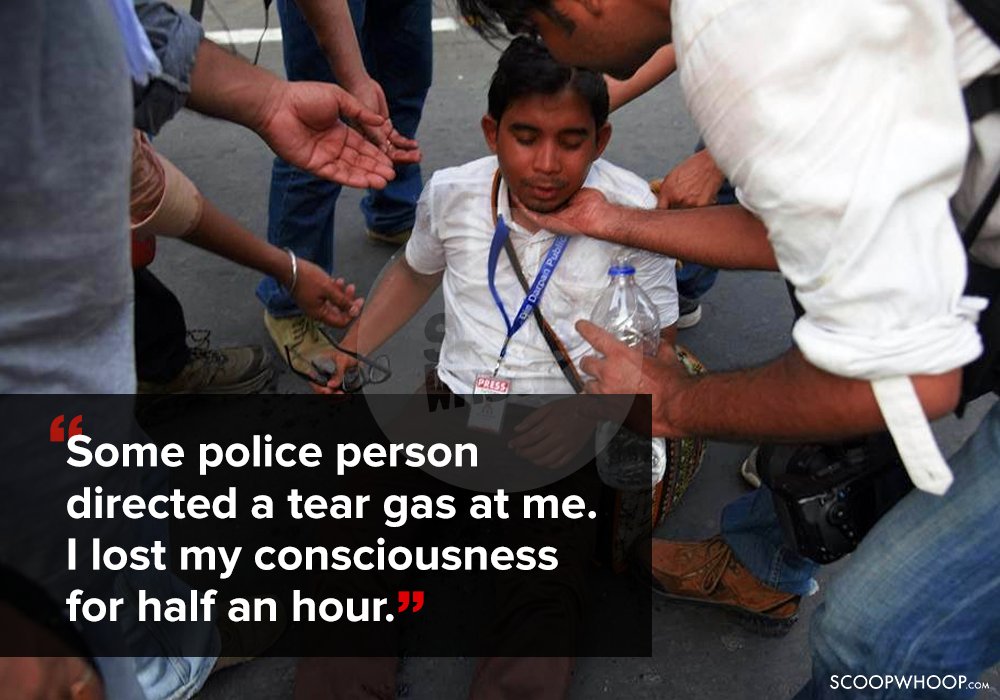 On Monday, the Left Front had called for a march to the Bengal Secretariat.
At the West Bengal secretariat, Nabanna, five CPM MLAs along with seven others were arrested as they suddenly appeared at the north gate. The iconic Vidyasagar Setu was shut for traffic following the agitation by CPM workers, as Nabanna is located close to Vidyasagar Setu.
However, less than five kilometers away, at the stretch between Hastings and Esplanade in central Kolkata, a different story was unfolding.  
"CPM cadres started throwing bricks first, but the police attacked us" 
When Bhaduri reached the Mayo Road crossing at the Esplanade area of Kolkata, it was about 12:15 pm. 
"A part of the rally was supposed to pass by this area before heading towards the state secretariat. There was a large contingent of policemen present too. I was surprised to see such a huge turnout of policemen. Eventually, some sort of tussle ensued and before we knew it, the CPM supporters were pelting the policemen with bricks and tiles," says Bhaduri.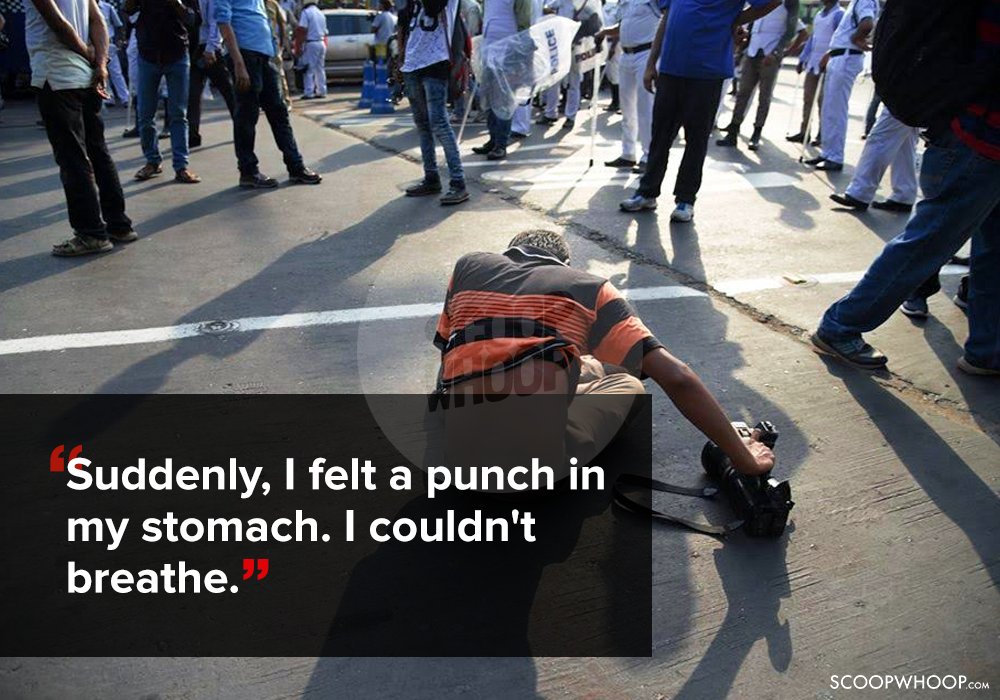 Bhaduri, who had was carrying his expensive SLR camera with him, saw a few policemen come towards him. "Suddenly, a tear gas bomb burst right next to me and I passed out in the middle of a road. When I regained my consciousness, I realised that I was right in the middle of a stampede. A friend called out my name and asked me to run away. They are targeting journalists, he said," says Bhaduri. 
Trayan Chakraborty, 32, a journalist with Bengali news channel, News Time, was on the spot with his camera person and other fellow journalists, when Bhaduri was caught in middle of a stampede. "I have been a journalist for almost a decade and I have never seen anything like this. Policemen were chasing us like dogs. We didn't even know what we did wrong," says Trayan. 
"Get the dogs!" 
When some other journalists were attending to an unconscious Bhaduri, policemen targeted them again. "They chased us and started beating us with Baton. We were showing our press cards to them, but there was no mercy. Get the dogs, they kept saying," says Bhaduri. 
"Instead of apologising, they laticharged us again!"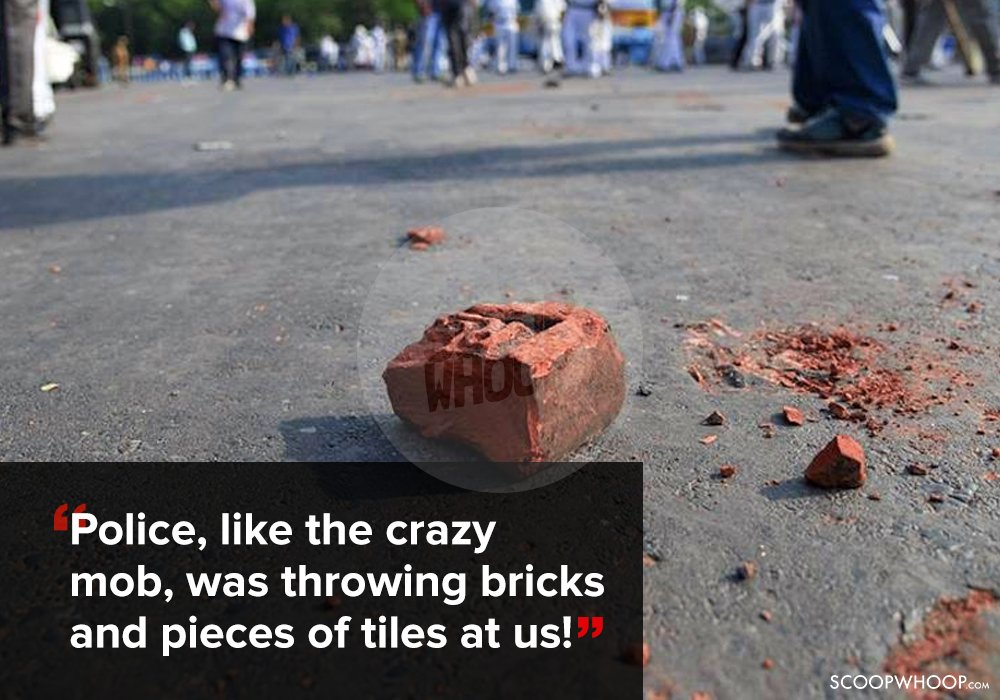 Eventually, the injured journalists decided to block the arterial Mayo Road at about 2:30 pm. "It was meant to be a peaceful demonstration. However, the Deputy Commissioner of special task force, Muralidhar Sharma, came to talk with us. We wanted them to take action against some specific constables who were targeting us. Instead of making them do the needful, they quickly asked the men to change into plain clothes and stated that these men were on leave. When we told Sharma that we can see through his ploy, we were lathicharged again!" says Bhaduri. 
When ScoopWhoop News contacted Kolkata police joint commissioner, Supratim Sarkar, he said, "We have arrested 182 people, including 85 women. The attack on journalists, however, was condemnable. I assure you strict action will be taken against the officers who beat up journalists." 
Why did  Kolkata Police target journalists?   
According to most eyewitnesses, it was a live-phone in report by a television journalist that fuelled this attack. 
"Some police officers who were sitting there overheard him and didn't like what he said, so they had an altercation with him. They pushed him around, and slapped him…" a senior television journalists told, news website, CPJ.org.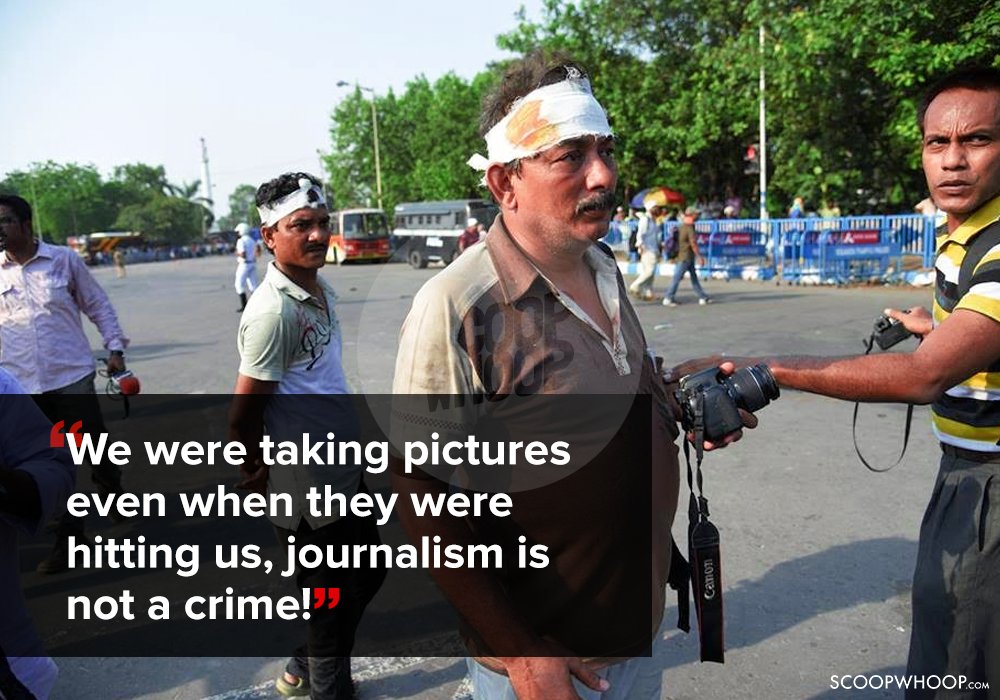 "They probably had express order to see how we cover the rally. Which is why they were stopping us from taking photos. But we didn't stop even after being beaten up," says Bhaduri. 
All Images sourced from Tanmoy Bhaduri