In what can spell trouble for Prime Minister Narendra Modi, a retired judge who investigated the Gujarat riots, 2002, has come out with evidence against Modi for his alleged involvement in the riots. Justice H Suresh, former judge of the Bombay High Court, who was a part of a people's fact-finding committee that went to Gujarat in May 2002 just months after the communal violence, has said that there is an audio tape which vindicates the then chief minister of Gujarat.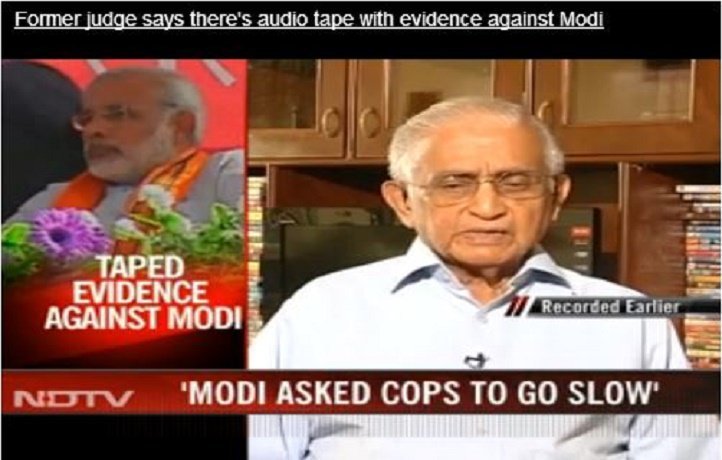 A screen grab from Justice Suresh's interview with NDTV
Justice Suresh told NDTV that Haren Pandya, who was then a minister in Modi's government, met him in the presence of retired Supreme Court judge, PB Sawant. Pandya said that the CM had called a meeting in February, hours after a train was set on fire at the Godhra station in which nearly 60 karseveaks, who were on their way back from Ayodhya, died. He further said that Modi instructed senior police officers to let Hindus exact their revenge. The conversation was recorded on an audio tape.
"He said he will come and meet us provided it's kept confidential and his name should not be disclosed …we agreed on that…only some of us Justice Sawant, myself and one or two others were there ..and then we heard him, recorded his statement but we kept it very confidential," Justice Suresh told NDTV .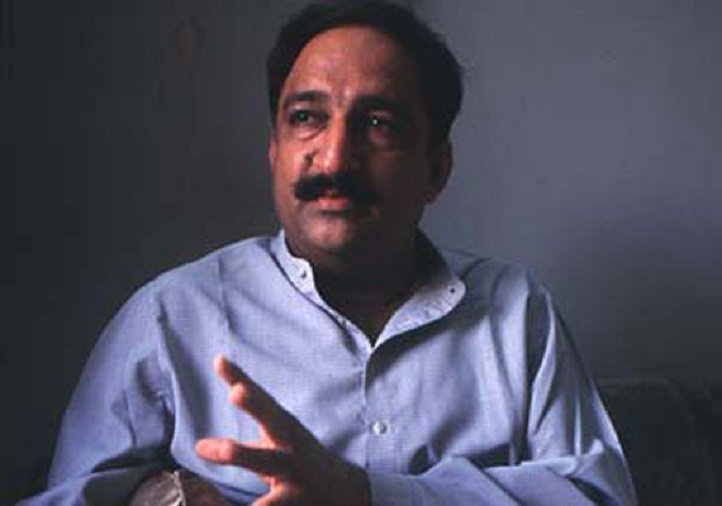 Justice Suresh further elaborated that he shared about it with an SC appointed Special Investigating Team (SIT) in 2009. But after the SIT submitted its findings, it was concluded that there was no prosecutable evidence against Modi. Interestingly, suspended police officer, Sanjiv Bhatt, also had also told SC that he had attended a meeting where Modi asked policemen to give rioters a free hand.
The audio clip, along with all other recordings of statements of the panel, is with Citizen for Justice and Peace (CJP), an organisation formed for fighting for justice for the victims of communal violence in the state of Gujarat in 2002.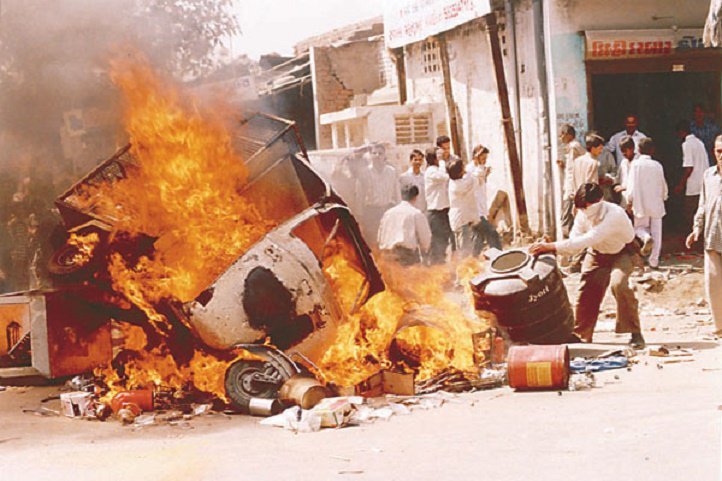 Senior BJP spokesperson and prominent lawyer, Meenakshi Lekhi, has rubbished the claims and has questioned the timing of the revelation. She further added that such claims deserve no credibility because Justice Suresh was a part of CJP, a non government-'anti Modi' organisation.
Pandya was assassinated in 2003 during a morning walk in Ahmedabad. His death created such a massive controversy across the state that even top BJP leaders like Modi and LK Advani came under direct criticism. His wife had called his death a 'political murder'. Sanjiv Bhatt, who was suspended last year for not reporting to duty and misusing an official car, claims that he is being punished for speaking out against Modi.