Displaying the skill of sculpting delicate images, a chocolate boutique here has made a five feet 11 inches model of former President Dr A P Abdul Kalam in edible chocolate. The chocolate model of the missile man, weighing about 400 kg, is not for sale.
 It has been installed by Puducherry's chocolate boutique "Zuka" at its premises here and has been attracting a large number of people. Srinath Balachandran, owner of the chocolate shop, said it took about 180 hours for him and chef Rajendran Thankarasu to make the chocolate image in a phased manner taking into account the various fine aspects and using edible chocolate materials.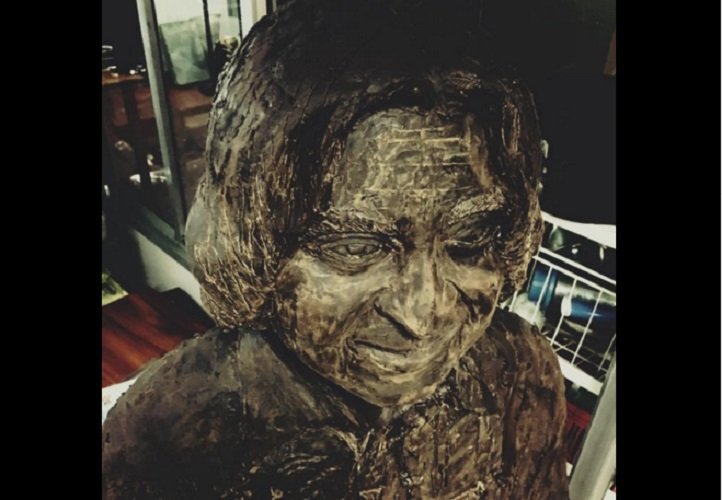 It would be on display till the first week of January, he said. "It is our tribute to the former President. It was a virtual challenge for making the image in standing posture. However, the joy of doing the work was immense and thrilling", he said.
 Srinath said Zuka created the life size statue of Kalam to celebrate the annual festival of the shop after conducting a survey to enlist the suggestion from various sections through Facebook. 
He said that most of the respondents voted that the shop make a chocolate statue of Abdul Kalam and this expectation had been translated into reality now. He said that on earlier occasions, chocolate images of Mahatma Gandhi, the statue of Liberty, Mickey Mouse, a vintage train and musical instruments were made. 
"Through such works we want to showcase Puducherry to outside the Union Territory and also to the world at large", he said. Asserting that these images were not meant for sale, Srinath said managements of a number of schools have started fixing up times to bring their children to the shop to enable the kids to see the chocolate image of Kalam. 
Asked whether there was any plan to set up any museum to preserve the unique products, Srinath said that "it is indeed a dream and all logistical features would have to be considered."