An engraved Bhagavad Gita near the statue of late president A P J Abdul Kalam has kicked up a row, with his family seeking to put in to rest by placing a copy of the Quran and Bible near it.
"An unnecessary controversy was raised by some people. DRDO officials worked tirelessly for the memorial construction and had not sculpted the Bhagavad Gita near the statue with any (ill) intention. Now we have left two books — Quran and Bible near the statue," his relatives Sheik Dawood and Salim told PTI.
They said they would also place a copy of Tamil treatise Thirukkural near it soon. His relatives said Kalam was a leader to all Indians and no one should seek to politicise the episode.
The engraved wooden copy of Bhagavad Gita sculpted along with the statue had drawn opposition from various quarters.
An MDMK spokesperson said party founder Vaiko had already questioned the need for a Bhagavad Gita there, when Kalam had, even in international fora, referred only from the Thirukkural.
A PMK leader, who did not wish to be named, also questioned the presence of the holy book, saying Kalam was common to all citizens of India.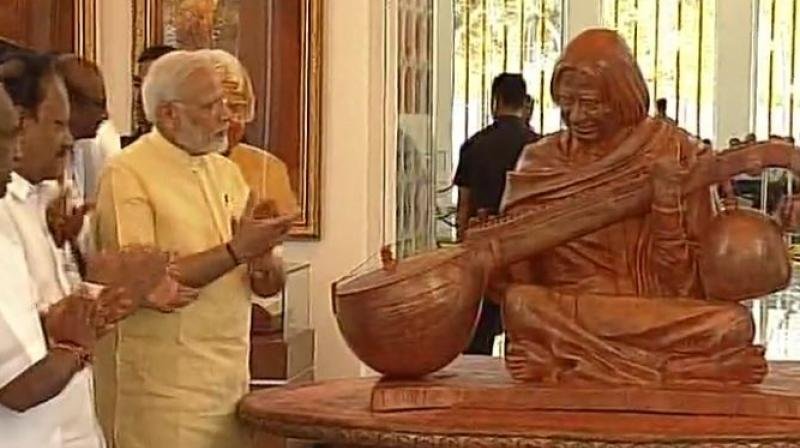 The Rs 15 crore memorial was inaugurated on July 27 by Prime Minister Narendra Modi at Peikarambu here, Kalam's native village, on the Missile Man's second death anniversary. It memorial was constructed by the Defence Research and Development Organisation with which Kalam was associated, and other central government departments.
It has on display replica of rockets and missiles on which the late scientist had worked. The Prime Minister had unveiled a wooden statue of Kalam playing the musical instrument veena during its inauguration.
The memorial also has about 900 paintings and 200 rare photographs of the late scientist, who held the office of president from 2002 to 2007.