On Sunday, JNUSU president Kanhaiya Kumar made the headlines again. This time, not for his take on 'Bharat Mata Ki Jai' or for being stopped at the gates of a university before a scheduled talk.
This time, it was because Kanhaiya – while travelling in a Pune-bound Jet Airlines flight – accused a fellow passenger, Manas Deka, of attempting to strangle him.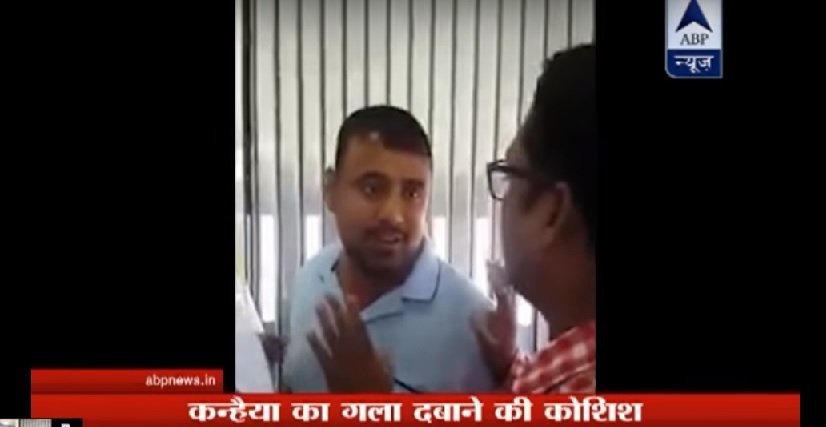 Kanhaniya made the allegations in a series of tweets. Some have been dismissed while others are still being probed by the police.
But it's this one tweet that went on to show that Kanhaiya Kumar, a research scholar at Delhi's premier Jawaharlal Nehru University, is no different than the trolls he is always slamming in his speeches.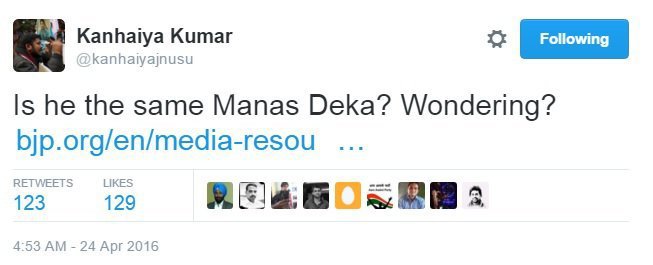 The link in the tweet takes the reader to a 2013 list of 'Central Committee by BJP National Security Cell' that mentions the names and numbers of 21 members. One of them is Manas Deka, and is listed as 'Coordinator' for Guwahati/ Delhi region along with his phone number.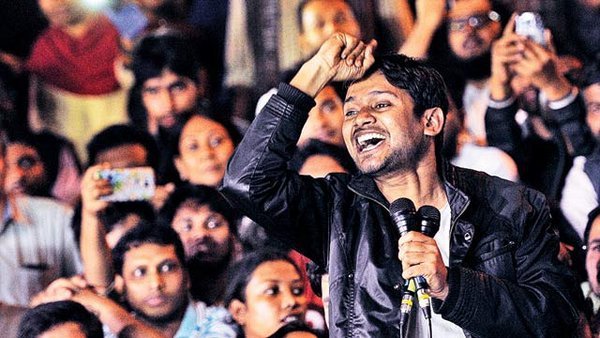 Based on mere speculation, and most probably through a quick search on social media platforms, Kanhaiya painted in one stroke an unidentified person as "a coward" and "a BJP supporter whose only tool to fight dissent is to assault". 
The only problem? His "assaulter" and the BJP worker from Guwahati are two different people.
The Manas Deka from Guwahati who is a BJP coordinator and, obviously a BJP supporter, told Rediff.com that he is not an TCS employee and certainly not the man who was in the Jet flight.
"I am tired of telling people for the last 24 hours not to involve me or my party in this brawl. But my name is wrongly being used on social media," Deka told the website. 
Scoopwhoop also confirmed it through Omprakash Sharma, secretary of the BJP National Security Cell, who said the Manas Deka he knows as BJP's coordinator in North-East is "certainly not a software engineer" and, in fact, a full-time political worker.
But this one tweet was enough to launch a witchhunt against the TCS employee, who has maintained that he doesn't even know much about Kanhaiya.
It got worse, when a well-known activist like Shabnam Hashmi tagged Ratan Tata in the tweet, suggesting the company's employee is an assaulter.
And more…

But perhaps it's time Kanhaiya asks himself this:
How is his gross generalisation of BJP supporters as attackers any different than BJP Bhakts' opinion of all JNU students as anti-nationals?
How is the witch-hunt initiated by Kanhaiya of Manas Deka different from the witch-hunt against Kanhaiya by Bhakts after the February 9 Afzal Guru event?
And just the way he claimed that the academic career of some students could be ruined based on unconfirmed facts, hasn't he put the professional career of TCS's Manas Deka on the line for no good reason?
The irresponsible tweet, sent out to his 25,000 followers on Twitter, is unbecoming of a student leader who is trying to emerge as an informed, rational, rebellious voice against the political rot in India. When he tries to ratchet up a lynch mob without adequate basis, he's no better than any organisation that he's been criticising.