After spending more than three weeks in custody over sedition charges, JNU students's union president Kanhaiya Kumar is finally back in JNU. With his fiery speech on azaadi, Kanhaiya Kumar won the hearts of many in the country, but there is a certain section that abhors him. 
Soon after JNUSU president Kanhaiya Kumar was released from Tihar jail, a barrage of hate speech was unleashed. In one of the many threats that we assume will come his way, a Bharatiya Janata Yuva Morcha (BJYM) leader has announced a 'prize' of Rs 5 lakh for cutting off the tongue of Kanhaiya Kumar.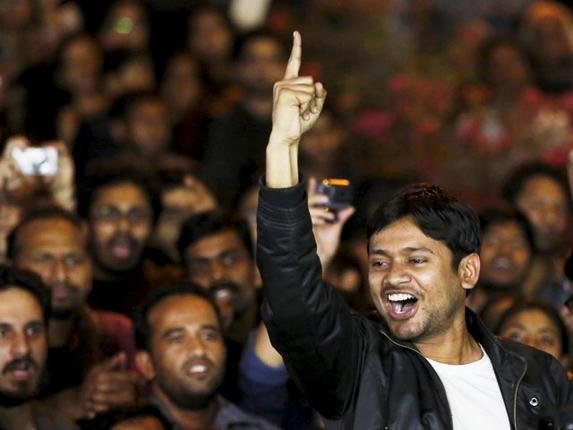 The announcement was made by Kuldeep Varshney, the Morcha's Badaun district chief, Uttar Pradesh, reported India Today.
Kuldeep Varshney has alleged that Kanhaiya has been speaking against BJP and PM Modi ever since he was released from the jail.
"He shouted anti-national slogans in support of terrorist Afzal Guru. I will give Rs 5 lakh to anyone who can cut off Kanhaiya Kumar's tongue," Varshney said.
Thankfully, Varshney has been expelled from the party for six years after making this bizarre announcement. The president of district unit of BJP, Harish Shakya, told reporters that party has nothing to do with Varshney's controversial statement. 
"Varshney's statement is his personal one and the party has nothing to do with it…he has been expelled from the primary membership of the party for giving such a statement without the consent of party office bearers," he said.
Meanwhile, in another instance, posters have appeared near the Delhi Press Club on Saturday in which Kanhaiya has been dubbed as a traitor. The poster also threatens to eliminate him and offers a reward of Rs 11 lakh to anyone who would kill him.
The posters were allegedly put up by Purvanchal Sena, a pro-Sangh Parivar group, and carried the name of its leader Adarsh Sharma.