Three militants were killed by security forces in Kashmir on Thursday in two separate encounters, during which a teenager also lost his life after being caught in the cross-fire.
15-year-old Amir Nazir Wani was killed after he suffered a bullet wound in the neck during a nine-hour gunbattle between security forces and two hiding Lashkar-e-toiba militants in Awantipora area of south Kashmir's Pulwama district.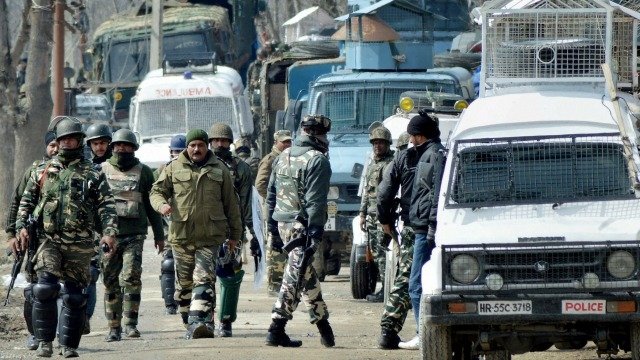 According to a Times of India report, Nazir was part of a mob pelting stones at the security forces to disrupt the anti-terror operations of security forces against militants.
While local residents claimed security forces fired at the protesters near the encounter site, leading to Nazir's death, police officials said the teenager was fatally injured by a 'stray bullet'.
The incident took place despite Army chief Bipin Rawat's warning against those disrupting anti-terror operations in J&K . He had said that "those who obstruct our operations during encounters" will be treated as terrorists' aides and "can be fired at".
Chief Minister Mehbooba Mufti expressed grief over Nazir's death and said it was highly unfortunate that the youth are caught in the vicious cycle of violence. 
The encounter broke out in Padgampora village after security forces launched a cordon-and-search operation following information about presence of militants there. The militants, holed up in two adjacent houses, opened fire at security personnel  and the troops retaliated, triggering a fierce gunbattle which lasted nine hours.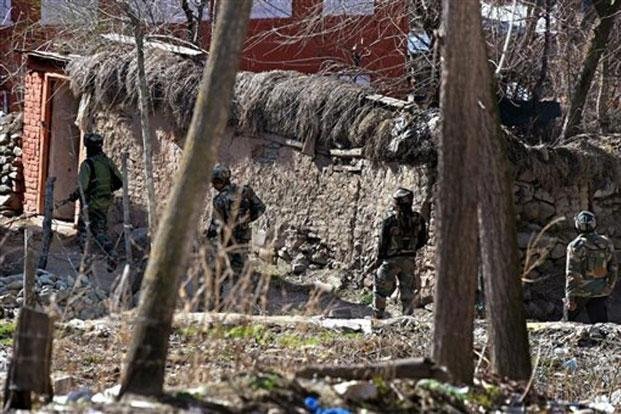 The slain militants were affiliated to LeT outfit and have been identified as Jehangir Ganai and Mohammad Shafi Shergujri, an official said, as per PTI. 
A police spokesperson said the slain militants were involved in many incidents of violence, including killing of security and police personnel and political activists, grenade attacks on the forces and police installations in South Kashmir. 
"They were involved in threatening general masses to refrain from forthcoming elections and motivating youth to join militant ranks in the general areas of Awantipora, Pulwama and Shopian," he said.
"They were also involved in recent bank robberies and weapon snatching incidents in South and Central Kashmir," he added. 
Another youth, 22-year-old Jalaluddin, was rushed in an unconscious state from Padgampora to a hospital where he was declared 'brought dead'. There were no visible injury marks on his body, a police official said, adding the cause of the youth's death is being investigated.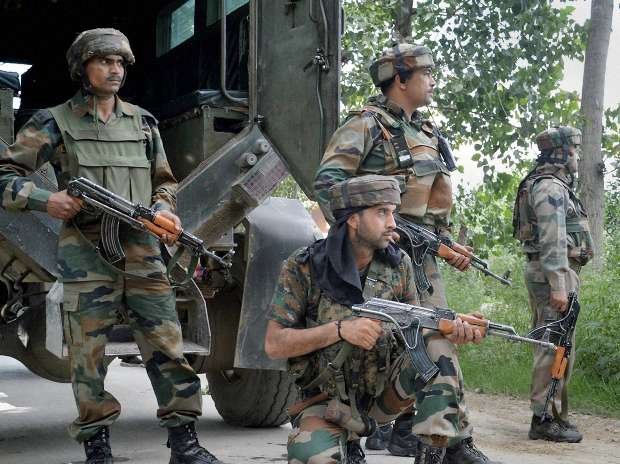 One more youth, Sajad Ahmad Bhat, was injured after he was hit by a bullet in the hip. He has been referred to a local hospital for treatment. Train services from Banihal to Srinagar were suspended temporarily as authorities apprehended that miscreants might target the trains along the south Kashmir tracks. 
In a separate encounter, a militant of Hizbul Mujahideen was killed and two soldiers injured in Bandipora town in north Kashmir. Security forces had put up a check post near Bandipora police station following information that a militant was going to travel through the area, a police official said. 
When the militant came in a cab, he was challenged by security forces but he opened fire, resulting in injuries to two soldiers. In the retaliatory firing by the security forces, the militant, identified as Mushtaq Ahmad Shergujri, was killed. 
A pistol and a hand grenade were recovered from the scene of the shootout. 
(Feature image source: PTI)