First it was Kashmir's IAS poster boy Shah Faesal, then J&K Finance Minister Haseeb Drabu's wife Roohi Nazki and now Kashmir's first woman IPS officer Ruveda Salam who have raised their voices on social media about the protests in the state. 
Kashmir's first IPS woman officer, Dr Salam slammed the Mehbooba Mufti-led BJP-PDP coalition government in a Facebook post for the handling of the protests in the state that had led to civilian deaths. 
On Wednesday, Dr Salam, who is currently with the Ministry of Finance, took to Facebook and in a thinly veiled post accused the Mehbooba Mufti-led government of "hypocrisy" and painting the streets of Kashmir valley "red." 

However, her post didn't go down well with a senior J&K police officer, Harmeet Singh Mehta, who called Salam "an ignorant lady" in comments section of the post and also suggested that she could resign and join the separatists.  
Mehta, who is superintendent of police in Sopore, also said the "government must take action against you as a civil servant spreading venom against state." 
Reacting to the comment, Salam stated that the officer's comments reflected "general false belief that all Kashmiris are terrorists."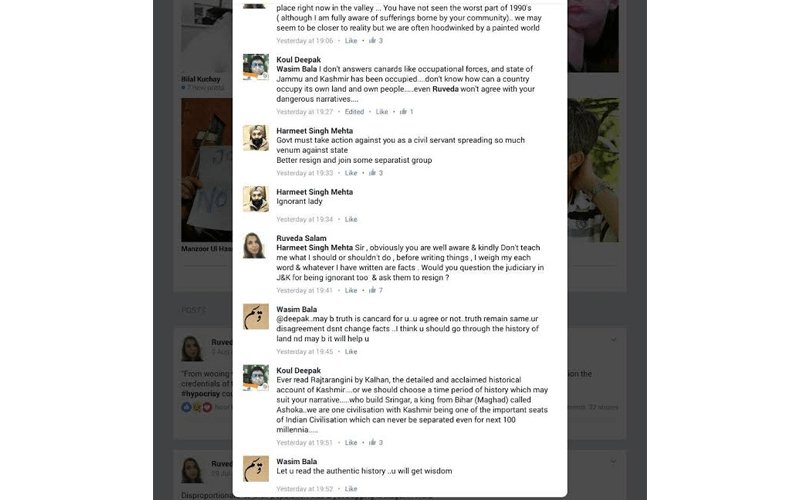 "I weigh my each word and whatever I have written are facts… I am pained by the attitude of those who swear by oath to protect innocents and then shy away from assuming responsibility… I didn't mind the "ignorant lady" comment by one of our worthy Police Officers of J&K, although it was in bad taste & with undertones of gender bias. Writing what you truly feel inside is often snubbed by dictating to you to resign & join separatists, probably, reflecting the general false belief that all Kashmiris are terrorists and they should be either silenced or driven away to the neighbouring country," Ruveda wrote in her reply. 
Natives of the valley, both Salam and Mehta confirmed their comments to The Indian Express.  However, Salam later deleted her post for unknown reasons.  
More than 55 civilians have been killed and thousands injured in the widespread protests after Hizbul Mujahideen commander Burhan Wani was killed in shootout by the police on July 8.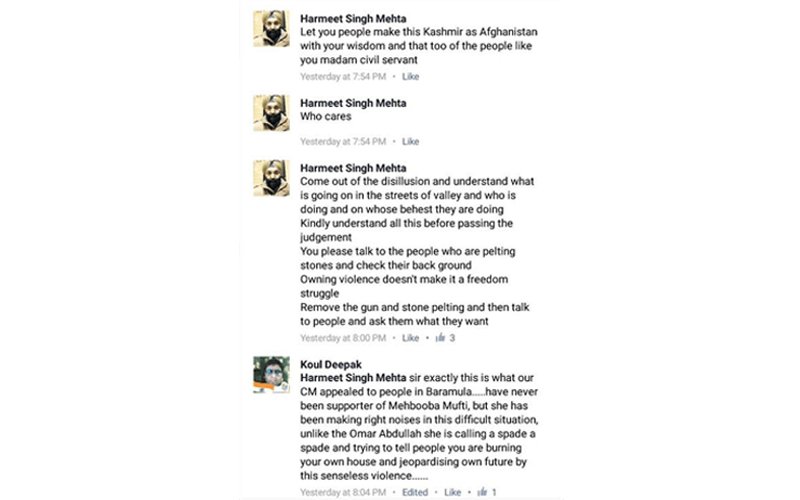 On July 22, J&K Finance Minister Haseeb Drabu's wife Roohi Nazki in a hard-hitting Facebook post had asked the Mehbooba Mufti government to "step down"and termed "the brutal killings of children, the criminal blinding and maiming of protesters, and the shameless suffocating of an entire population…wrong." 
In mid-July, J&K first IAS topper and Director School Education Kashmir Dr Shah Faesal had expressed his anger over "the propaganda and provocation being dished out from red and blue newsrooms" by some Indian TV news channels through a Facebook post. 
Fuming over the juxtaposition of his photo with the images of a slain Burhan Wani, Faesal wrote "…Have I joined IAS to do a job or to become a part of your sadistic propaganda machine? In fact when I qualified this exam I never thought of spending my whole life scratching the desk and if this nonsense around me continues, I might prefer to resign sooner than later." 
Feature image source: ScoopWhoop/Facebook Profiles