A Kashmiri artist on Tuesday accused Facebook of removing a cartoon he made on parliament attack convict Afzal Guru.
Mir Suhail Qadiri, who posts his creations on his Facebook page regularly, told Scoopwhoop that he realised it around 11 am that the cartoon – uploaded an hour earlier – had been pulled down.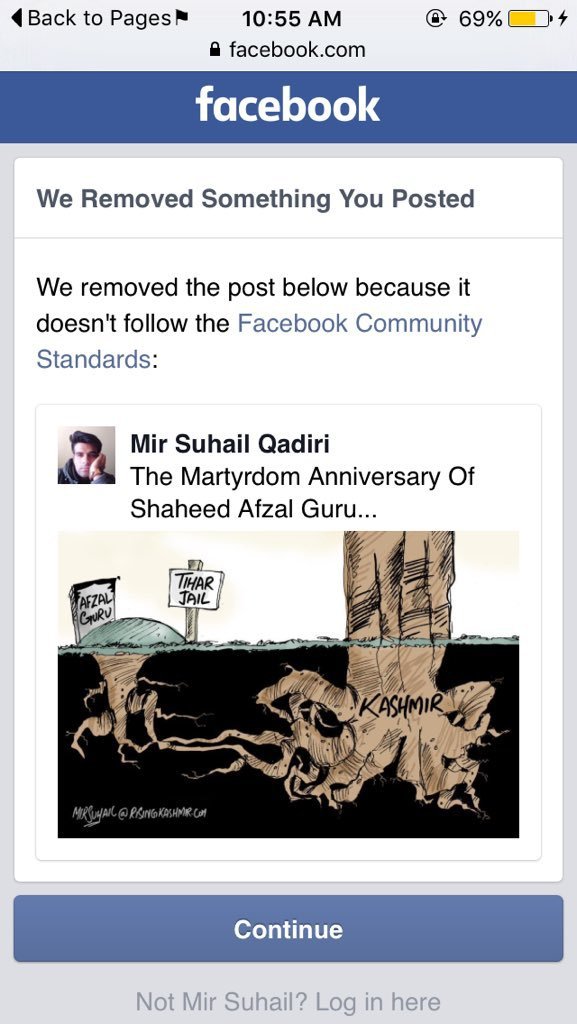 The artist said he had a message from Facebook that "We removed something you posted" with the image of his post of the cartoon. He said FB had even blocked him from posting anything on his page anymore.
The cartoon was first published in Kashmir's English daily, Rising Kashmir.
He also tweeted the cartoon:
It shows roots growing out of Guru's grave in Tihar jail and connecting to the roots of a tree named Kashmir.
The cartoon marked the third anniversary of Guru's execution, who was hanged at Tihar jail in 2013 for his role in the 2001 Parliament attack.
He said, "It's a direct assault on freedom of expression from Facebook. It's very disturbing to see Facebook clamping down on any kind of dissent from conflict-torn Kashmir. My cartoon didn't violate any policies. If you take a look at it, it's just a simple cartoon depicting the reality of Kashmir."
HT reported that a Facebook spokesperson said the company was investigating the matter.